A desperate act to cut food costs helps Saraswati take care of her family
Story
By Rahul Thekdi, Chandrika Pattnaik
14 July 2020
A modest beginning with an initial success at kitchen farming turned Saraswati into a full time vegetable farmer. In 2018, she started the kitchen garden to reduce expenditure on food but today it has become an important source of income for her family.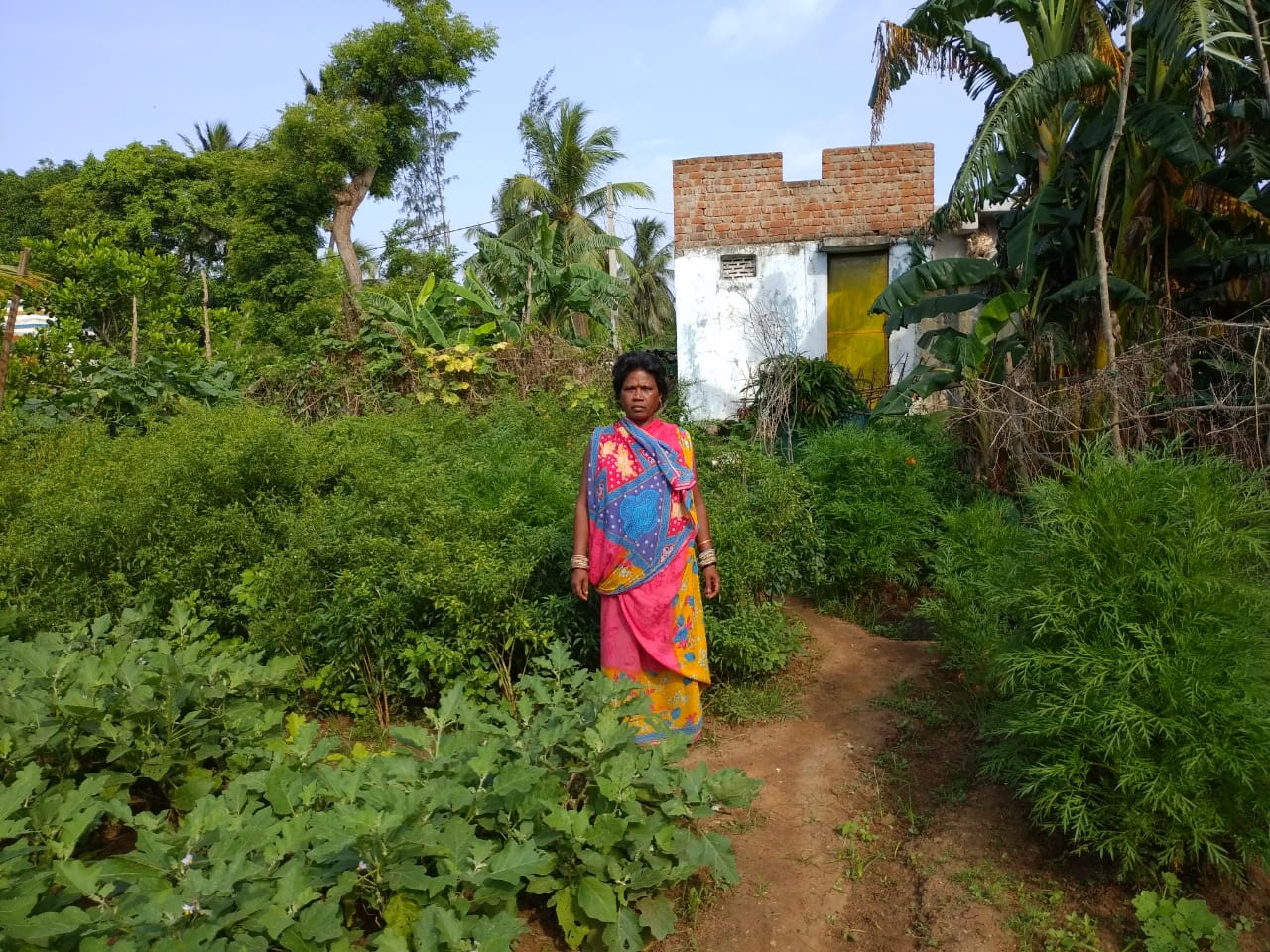 Kitchen farming turned Saraswati into a full time vegetable farmer.
Photograph by Jashoda Devi
Saraswati Pradhan lives with her husband and son in Chasa Kanamana village in Kanamana Gram Panchayat of Odisha's Ganjam district. When her sister passed away in 2016, Saraswati started looking after her two young sons. The two boys became a part of her family. But this came at a cost. Saraswati found it difficult to manage the household expenses with more mouths to feed. She was the only person earning as her husband had not been keeping well. The responsibility of caring for the children and also earning for the family fell on Saraswati.
In 2018, her brother, who lives in a neighbouring village, decided to buy a piece of land right behind her house. Saraswati decided to use it to start a vegetable garden rather than leave the land unused. She figured that growing her own vegetables would help her cut food costs while providing her family with nutritious and fresh vegetables. 
When she started out, in November 2018, Saraswati grew only leafy vegetables. Within the first three weeks, she had surplus vegetables growing in her garden. She started selling in the local market earning ₹1,800 from the initial three months. And she distributed the surplus produce to her neighbours. 
Veggies for the home and market
Encouraged by this, in January 2019, she bought new seeds with money from her limited savings. Saraswati's kitchen garden now had potatoes, brinjal, tomatoes, beans, radish and coriander leaves. This turned out to be successful too. For the next three to four months, she could easily feed her family fresh vegetables that she grew in her backyard garden.
Saraswati ploughs the soil herself, prepares the small beds for new saplings and looks after the plants with great care. In her kitchen garden, she has so far grown ladyfinger, bottle gourd, bitter gourd, brinjal, papaya, beans, tomatoes, green chillies and coriander leaves. This winter, she harvested cauliflower, beans and bitter gourd. 
Saraswati plans out her garden in such a way that she is able to get all the vegetables she needs daily from her backyard garden. Planning well means that there are vegetables that she can harvest at regular intervals. It has been a year of being self sufficient. 
Saraswati no longer buys seasonal vegetables from the market. Her backyard garden gives what her family needs. She nurtures her garden well by weeding regularly and covering her crops with nets to protect them from the harsh sun. 
Resilience during a crisis
The backyard kitchen garden has brought great respite to her family. Household expenses on food have reduced and the family receives a healthy source of nutrition. Meanwhile, her husband's health improved. He now works in the village temple as a priest. 
July has been a tough month for many in her village because of the movement restrictions due to the frequent pandemic-related shutdowns. But this has not affected her family much. "I don't need to travel to the market to buy vegetables. Many of my neighbours have recently started buying vegetables from here as they cannot go to the market."  
Saraswati thinks she is blessed to have taken up kitchen gardening, "At times, I can even share fresh vegetables from my garden with my neighbours. Whenever I do that, they have a big smile on their face. It makes my day." 
Saraswati watering the plants.
Photograph by Jashoda Devi
ACKNOWLEDGEMENT
Jashoda Devi, field expert on WashPlus with Gram Vikas, helped in data collection for the story. Priya Pillai edited the story.
ABOUT THE AUTHOR
Rahul Thekdi is a communication intern and Chandrika Pattnaik is a Junior Manager at Gram Vikas.