Access to water, a massive weight off the shoulders of the women of Kumundia
Story
By Chandrika Patnaik
1 September 2021
The Kumundia village community partnered with Gram Vikas to establish an integrated piped water supply and sanitation system. Women report the biggest benefits from getting water at home - better health, privacy of an enclosed toilet and bathroom, and more time leading to savings in agriculture labour costs, new enterprises, and active public participation through self-help groups.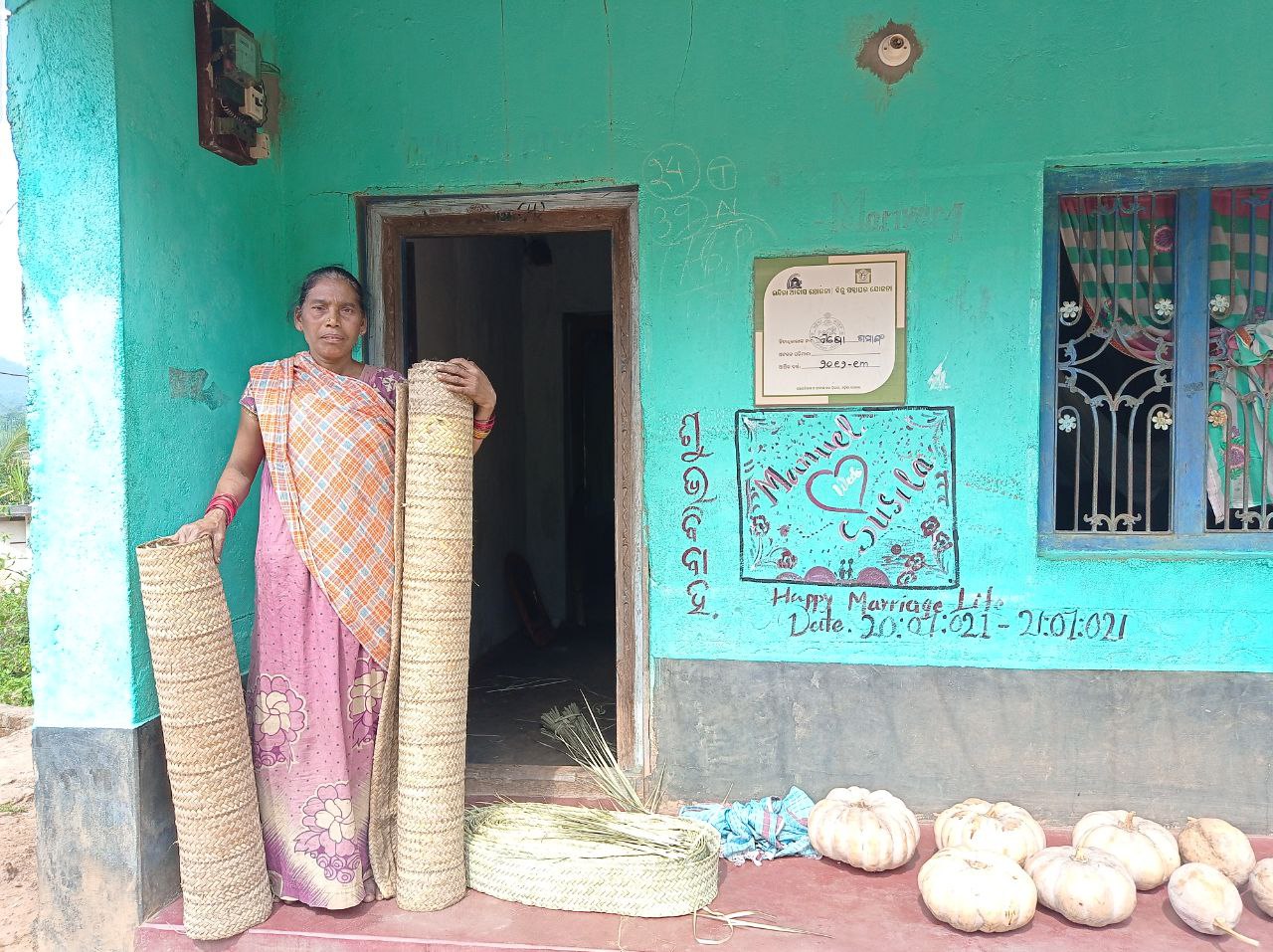 Sinaki Gamango weave mats out of palm leaves for household use.
Photograph by Jijo Jose
Kumundia village in Serango Gram Panchayat in Gajapati district regularly faced water-related health issues – high incidence of diarrhoea and skin diseases during monsoon. Compounding this issue was the water stress the village underwent throughout the year.
The only water sources in the village were the two springs located between hills more than one kilometre from the village. During the monsoon, women and men walked on slippery surfaces and rocks to reach the spring for water. Rabi Roita, President of the Kumundia Village Development Committee (VDC), says, "During monsoon, it was not only difficult to fetch water for the family, but it was also risky to defecate. We had to walk up the hill to fetch water for our daily needs and would cross cultivated fields on slippery slopes to defecate far away from the village. These slopes are extremely slippery, resulting in some people breaking their limbs while going out to defecate. Crossing muddy fields during paddy season to defecate areas away from the village in rainy seasons was a nightmare. So most men and women avoided walking through these fields during the rains. They instead defecated on the sides of the field or the main road."
Earlier during the rainy season, the residents of Kumundia would regularly fall ill. The rainwater from higher reaches would flow into the spring water accumulated in the intake area, causing water to contaminate. Households collected water from this intake area for drinking and cooking purposes, causing severe stomach infections resulting in diarrhoea and vomiting among adults and children alike.
Rabi approached Gram Vikas for assistance in improving the village's water supply infrastructure. In 2020, Gram Vikas helped provide 39 households in the village with piped water supply directly in their homes with support from charity: water.
Water ensures privacy, dignity, and good health
Rabi's wife, Dangiri Roita,32, who works as an Anganwadi worker in the village, says, "Fetching water, taking a bath, or going out to defecate took away most of our time. We walked nearly a kilometre to fetch water, and women walked further away from the village to defecate. Women never got time to clean their homes or their courtyards. These days, my mother-in-law takes pride in the toilet and bathing room as she does not need to stress about bathing in the open or walking long distances to relieve herself. She is happy that water is available through a tap in the kitchen and gives me a hand at cooking. I take a bath in the privacy of my bathroom with running tap water which helps me maintain good hygiene."
Sinaki Gamango, 35, belongs to Kabita SHG, says she has started growing vegetables with the wastewater from her kitchen. "I grow vegetables in the back of my house. I have had a good harvest of pumpkins from my backyard kitchen, which will be enough to feed my family for the next six months. I grow tomatoes and cowpea in my backyard using the wastewater."
Families save on labour cost
Dangiri grows papaya, tomato, bottle gourd, cowpea beans, brinjals, and flowers in her backyard. She uses the wastewater from her kitchen to water the plants in her backyard. Since Dangiri works at the Anganwadi centre, the backyard garden has reduced her headache of going to the market every time to purchase vegetables and then coming back to cook a meal for the family and hurry to reach the centre on time.
"Ever since we got water directly in our homes, children and adults do not fall sick anymore. Women come out into the fields for an entire day to help their husbands, who cultivate paddy and vegetables. Earlier, men had to employ daily wage labourers for the harvest season. After having water and toilets at home, they save on their wage as women work with their husbands from early morning till evening, not worrying about fetching water from the spring before nightfall."
Tipadi Gamango, 32, a member of Kabita SHG, lives in Kumundia village with her three children, aged between six and seventeen years. She wakes up early to finish her daily chores of cleaning the house, washing utensils and cooking for her three young children before leaving to work on her field early in the morning. The paddy harvest from their 1-acre land supported the family's need for an entire year. Earlier, her husband would return to the village from Assam, where he worked as a daily wager on construction sites before the start of the monsoon season to cultivate paddy. With water supply at home, Tipadi spends the entire day in the field during the paddy season.
"I have enough time to work single-handedly on cultivating paddy, harvesting the crop, and growing seasonal vegetables during winters with some help from farmhands. My husband returned to the village from Assam during the second wave in May this year. He has not gone back to Assam but has taken up daily wage work here like repairing roads while I look after harvesting the crop on my own."
Sinaki says she now has time in the day to weave mats out of palm leaves. "Earlier, I could barely weave a couple of mats in an entire year. My day started with fetching water for my family, cooking, and returning to get more water. It took away most of my time. I used to get tired by the end of the day," as she remembers those days were not too far in the distant past.
"We sleep on the floor, but during winters, the floor gets very cold, so we sleep on mats. Earlier I used to buy the mats for my family from the weekly market during winters as I could not get time to weave mats on my own. But these days I have a lot of time on my hands. I weave mats for each family member and save the money for other expenses."
Women learn microenterprise skills
In July 2021, Odisha Tribal Empowerment & Livelihoods Programme (OTELP) approached the four SHGs to encourage them to develop off-farm enterprises through a three-day training program in making fly ash cement bricks. OTELP looks to improve the quality of life of Adivasi households in remote areas through livelihood support and food security.
Ten women from the four groups took part in the training and learned to manufacture the bricks. They have already manufactured 2000 bricks and sold 1000 bricks in their village at the rate of ₹10 per brick. Sedika Raita, 27, President of Moli SHG, says, "My husband is a driver and the only breadwinner at home. I feel proud that I can supplement the family's income as well. That little amount I will save will help meet sudden expenses in the future. I never had time for such activities before as I was always busy with housework and fetching water for my family. All the SHGs in our village work in unity and support each other."
The Secretary of Moli SHG, Austini Raita, 28, feels the money she will earn by selling bricks manufactured with the other SHG members will provide for her children's education. "I won't need to take out a loan to educate my children. I won't have to struggle so much to pay every month for coaching classes or school fees. My husband works on a daily wage as a mason, and I will not burden him with extra cost for our children's education with the skill OTELP helped us to learn."
Getting water at home has also led to more women having the time to form self-help groups. "There was only one SHG, the Queen Shakti Dala SHG, in our village in 2001. Since last year three new groups have formed – Kabita SHG, Sonali SHG, and Moli SHG in the village. Women meet regularly every month." Sinaki says they now have time to chat, share information, give emotional support during a crisis, and undertake income generation activities.
Tipadi Gamango single-handedly takes care of the paddy and vegetable cultivation that support the family's need.
Photograph by Jijo Jose
ACKNOWLEDGEMENT
Aruna Kumar Sahu, a Thematic Coordinator in Water, helped collect data for the story. Ganesh Chakravarthi edited the story.
ABOUT THE AUTHOR
Chandrika Patnaik leads content production within the Communications team in Gram Vikas.