Lighting up homes with solar energy
Story
By Dibya Alok
26 May 2022
250 Adivasi families is getting access to solar energy. Gram Vikas is distributing 500 solar lanterns and 100 solar home lighting systems to school-going children and marginalised Adivasi families in Kalahandi and Gajapati districts of Odisha.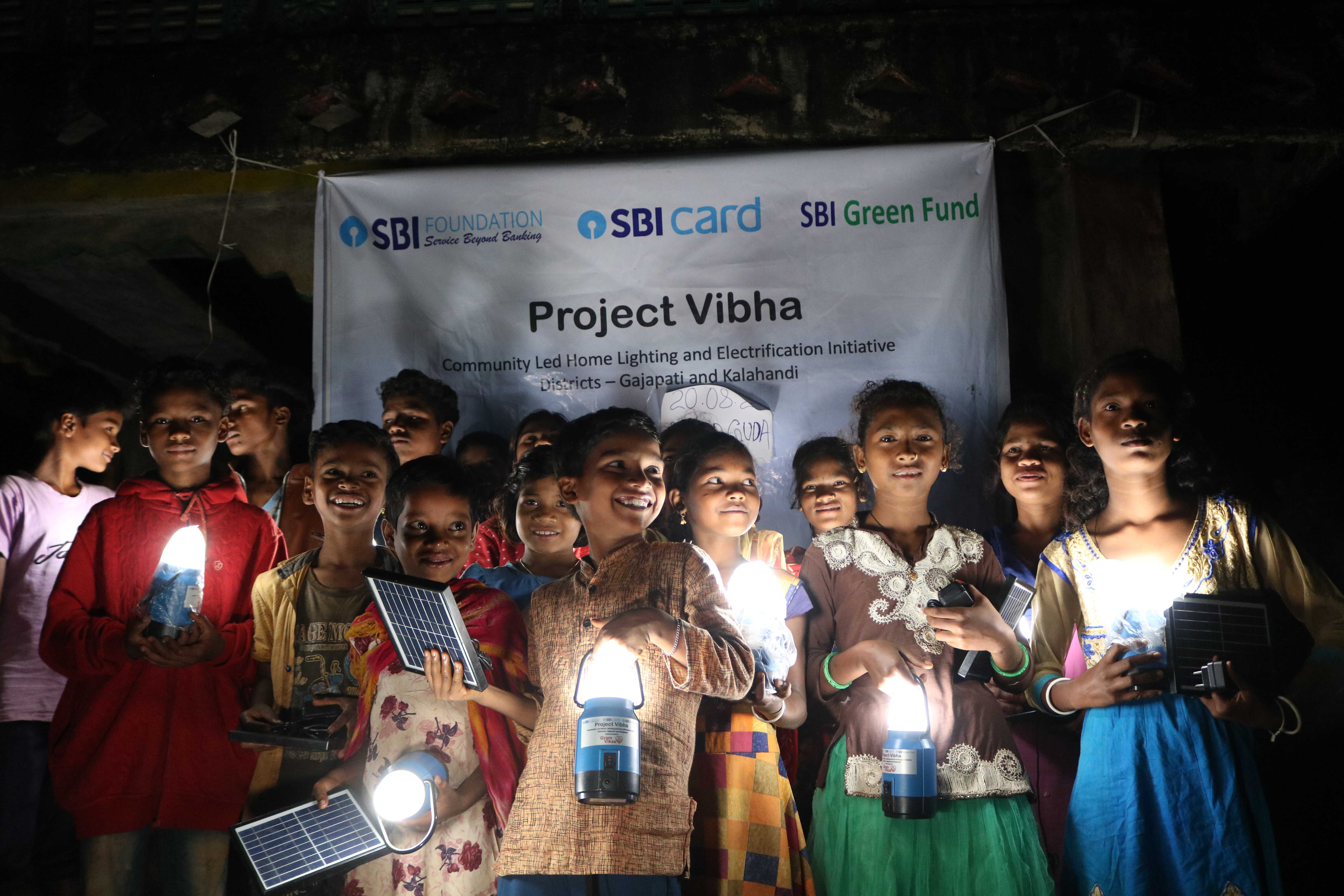 School-going children received solar lanterns that will support their education.
Photograph by Rufus Sunny
"We have been living without electricity for a year now. Our village has a grid connection, but the transformer malfunctioned in March 2021. Nobody from the government department knows about the failure or ever comes for maintenance. We do not know where and to whom we should report for getting this fixed. Somebody was saying the machine has to be replaced and it costs a lot," says Peru Majhi from Kanjiguda village in Sindhipadar Gram Panchayat of Thuamul Rampur block, Kalahandi district.
Peru is a farmer growing pulses and paddy on the one acre of land he owns. The produce he gets is for self-consumption, and the surplus he sells in the market. Peru also has livestock which he raises and sells in the market. His wife, Nargi Majhi, helps him in his work. They earn nearly ₹20,000 – 30,000 in a year. Peru and Nargi have three children, two daughters and one son.
Peru received a solar home lighting system in October 2021. They use the home lighting system for household purposes and children's studies. They charge the system in the sunlight and use it when it is dark. "We use the light from 6 pm till we go to sleep. During this time, we finish our household work like cooking, cleaning, arranging beds, and children's studies."
Indu Majhi, Peru's elder daughter, appeared for the matriculation exam this year. "I was hopeless about studies until we got this light. It came to my rescue during my class 10 board exam. Our schools were closed due to the COVID-19 lockdown. We couldn't learn in school. The home lighting system at least helped me study for 4-5 months at home. I could prepare well for my exams. I have done well in my papers and am waiting for my results."
Bipin Singh Majhi, Peru's son, is in Class 6 in Sindhipadar Upper Primary School. The school is open now after two years. Every day, Bipin cycles four kilometres to his school. He is at school from 6 to 10 am and studies for 2-3 hours using the light at home in the evening.
Jogindra Majhi, 11 years old, is in Class 7 in the same school as Bipin. He has received the home lighting system and uses it daily for studies. "We charge the system till 1 pm through solar panels, placing it over the roof. We use it in the evening when it is going to be dark. I can now study in the evening even if electricity is not there at home," says Jogindra.
Peru says, "All the users in the village say that the home lighting system is of good quality and gives long back up. The light is very bright and fills the room. There is no complaint from anyone yet. It is helping households do their work even in the dark, which otherwise used to be really challenging. Earlier, we used kerosene lanterns, which had poor light, was expensive and the smoke was hazardous to health too."
Nargi Majhi doing household work using the solar home lighting system.
Photograph by Amarsing Majhi
ACKNOWLEDGEMENT
Amarsing Majhi, Field Expert in Gram Vikas supported in story collection. Ganesh Chakravarthi edited the story.
ABOUT THE AUTHOR
Dibya Alok is the Coordinator - Documentation in Gram Vikas.