Amidst continuing uncertainty, migrant young men hope for work in their villages even as they revive community assets
Story
By Rahul Thekdi, Chandrika Patnaik
21 July 2020
Jagannath Patel's well-paying hotel job in Kerala, which lifted his family out of debt, has been replaced by odd jobs in his village. The pandemic and the lockdown experience scarred him. Back in his village, unsure of leaving his home again, Jagannath's search for work continues.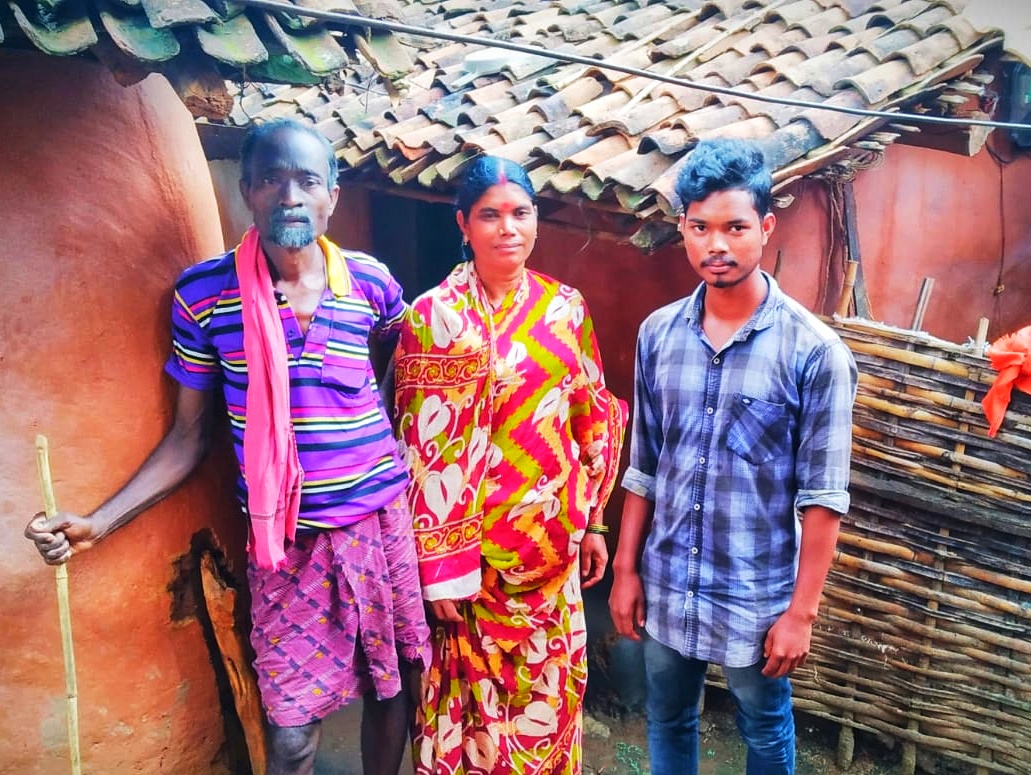 Jagannath Patel along with his parents in his village Maligaon, Thuamul Rampur block, Kalahandi district
Photograph by Sanjay Kumar Baral
Jagannath Patel was young and 17 years old when he left his home in village Maligaon, in Odisha's Kalahandi, to search for work in Kerala. He had studied till Class 5 in the Upper Primary school in his village. While growing up, Jagannath always wanted to work in an office after completing his studies. For that, he wished to go to a better school and study. But he knew it would be impossible as his father, Karpura Patel, could not afford the cost.
At home, his family with his parents, his elder sister and a younger brother, lived off the meagre earnings from farming on the family's two plots of half acre land. In 2014, they sold one plot to meet the expenses for his father's nephew's wedding. His father took a loan against the other plot for his elder sister, Saraswati's marriage in 2016. 
Karpura cultivated paddy during monsoons, and then maize and ragi after the paddy harvest. In another small patch of land nearby, he grew seasonal vegetables. These were sold in the local market. He barely made ₹3000 every month. Some months depending on the harvest, he would earn even less.
Jagannath's mother, Milandri, worked at construction sites as a daily wager, earning ₹100 a day, and as a farmhand in local farms. Karpura found it difficult to provide for the family. Jagannath started helping his father in the paddy field and growing vegetables. But there were fewer opportunities in the village to earn any additional income to support the family. 
Migration brings financial security
Growing up, Jagannath had seen Surendra Patel, his mother's cousin brother, make it big in Kerala after facing similar hardships in his village. Surendra left for Thrissur when he was only 18. Slowly, he started sending money back home. In a few years time, Surendra's family had a television at home, a new bike and an improved life. 
Jagannath had asked Surendra if he could take him to Kerala and Surendra agreed. Two of his friends from the village, Dhaneshwar Majhi and Purindra Majhi, decided to leave with him. Surendra found Jagannath a job at Kottaram Bar and Hotel in Kariyannur in Erumapetty in Thrissur district of Kerala.
He started with a salary of ₹9000. The first year, he kept ₹500 for himself, and sent the remaining amount to his family. In the following year, when his salary was hiked to ₹10,500, he continued to do the same. With the money from Jagannath, his father managed to pay off the loan and also save some in a bank account. 
The lockdown and the journey
On 24 March 2020, when the Government of India announced the nation-wide lockdown, Kottaram Bar and Hotel shut. Jagannath continued to live in the premises of the bar along with others who worked in the hotel. They got breakfast, lunch and dinner every day from the community kitchens set up by the Government of Kerala to serve the stranded migrant workers and the poor. Jagannath felt further reassured when Joseph from Gram Vikas contacted him to ask about his wellbeing. He also kept in regular touch with his friends Dhaneshwar and Purindra and uncle Surendra.
Once the lockdown eased, Jagannath and his friends hired a bus along with others from Odisha. The hotel management cleared the salary dues, when they heard that the men are leaving. Jagannath paid ₹4000 to travel back home on 26 May. Four days later, he reached Kalahandi. Along with his friends, he quarantined for 14 days at the Temporary Medical Centre set up in the government college in the Thuamul Rampur block. Finally, on 16 June, Jagannath and his two friends reached their homes in Maligaon.  
Back home, they revive water and land 
Once they got home, Jagannath, Dhaneshwar and Purindra were clear that they did not want to sit idle. The day after they reached, the three boys fixed the broken water pipes and cleaned the intake well in their village helping resume the water supply to all households immediately. Usually, repairing and getting new pipes refitted takes a day or two, until someone from the village volunteers to take time off from working in the fields, "We did it for the satisfaction of helping the community.", says Jagannath.  
Since arriving in the village mid-June, they have been actively looking for work in the village. They take up whatever is available locally or in the nearby villages to make ends meet. In the last week of June, the three boys took up tree plantation work, organised under MGNREGS, in the neighbouring Bhitarpadar village. They earned ₹270 per day for six days. Jagannath and his two friends gave the money to their parents.
Embracing uncertainty in hope
Today, Jagannath does not have any cash in hand but he doesn't mind. He is busy helping his father, "There is no surety of what will happen in the coming days. If I go out of state for work, I can earn very well. But with coronavirus spreading like it is now, I cannot think of going to work outside the state. It's better to live here in the village with the family and do small jobs here and there," says Jagannath.  
These days, Jagannath spends his days hoping for stable work to come his way, and pursuing his hobby of sculpting in clay. Ganesh Chathurthi is coming soon and he has already arranged for the clay to make a Ganesh idol for the puja.
Jagannath and his friends fixed the broken water pipes and cleaned the intake well in their village helping resume the water supply to all households.
Photograph by Sanjay Kumar Baral
ACKNOWLEDGEMENT
Sanjay Kumar Baral supported in data collection. Priya Pillai edited the story.
ABOUT THE AUTHOR
Rahul Thekdi is a communication intern and Chandrika Pattnaik is a Junior Manager at Gram Vikas.