Bal sabha boost confidence in children and reinforce positive life-long behaviour
Story
By Chandrika Patnaik
1 February 2023
Children engage in activities that boost their confidence and understanding of each other better in order to represent their interests in the village better.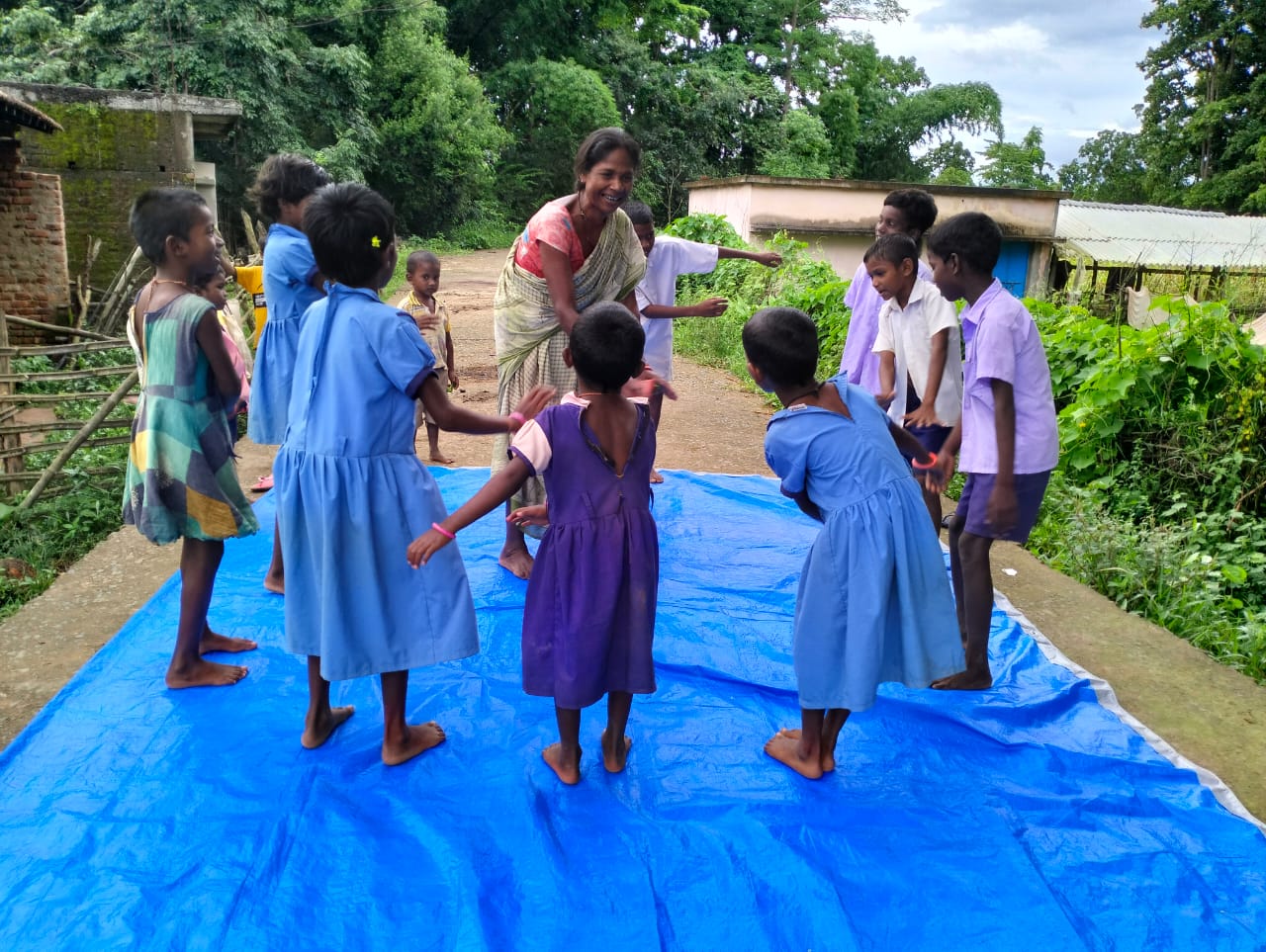 Child members of Bahajan Sishu Sangathana having a leisure time.
Photograph by Ananta Tudu
A sense of belonging is vital to a child's development and the foundation to help them understand their larger society. Bal Sabhas serve as institutional platforms for the holistic development of rural children. Through Bal Sabhas, we create avenues for children to come together, develop rapport amongst themselves, discuss their issues, and, at the same time, provide them with suitable opportunities to nurture themselves into responsible future citizens.
Saraswati Majhi, 36, is a resident of Asanbani village and  mother of two primary school-going children. She takes pride in talking about her children. She says her daughter Panasari, who is nine years old, insists she washes her hands every time before cooking. Panasari helps her mother clean the kitchen once everyone at home has had their meals. Saraswati says her son Purushottam who is eleven years old, used to run out of the house earlier to urinate in the open. These days he only uses the toilet. Both her children insist on wearing clean clothes and comb their hair daily. Her children are members of a Bal Sabha called Bahajan Sishu Sangathana, in Asanbani village October 2021 from Saharapada block in Keonjhar district, formed in October 2021. Other parents too share Saraswati's  enthusiasm: Dasarathi Marandi, 35, father of Miki Marandi, 7, says his daughter does not allow anyone in the family to dip their hands into vessels of water as the water gets contaminated. Dasarathi feels that ever since Miki became a member of the Bal Sabha, she has started wearing clean clothes and cuts her nails regularly.
The Bal Sabha is held once a month. 18 children between the ages of 6-12 years from the village regularly learn to wash their hands frequently, use the toilet and bathroom, and maintain personal hygiene. They gather knowledge through story books and books on varied topics, increasing their reading abilities and learning outcomes.
Being a member of the Bal Sabha gives them opportunities to engage in a range of activities within their village that also boosts their confidence and understanding of  each other. The activities in a Bal Sabha are interactive and this includes singing, dancing, playing games, and attempting quizzes together.
Gram Vikas first came to Asanbani in 2011 to mobilise residents for the village's water and sanitation system. Its approach included a 100% inclusion process that ensured every household in the village participated and contributed to the program. Asanbani village is in the Saharapada block of Keonjhar district. Residents received piped water supply in 2013.
Raimani Tudu, 45, is the President of the Asanbani Village Development Committee (VDC). She opines that the Bal Sabha meeting every month has helped build confidence in the children as they actively participate in singing, sports, and other cultural activities.
Ananta Tudu, 57, is the Secretary of the VDC. He says that he was pleased to see children from his village, for the very first time,  participate in the General Body Meeting (GBM) held in the village and set an example by placing their demands for cricketing gear and equipment. Earlier, only adult members of the village community attended the GBM and these issues of the children were often not discussed in the meetings. Through the Bal Sabha, children are being encouraged to participate in the village meetings so that they can become a part of the development process of the village from a very young age itself and gradually be groomed into future leaders of the community.
Teacher Rambhabati Tanti, 46, teaches children at the Prathamika Bidyalaya in Asanbani village. She says the children regularly attend classes and conduct themselves well in contrast to what they had been to in the past. Children come to school in clean uniforms and cut their nails regularly. She says  she has started noticing the children greet elders with folded hands when they cross their paths. She feels that having a group where children interact with other children, indulge in recreational activities, and read story books and comics, has helped them become more confident and responsible individuals.
Children reading the story books from the mobile library.
Photograph by Ananta Tudu
ACKNOWLEDGEMENT
Gaurab Mahapatra, Thematic Coordinator Planning Monitoring Documentation and Communication and Parakshita Nayak, Thematic Coordinator, Village Institutions. Mark Lancy Sebastian edited this story.
ABOUT THE AUTHOR
Chandrika Patnaik leads content production within the Communications team in Gram Vikas.