Farmer Producer Company transforms the lives of marginal farmers
Story
By Krishna Chandra Dikshit, Sangita Patra
16 August 2020
Bijay Jani's membership in Gram Vikas promoted farmer producer company helped him learn about modern agro-practices, farming techniques, land use planning; and access quality seeds resulting in significant gains from farming in his two acre land.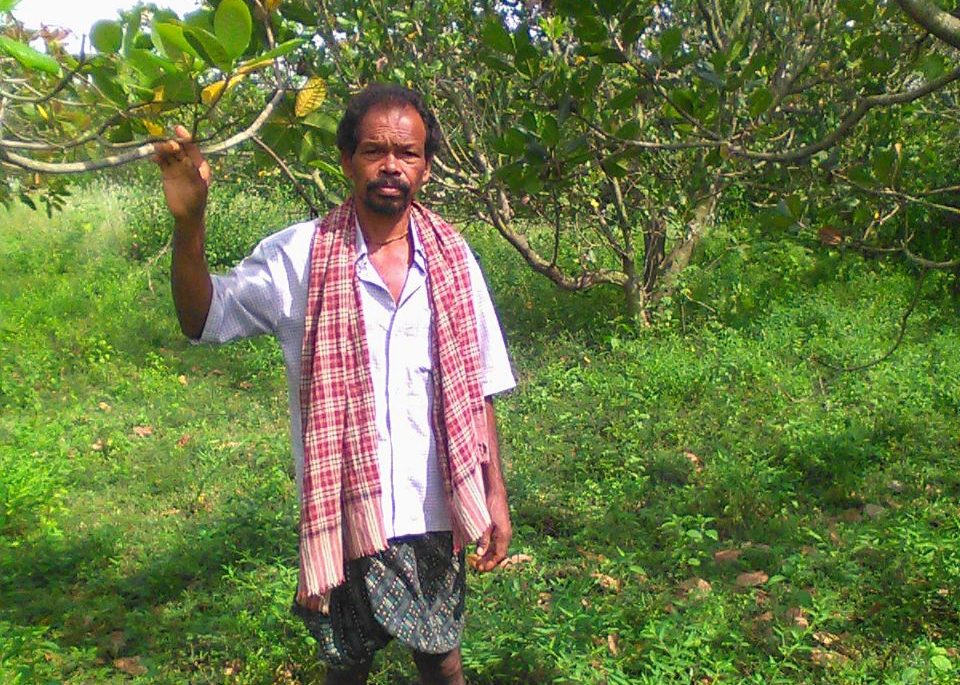 Bijay Jani in front of his farm land.
Photograph by Narayan Kumar Sahu
Bijay Jani, a 45 year old farmer from Hatigada village in Gajam district of Odisha supported his family of six working on his two-acre land. Bijay discovered the road to change after enlisting himself in the Prakruti Bandhu Farmers Producer Company (FPC). The company was formed as part of the WADI programme run by NABARD from 2009 to 2016 with Gram Vikas as the implementation partner.
Wasteland Development in India (WADI) is NABARD's flagship programme to boost tribal livelihoods through agri-horticulture based interventions together with measures for soil conservation, water resource development, and promotion of community health, skill building and income generation. Bijay was one of the 483 farmers from twenty-four villages who opted to become a member of the FPC.
The collaborative ethos of the WADI programme helped farmers in streamlining cultivation strategies and establishing backward and forward linkages. The support received under the programme helped Bijay to move beyond subsistence farming. In March 2010, he planted mangoes and cashews in one acre of his land. The harvest in June 2014 earned him ₹25,000.
In 2019, BIjay attended several sessions facilitated by Gram Vikas on farming to learn about modern agro-practices. He found the sessions on land preparation, use of fertilisers, and pesticides at different stages of plant growth; seed selection, seed treatment, and spacing between plants; raising a nursery, irrigation timing and techniques invaluable.
Bijay also received an opportunity to be part of the exposure visit to Keonjhar district, organised as a learning exchange for farmers from Ganjam to understand new techniques on mulching, drip irrigation, nursery raising etc. The visit encouraged Bijay to grow yard-long beans and lady's finger in a quarter of his land at the input cost of  ₹1,600. He sold 310 kg of his harvest of yard long beans for ₹5,440 and earned ₹2,000 from the sale of lady's finger.
The harvest made Bijay realise what his two-acre land can achieve with proper planning and guidance. He aims to get at least 10,000-15,000 out of the yield every year.
The success of Bijay had a ripple effect, as other farmers from the FPC came forward to learn from him and even share a thing or two about their experiments. Bijay is happy that the FPC changed his outlook towards farming and encouraged him to embrace new farming techniques. He is grateful to Pathaghara (classroom-learning sessions), which encouraged peer to peer learning and sharing among farmers of the FPC.
Bijay participated in a few video screening sessions on the adoption of best practices for pest identification and nature of plant diseases. Gram Vikas makes these videos that showcases the best practices and success of farming techniques adopted by farmers to their peers. This then encourages them to adopt useful practices.
Bijay applauds the FPC's Manji Express initiative. Launched in May 2019, Manji Express initiative provided doorstep service of locally preferred seed varieties to farmers by a van. The initiative covered farmers from twenty-eight villages spread across six Gram Panchayats in Ganjam district. Expert agriculturalists certify the quality of seeds provided through Manji Express. Overall, this arrangement has resolved the issue of accessing quality seeds by farmers.
Gram Vikas now supports the FPC to manage its work professionally. The thematic and technical support offered by Gram Vikas includes strengthening FPC's internal processes, preparing business plans, support in bookkeeping, envisioning new initiatives and adhering to statutory compliances.
Seed distribution to farmers at their doorstep through Manji Express.
Photograph by Krishna Chandra Dikshit
ACKNOWLEDGEMENT
Santosh Kumar Rout, Coordinator-Documentation, with Gram Vikas, supported in the story collection. Priya Pillai edited the story.
ABOUT THE AUTHOR
Krishna Chandra Dikshit is a Field Expert and Sangita Patra is a Thematic Manager in Gram Vikas.