Forest Rights Act: Ensuring rights, access and control over forest rights and resources
Feature
By Urmila Senapati
20 February 2019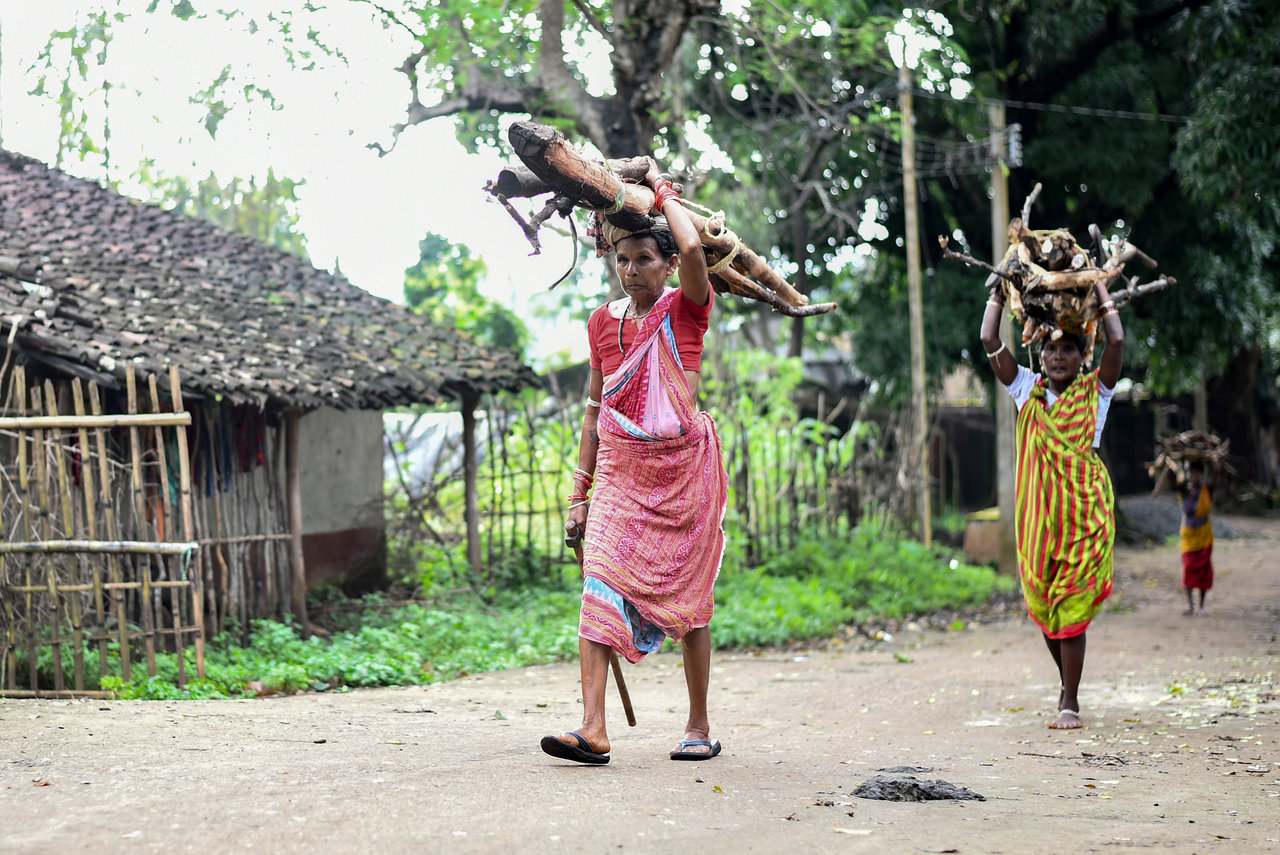 Tribal women return with firewood from the nearby forest in Maligaon village, Kalahandi district, Odisha. Photograph by Ajaya Behera
Tribes constitute 8.6% of the Indian population i.e. about 104 million people (Census 2011). Most of them are forest-dwelling, traditionally depended on subsistence agriculture, hunting and gathering minor forest produce for food with land being considered as a communal resource. Majority of them continue to be poor, have low literacy rates, and suffer from malnutrition and disease. Many of them are vulnerable to displacements as they are denied community claims over forest lands, where they have lived for generations.
The Scheduled Tribes and other Traditional Forest Dwellers (Recognition of Forest Rights) Act, 2006 legalises recognition to the rights of these traditional forest dwelling communities and seeks to give them a voice in forest and wildlife conservation.
Gram Vikas is working with tribal communities in approximately 100 operational villages in Gajapati, Ganjam and Kalahandi districts with three main objectives.   
Ensuring the rights, access and control over forest land and resources under the Forest Rights Act, 2006.

Facilitating convergence of various government programmes and schemes for the well-being of right holders

Facilitating conservation and management of Community Forest Resources as outlined under Section 5 of the Act and Rules 4(1)(e) of the amended Rules 2012
Specifically, this self-funded initiative will:
Build capacity of members of Gram Sabha & Forest Rights Committee

Coordinate with the district, sub-district and block level facilitative bodies/ authorities

Extend handholding support to members of Gram Sabha and Forest Rights Committee for executing their roles and responsibilities as envisaged under the Act, rules and executive orders issued by the authorities

Facilitate various forest right claims at Gram Sabha level
We expect our efforts to achieve the following:
Wherever necessary, Forest Right Committees are re-constituted

Members of Forest Right Committees develop their understanding of various aspects of Forest Rights Act, 2006 with sound knowledge on facilitation of claims, grievance redressal mechanism, conflict resolution modalities

All rejected claims are reviewed by designated authorities

All forest right claims, which includes Individual Forest Right Claim, Community Forest Rights and rights over Community Forest Resources are filed at appropriate authority

Rights recognised under the Act and process of incorporation in relevant government records started/incorporated

The process initiated for convergence of government programmes and schemes with right holders

Joint Titles issued and the name of wife figure under the heading of "Joint title Holder" and all eligible women-headed households and widows get a title under the Act

Community Forest Resource Management Committee is constituted in all villages for protection and conservation of the Community Forest Resources

A tribal woman goes to collect firewood at Simlipadar village, Kalahandi district, Odisha. Photograph by Ajaya Behera.
ACKNOWLEDGEMENT
Tribal communities in 100 villages in Odisha are critical to the success of our work in this area.
ABOUT THE AUTHOR
Urmila Senapati is a Senior Programme Manager at Gram Vikas.