Fostering community development through information technology
Story
By Chandrika Patnaik
22 August 2022
Tuburuda's smart task force works towards building a collaborative, healthy, and prosperous community.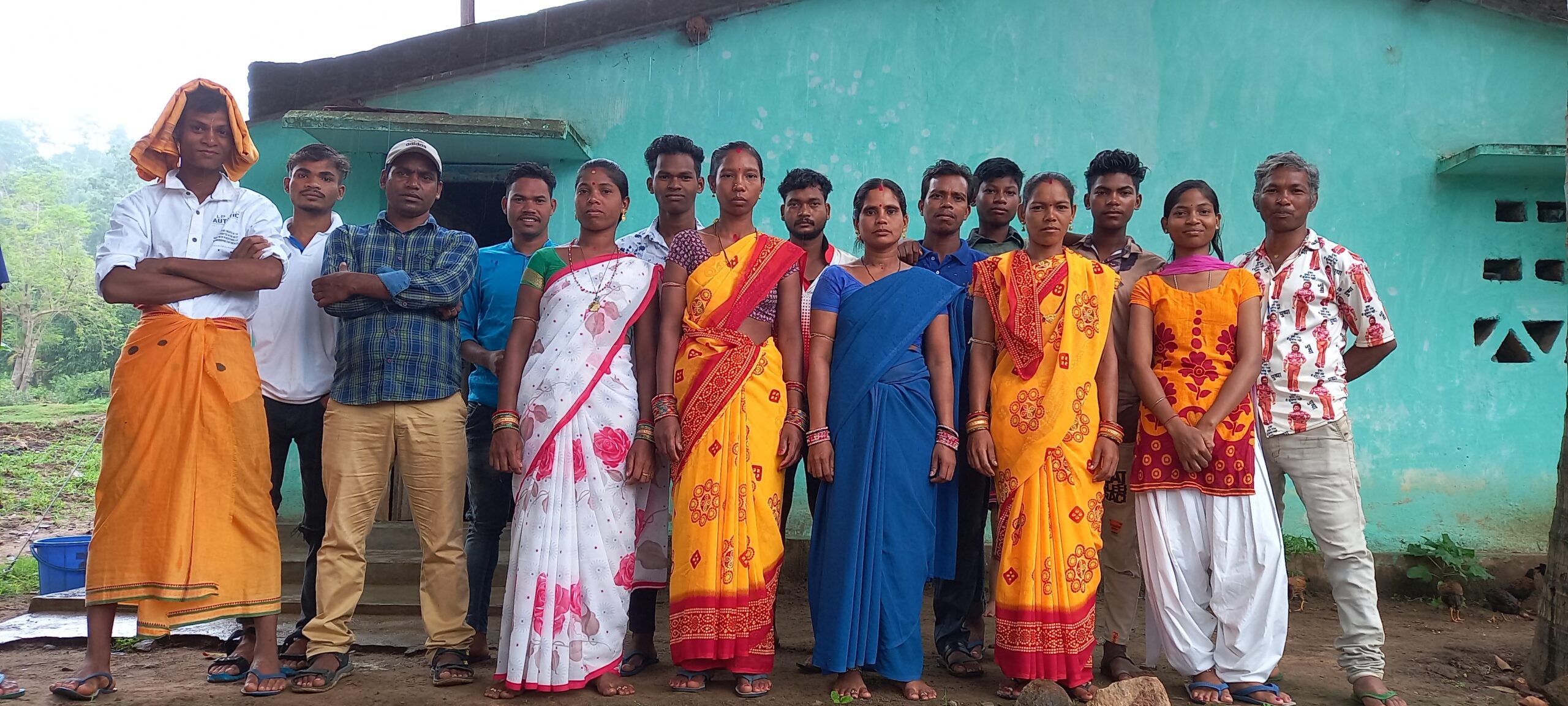 The members of the Smart Taskforce of Tuburuda village.
Photograph by Sachin Korla
Tuburuda is a small, 24-household Adivasi hamlet in Parlakhemundi town with no roads or network connections. The nearest Rayagada block is 30 kilometres, and the Gajapati district headquarters is about 37 kilometres away. A single muddy road leads to the village. During the rainy season, the road becomes slushy and dangerous to travel, keeping the village residents disconnected from the outside world.
The houses are far from each other, well-built with mud and thatched roofs. People cultivate paddy, lentils, and some seasonal vegetables for their consumption. They raise domestic animals (cattle, pigs, ducks, etc.) in addition to collecting different items from the nearby forests for their use.
During the pandemic, schools remained shut indefinitely. Children from the village studying in the government primary school walked four kilometres to learn in Jerang village, which has a mobile network. Fifteen youngsters aged 19 and 24 idled their time, not having much to do in the village. Some had completed Class 10 and others Class 12, but because they were first-generation learners from their families, they had no one to advise them on what to study and where to apply for admissions. The few graduates were not inclined to leave their village to study or work elsewhere.
Understanding youth aspirations
Sachin Korla, an SBI Youth for India Fellow, decided to mobilise the community and engage with the village youth. He started speaking to residents about how the community could collaborate to develop their village infrastructure and upgrade their lifestyle through technology and innovative ideas.
Sachin talked to a few youngsters in the village regularly. He learnt their concerns for their future and the challenges that the village as a whole faced. He viewed the young people's aspirations in light of their education, limited training or employment options, and other influences on their choices.
Although their family life had improved due to food availability and more income, the quality of life on several counts had not changed: roads in the village were non-existent, lack of transport, no mobile network connectivity in the village, lack of employment opportunities, lack of prospects for their further career development, and underdeveloped social life.
Tuburuda forms a Smart Task Force
Sachin encouraged youngsters like Dibakar Sabar, Niranjan Sabar, and some village committee members to form a Smart Task Force (STF). The STF would improve infrastructure facilities and opportunities for the rural youth for better living conditions and the development of social life. The aim was to make staying in the village more attractive.
Sachin listened to the issues they faced and asked them to prioritise the problems. The STF members prioritised two main issues – livelihood and mobile network. He decided to develop a series of health, agricultural, and community development programmes, human resource development and capacity building programmes, social programmes dedicated to rural areas, trade and environmental protection, etc., with youth involvement and government support.
Soon, Sachin facilitated the skilling of the STF members. In January 2022, a 15-member group called the 'Tuburuda Smart Taskforce' was formed. Sachin began training them on digital literacy, application, and email drafting, accessing Government portals on different schemes, skill development, and information on improved agriculture practices on YouTube.
Building digital literacy
Dibakar Sabar, 19, completed Class 12 last year. He was thrilled when he walked into the computer lab in Gram Vikas' Mahendra Tanaya Ashram School in Koinpur village, 15 kilometres from Tuburuda. He got emotional sitting in front of a desktop in the school lab. "I had never touched a computer before. I have seen one on my phone but never touched one physically while surfing the net. I am happy to be here and learn how to operate one."
In the two and a half days of training, Dibakar and the other STF members quickly caught the nuances of technology. On the second day, they were already familiar with the keyboard and had good typing speed. Ranjita Sabar, 22, a Class 12 pass out in 2019, was able to type a resume.
Niranjan Sabar, 19, passed Class 10 on his second attempt this year and is interested in pursuing his studies at Parshuram College in Lanjipadar, twenty-five kilometres away. He recently applied for a seat in the college by filling up an online admission form on the college's website. He used a computer for the first time after the training.
Each of the 24 households in the village owned at least one smartphone but accessed the network from four kilometres away in Jerang. They downloaded songs, movies, and other stuff they were interested in during their visit to Jerang village.
Skill building in livelihoods
In February 2021, Sachin collaborated with the Odisha Millet Mission (OLM), a Government of Odisha initiative to improve household nutrition through the revival of millets. A resource person from OLM visited the village and oriented the Task Force members on improved agricultural practices and access to government schemes for farmers. The resource person also shared inputs on mobilising SHGs by building their capacities and skills for gainful and sustainable livelihoods.
During the orientation, 22 families participated in the mushroom training session. The members decided to farm mushrooms in November when the straw would be readily available.
Two resource people from the Deen Dayal Upadhyaya Grameen Kaushalya Yojana (DDU-GKY) held a session to create awareness among the youth of Tuburuda about various skilling opportunities like sewing, electrical, mobile repair, etc. They spoke to them about the multiple options available after gaining these skill sets and offered them the chance to train under the different schemes.
Residents were encouraged to cultivate pink mushrooms to ensure their livelihood. As a result, they collectively produced about 55 kg of mushrooms. The village residents have planned to adopt the cultivation of pink mushrooms for a fast-earning livelihood. Two STF group boys took electrical training in the DDU-GKY training centre in Parlakhemundi in the Gajapati district.
Newfound confidence among village residents
After the first phase of the Smart Task Force orientation, Sachin noticed a difference in the attitude of the Tuburuda residents. Sachin feels earlier, the VDC members and residents were hesitant to meet the Sarpanch or travel to the block office in Parlakhemundi town to request better infrastructure in their village. After the set-up of the task force, there was a newfound confidence in the 15-member group.
The youth members were proactive. They were keen to visit the Sarpanch and travel to Parlakhemundi to meet the block officers. The Task Force members typed an application and handed it to the Sarpanch of Lakhimpur Panchayat, demanding the construction of a paved road and the installation of a mobile tower in the village. The members carried another application with a similar request and presented it to the block officials in Parlakhemundi town, 35 kilometres away.
In March 2022, under Sachin's guidance, the STF members approached Jio and Airtel through their outlet in Parlakhemundi town to provide a mobile network in their area. The members emailed Jio customer service in June 2022. The Area Manager of Jio acknowledged the receipt of the mail with the request and assured them to set up the network tower in the next two months.
Sachin also introduced financial literacy to the task force members during a day's training in the village with a member of the accounting staff from Gram Vikas. He explained how to keep track of their expenditure, save money for the future, and maintain records of the village funds and other expenses through bookkeeping.
Prioritising community needs
The Tuburuda Smart Task Force has recently planned to enforce a garbage disposal system where villagers can throw their garbage at a designated place instead of throwing it around open spaces in the village. The members are discussing with the village committee to plan a community bin to ensure their village is clean.
The members plan to organise similar activities in Langasahi village, 1.5 kilometres from Tuburuda. Sachin says, "I believe that with the help of technology, we can change the rural landscape, but we don't need to focus on technology first. Communities must first identify and prioritise the issues they want to address. After identifying the problems, they can use technology to solve those problems."
In this era of digitalisation, cashless economies, and web and mobile applications, it becomes imperative to have the rural population well acquainted with these practices to ensure they are not left behind.
Ushering in changes
Sachin says the project's first phase focused on building their leadership qualities and imparting skills to identify and solve problems. "Multiple resource persons conducted training like government officials, private organisations and skill-building organisations. As a result of leadership training, the village residents learnt new skills. They take the initiative in approaching Sarpanch and block officials."
When young people are equipped with skills and competencies and aim to bring about improvements in rural communities in different areas, commitment and support of young people from the communities will bring sustainable rural development. By doing this, they improve these communities' living conditions and bring about lasting change, "They are aware of their rights and eager to address their village problems."
Training on financial literacy for Smart Task Force facilitated by Gram Vikas staff
Photograph by Sachin Korla
ACKNOWLEDGEMENT
Sachin Korla is an SBI YFI Fellow with Gram Vikas from September 2021 to August 2022. He initiated the Smart Task Force in Tuburuda village, an Adivasi village in the Gajapati district of Odisha. Ganesh Chakravarthi edited the story.
ABOUT THE AUTHOR
Chandrika Patnaik leads content production within the Communications team in Gram Vikas.