From rural Odisha to Hyderabad: Nalini's journey to being a geriatric caregiver
Story
By Prasanta Kumar Naik, Chandrika Patnaik
11 October 2023
Nalini Jani journeys from rural Kadaligada in Odisha to become a geriatric caregiver in Hyderabad, uplifting her family and inspiring other girls in her village.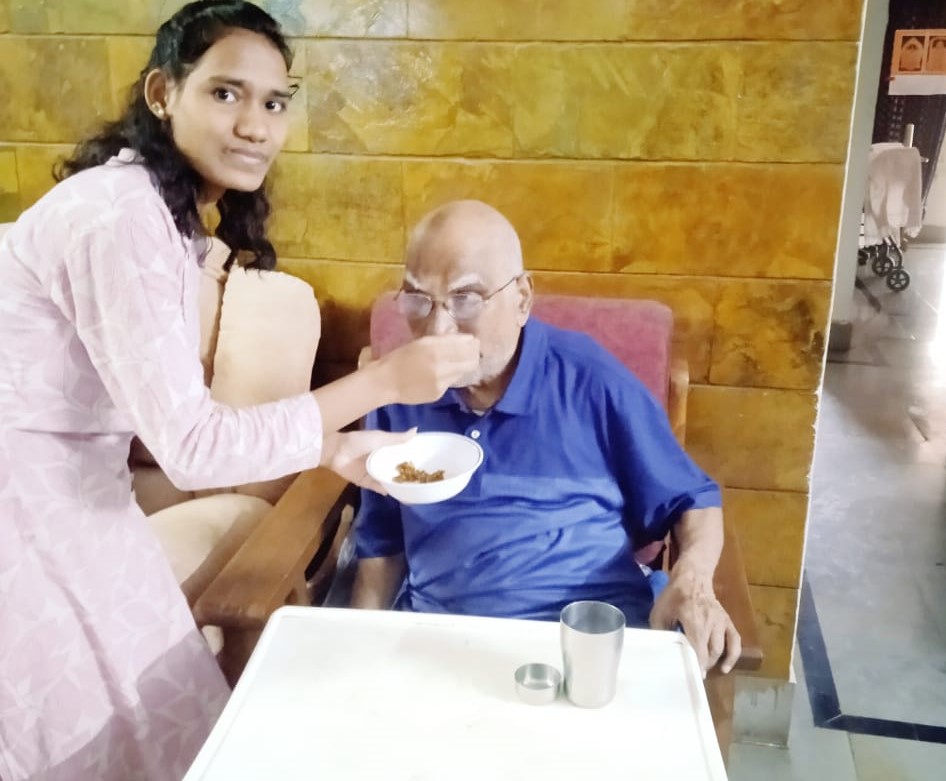 Nalini on her caregiving service in Hyderabad.
Photograph shared by Nalini
Twenty-one-year-old Nalini Jani from Kadaligada village in the Jagannathprasad block of Ganjam district in Odisha currently works as a caregiver in Hyderabad.
Before she took up caregiving, her father, Simanchal Jani, worked on a small plot of family-owned land to provide for the family's needs, which included her mother, two sisters and a younger brother.
His financial situation worsened as he had to pay off loans that he had taken to get his two older daughters married.
He toiled on his land while taking up daily wage jobs, but his earnings were insufficient to support his family. With no other source of income, Simanchal decided to borrow money from the bank and purchase an auto rickshaw in the hope of earning more to take care of his family's expenses.
However, despite his efforts in farming and driving the auto rickshaw, Simanchal's income was not enough.
Recognising the financial struggles, Nalini wanted to support her father and contribute to the family's income. However, she did not have any employable skills, training, or support to find a job, which made her feel helpless in her efforts to support her family financially.
In March 2022, Nalini attended a meeting organised by Gram Vikas in her village, Kadaligada. During the meeting, she learnt about Gram Vikas' collaboration with Hyderabad-based Life Circle Health Services Pvt. Ltd., set up in 2019 to offer training and development opportunities to young people in the villages to prepare them as professional geriatric caregivers.
The three-month professional training programme involved two parts.
The first part involved a month-long classroom training where Nalini would learn the theoretical and practical aspects of caregiving at the Geriatric Training Centre in Gram Vikas' Mohuda campus. The second and final part of the training would provide on-the-job training working with Life Circle Health Services Pvt. Ltd. in Hyderabad.
The candidates who participate in this training come from families struggling financially, with an average monthly income of around Rs. 5000. Many of these candidates have had to drop out of high school.
Nalini saw this training as an opportunity to fulfil her dream of building a career and positively impact her family's income. She travelled to Mohuda for a month to attend the initial segment of the training programme at the Gram Vikas campus. The programme emphasised the importance of patience, compassion, and empathy when caring for seniors. Caring for ageing or sick loved ones requires significant time and energy as essentials for effective care.
Initially, Nalini had concerns about the placement being in a different state, but her parents encouraged her to take this opportunity. With their support and encouragement, she decided to join the training programme, and upon completing it successfully, she agreed to be placed in Hyderabad to work as a caregiver.
In June 2022, Nalini began working full-time as a family caregiver. Her responsibility was to provide care and support to a mentally disturbed male geriatric patient. It marked the beginning of her professional journey as a caregiver, where she utilised the skills and knowledge gained during her training to assist and look after the elderly patient.
Currently, Nalini earns ₹12,000 a month as a caregiver in Hyderabad. She sends a portion of this money back home to her family every month.
"Living in the remote forest area of Rudhapadar Gram Panchayat made it challenging for my father to find enough customers for his auto rickshaw. As a result, he struggled to make regular monthly payments for the vehicle. However, things have changed since I started working as a caregiver in Hyderabad. The money I send back home helps my father cover the household expenses and pay off the auto rickshaw instalments. My father no longer fears that the bank authorities will seize the autorickshaw due to missed payments. I can even save some money for my future in my bank account," says an optimistic and confident Nalini Jani.
Nalini's mother, Pankaja Jani, 46, is happy to rest under the new fan and watch television during her leisure time. She says that Nalini has been sending money back home every month, which has helped the family purchase a fan and a TV set.
A resident of Kadaligada, Gitanjali Behera, 24, and her mother, Jayanti Behera, 53, lived in their home. The family went through tough times because they did not have enough money. Her father passed away a few years ago. Inspired by Nalini, also a resident of Kadaligada, Gitanjali took up caregiving professionally after getting trained with Gram Vikas and later with Life Circle Sevices Pvt. Ltd. in Hyderabad. She regularly sends money to her mother in the village, enabling her to repair their thatched house that used to leak during the rainy season.
21 year old Nalini is now a trained geriatric caregiver.
Photograph shared by Nalini.
ACKNOWLEDGEMENT
Amrita Haldipur edited the story.
ABOUT THE AUTHOR
Prasanta Kumar Naik is a Thematic Coordinator in Planning, Monitoring Documentation and Communication, and Chandrika leads in Content Production in the Communications Team in Gram Vikas.