Grassroots community volunteers lead the fight against COVID-19 in remote rural Odisha
Story
By Tazeen Qureshy, Chandrika Patnaik
2 June 2021
Gram Vikas has mobilised and trained a large group of 762 community volunteers helping local administration, frontline health workers and remote rural communities fight the COVID-19 pandemic.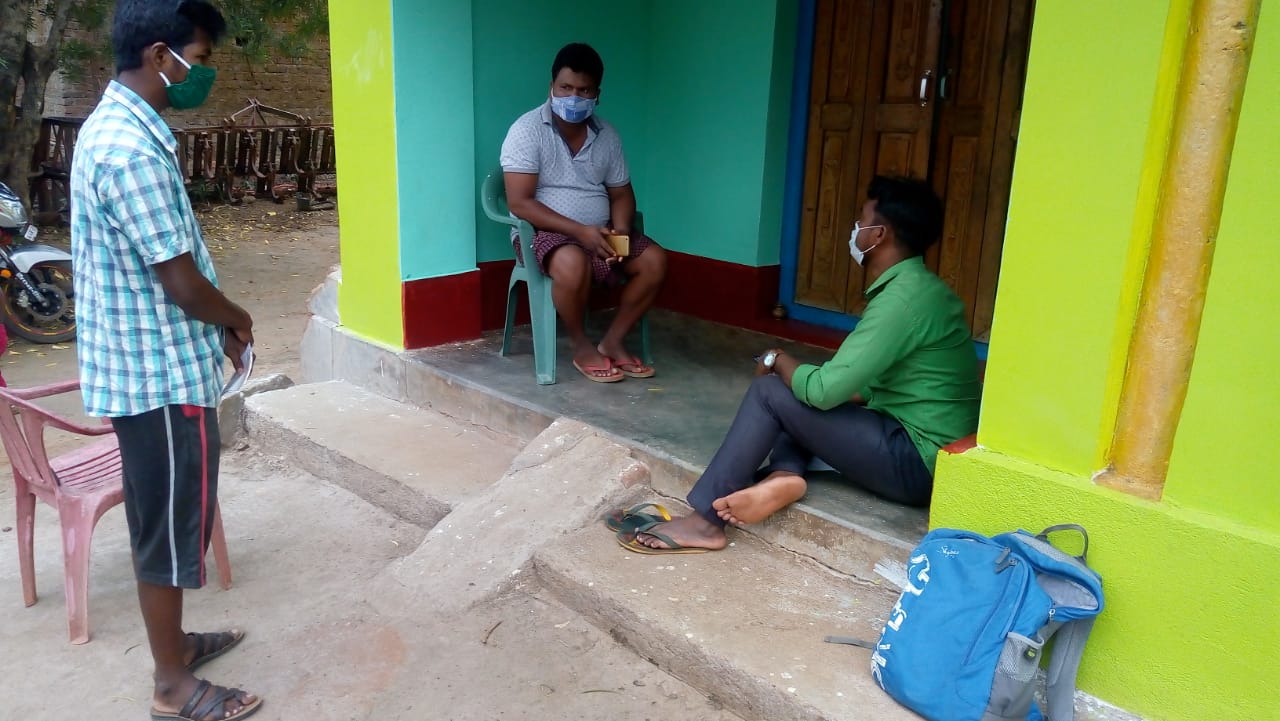 Puran Majhi is a volunteer registering the 18-44 age group on CoWIN for vaccine in Gopinathpur village of Kalahandi district.
Photograph by Gokul Nath
Crises have often brought unsung heroes to the forefront in society. Gram Vikas' COVID-19 response efforts are strengthened by many such volunteers working tirelessly to ensure remote rural and Adivasi communities take safety measures against COVID-19, overcome vaccine hesitancy and ensure COVID-care in the last mile.
In Padmadeipur village in Odagaon block of Nayagarh district, 25-year old Ranjan Dalei is ready to take up any task assigned to him. On May 10, when Gram Vikas staff approached Ranjan to be a community volunteer for registering the 18-44 age group on CoWIN for vaccine, he immediately agreed to get himself trained. He first registered himself and his family for the vaccination.
"This pandemic has taken many lives in cities like Bhubaneswar, Cuttack, etc in the past month. We want to keep people of our village safe from the coronavirus. Apart from following all rules set by the Government, each one of us should register for the COVID-19 vaccine too to be safe. I have already registered myself and my family members. I want my community to be safe. Every day I am encouraging people here to register. As of today, I have already registered 139 people from my village." says Ranjan, who joined Gram Vikas as a community volunteer two years ago.
Twenty-one year old Rabindra Naik of Simlisahi village in Nayagarh district is engaged in door-to-door registration for COVID-19 vaccination. He was inspired by the work of the Gram Vikas after watching his father benefit from the Vegetable Cluster Development initiative of the organisation.
"Gram Vikas helped my village become Open Defecation Free in 2019. We also got piped water supply because of their initiatives. Gram Vikas' contribution for the development of my village is beyond words. So when they wanted volunteers to register people for vaccination, I immediately agreed. People are crowding in CHCs and nearby hospitals for registration, thereby increasing the risk of infection. So, now I visit each house in the village and register people. So far I have successfully completed 35 registrations," he said.
In Adri village of Kalahandi district, Puran Majhi, a migrant returnee from Kerala is concerned with the misinformation about the COVID-19 infection. He is a volunteer community champion working for Gram Vikas' Shramik Bandhu Sewa Kendra (SBSK).
"Misinformation and rumours about COVID-19 in my village is a major challenge for me. I am worried that people would regard this misinformation which can lead to severe consequences. So, every Friday I organise an awareness campaign to dispel the myths and inform the people about the right protocols. I even show them videos which talk about vaccines and get them registered on the CoWIN. Last week, I registered 20 people from Gopinathpur village."
Gram Vikas selects individuals with smartphone and basic operational skills and trains them as volunteers to help register the village residents.  Volunteers choose different outdoor locations in the village so as to cover all the households. They sit at an outdoor spot for a few hours in the mornings, afternoons and evenings so that people can reach them at their convenience.
As on 31 May, 71 community volunteers and 49 Gram Vikas staff have registered 2789 people, across 91 habitations, for vaccination on CoWIN. We will eventually reach nearly half a million people in 1500 habitations across 12 districts with our vaccination drives.
Gram Vikas' COVID-19 response programme is multi-pronged as marginalised communities struggle with interlinked issues of health, life, livelihoods, food, mental health because of the pandemic.
We have mobilised a large community volunteers group helping local administration, frontline health workers and remote rural communities cope with the pandemic. Gram Vikas' 762 volunteers will form a grassroots COVID-19 monitoring group reaching out to 35,000 households in 100 Gram Panchayats across five districts of Odisha.
A Gram Vikas staff training Ranjan Dalei, a Community Volunteer to register online on CoWIN website for the Covid19 vaccine.
Photograph by Debasis Sahoo
ACKNOWLEDGEMENT
Monalisa Behera, Dulabh Odandra and Gokul Nath from Gram Vikas supported with field reporting and photographs for this story. Priya Pillai edited the story.
ABOUT THE AUTHOR
Tazeen Qureshy is a Communications Intern at Gram Vikas. Chandrika Patnaik is a Junior Manager at Gram Vikas.