How access to water changed the fortunes of Ghodaghaguri's women
Story
By Chandrika Patnaik
12 July 2023
Women in Godhaghaguri village in Mayurbhanj district helme the responsibility for providing water for domestic purposes.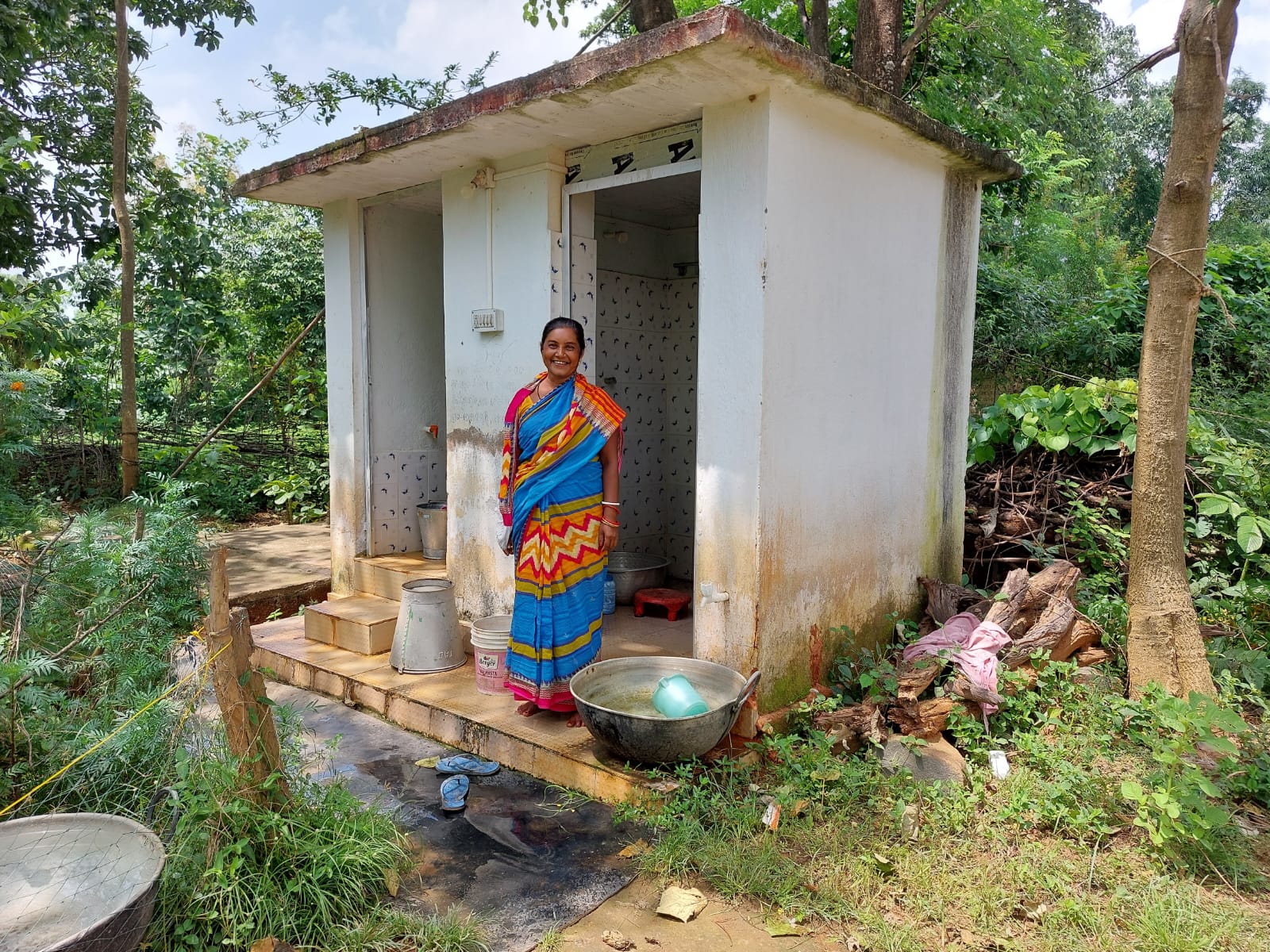 Jayanti proudly standing before her dignity house, the toilet and bathing room.
Photograph by Chandrika Patnaik
One of the most arduous and time-consuming tasks for women in rural areas is fetching water from distant water sources. The UN World Water Development Report of 2021 states that across 61 countries, women and girls were responsible for carrying water in 8 out of 10 households, which equals 200 million hours, 8.3 million days, or 22,800 years.
It is estimated that achieving universal access to safe drinking water and sanitation in 140 low- and middle-income countries would cost about $114 billion annually. In its report on 'Strengthening Sustainable WASH Programming'  https://uni.cf/3UbRrTd, UNICEF mentions that India alone accounted for 90% of South Asia's and half of the world's 1.2 billion people's open defecation woes. It says that in 2015, nearly half of India's population (around 568 million people) suffered the indignity of defecating in fields, forests, bodies of water, or other public spaces due to a lack of access to toilets.
By 2019, according to UN's estimates, the number of people without access to toilets reduced significantly to 450 million people. It also lauds the efforts undertaken in India for this  remarkable progress in ending open defecation across the country, which significantly impacts water, sanitation, and hygiene.
UNICEF has of late extended the objectives of eradicating open defecation to effective solid and liquid waste management in all cities and villages. However, to keep improving on this figure, it states that we all need to ensure sustained use of toilets and hygiene practices at all times.
Throwing light on the same, the Observer Research Foundation (ORF) published a paper by Sumedh M.K., in which the author states that: "The emphasis must be on changing collective behaviour through participatory methods, a component that has been largely absent from past policies on sanitation."
The author further suggests that, "Demand-driven approaches must be adopted, keeping in mind their strengths and weaknesses, and ensuring equity-focussed actions through community-monitored, locally appropriate, and culturally sensitive interventions."
Like in most villages in Odisha, women in Godhaghaguri village in Mayurbhanj district, are primarily responsible for providing water for domestic usage. They play a crucial role in supporting their households in achieving food and nutrition security and contributing to agriculture. Here, women walked up to two kilometres  to the Jhagada river to bathe and wash clothes daily. They walked a kilometre to defecate under the cover of trees and shrubs far away from the village.
Gram Vikas implemented the integrated water, sanitation, and hygiene (WASH) intervention in the village in 2021 with the support of its funding partner, charity:water. All the households in the village received water through three taps in their homes in June 2021.
Women in the village reported a sense of pride in owning a household toilet and receiving a 24*7 piped water supply in their homes. The WASH model implemented in 1344 villages in 27 districts of Odisha and Jharkhand has in the last 28 years (up to 2022) benefitted 98,643 households with three taps, resulting in 85% reduction of  waterborne diseases.
Before 2021, women in Godhaghaguri spent an extraordinary amount of time and energy waiting for their turn to collect and transport water from the tubewell in the village for drinking and cooking purposes. When the water level dropped during the dry months, the women spent even more time and energy waiting longer for their turn to pull up water to fill their vessels.
The main occupation in the village is agriculture with over 90% residents cultivating own or leased land, while around 10% chose to work as agricultural laborers during the paddy season, or work on construction sites during the summer.
Most of the residents own land ranging from 0.5 acres to 3 acres. They depend on the monsoon to start their cultivation as water isn't easily available during the dry months to irrigate crops.
Women here used to not only carried the burden of fetching water for household purposes, but also had to work in their fields and cultivate paddy and vegetables to meet the food security of their families. Many of them reared a few goats to meet sudden expenses at home.
Jashoda Mahanta remembers rushing through most of her tasks before the charity:water programme was implemented. She however agrees that she is lucky as her husband Motilal Mahanta, 54, is an enthusiastic farmer and supports her in cultivating paddy, maize, cauliflower, pumpkin, brinjals, tomato, and potato. He also helps her feed the forty chickens, ten goats, and two cows which they now raise since pipe water was introduced at home.
Having More Time Has Changed Everything
Before the village's water and sanitation system was implemented, women and children regularly fell ill due to diarrhea and vomiting. UNICEF states that poor sanitation hinders development because people suffer from illnesses and live shorter lives, producing and earning less, and are unable to afford education and provide a stable future for their children.
When women drink water from open and unprotected sources, it severely affects their health, detracting from the attention women can give themselves, their homes, children, and income-earning activities. As a result, the welfare of the entire community gets affected; although men are aware, they ignore it.
When a functional water and sanitation system came into place last year, Jashoda felt a marked improvement in her health. Earlier, she mostly felt miserable, frequently suffered from diarrhea, and could not carry out her tasks properly.
Since June 2021, when they received water through taps at their home, Jashoda used the water and time gained to increase the number of goats she owned to ten. She even constructed a hen house to keep the forty chickens she now raises, alongside the two cows and three ducks. With water being supplied through taps in the kitchen and toilets at home, women like Jashoda are increasingly realising their entrepreneurial potential.
Adequate access to clean water allows communities to thrive mentally. When people become dehydrated, it alters the way they think; energy level dips leading to increased anxiety and irritability. Yet women in this village hesitated to drink water regularly to avoid urinating, thus feeling constantly exhausted.
Rashmi Rekha Mahanta, President of the Village Development Committee (VDC) and a member of Maa Tara Tarini SHG in her village, agrees that drinking more water would take away the time from fetching water or doing a task at home as they had to walk a long distance just to urinate. She says women struggled to see through a scorching day during summertime, as they had to fetch water multiple times for cooking and other chores while also walking two kilometres to bathe and wash clothes.
The ordeal of the entire day only ended as evening approached, with the whole process being repeated the next morning again.When the household water supply began last year, Rashmi Rekha Mahanta invested in rearing 17 more goats from the eight she already had.
Rashmi Rekha also owns three cows and calves. She takes her goats for grazing, cuts grass, and carries the grass home to feed her cattle and livestock. With time on her hands, Rashmi takes good care of her cattle and livestock, cleaning the cow and goat shed every morning.
She says, "I am very particular about the health of my goats and cattle. Routine deworming and vaccinations keep them healthy. We are grateful that Jashoda, trained as an animal vaccinator, does the vaccination on time for the cattle and livestock in our village. The animals are in good health now, and their mortality rate has drastically reduced too."
The VDC President says this has improved the animal keepers' potential to raise their incomes. When residents depended on vets and animal health workers, animals often missed the vaccination date as the vets never came to the village on time and charged a higher fee to immunize each animal.
Rashmi Rekha says since last year, Jashoda Mahanta has devoted more time to what interests her the most: routinely immunizing cattle and livestock in the village. She learned to vaccinate animals in 2018 with support from Pradan. Thrice a year, she visits every household in the village to vaccinate the goats, and twice a year she gets the chickens in the village dewormed. She charges ₹6 for vaccinating a goat and ₹2 for a chicken which is lower than what a private vet visiting the village would charge.
As a vaccinator, Jashoda earns a total of ₹7000 vaccinating and deworming chickens during every vaccination cycle. In April this year, Jashoda sold six chickens, earning ₹3000. The residents are happy that the animals are being taken care of and that they do not have to depend on a vet to visit them for timely vaccination of the animals.
Baita Giri's mother-in-law Rangalata Mahakud, 60, used to work as a cook in the Anganwadi centre in the village. Last year, Rangalata fell and fractured  her leg, resulting in her inability to walk. When the school at the center reopened after the pandemic last year, Baita, 30, took up her  mother-in-law's job with the centre's approval.
"I had a lot of time on my hands once pipe water supply began," says Baita. "When my mother-in-law suggested I replace her as a cook at the center last year due to her fracture, I grabbed the opportunity."
Baita cooks daily in the morning for 21 children aged 3-6 years at the centre, earning ₹3,700 every month. She spends a part of her salary on household expenses and saves the rest in her account, giving her financial security. She feels the money she saves now will help to pay for her daughter's education in the future. Baita's daughter is studying in Class IV in the Government primary school in the village.
The women in Godaghaguri village have come a long way from walking with heavy water-filled vessels on their heads in searing heat, causing backache and constant fatigue. Since last year, the women are a happy lot.
Surprisingly, Godaghaguri's men never helped the women in carrying water, nor did they support them when they decided to get the water and sanitation system for the village: "They opposed the idea of setting up one, including my husband," recalls  Baita.
These days, Baita completes her work at the Anganwadi center by noon and goes home to cook lunch for her family. After preparing and serving lunch, washing utensils, and cleaning the house, she waters the vegetable plants in her backyard garden.
Eager to use her spare time productively, Baita started her own rice mill business after buying a rice mill a few months back. She processes six to seven quintals of paddy to rice every month, earning between ₹3000-₹4000 a month. Each morning, she finishes cooking breakfast for her family and then rushes to cultivate paddy and garlic on the 0.5-acre land she has taken on lease.
"I have to coax my husband Prasanta Mahakud to help me," she says. Except for tilling land and adding manure to the soil, her husband is not of much help. He likes to laze around at home, play cards and sometimes take up work on a daily wage in Karanjia block, around three kilometres away.
Baita ensures her family has enough to eat throughout the year. She cultivates her land, buys good quality paddy, sows the seeds, transplants seedlings, does the weeding, and harvests the paddy so that her family has enough.
"We cannot survive on the rice provided to us in ration every month," says Baita. "I cultivate paddy yearly to ensure my family gets three meals a day for the entire year. I cultivate garlic too for our consumption on a small patch of land. Towards the end-November, I will start onion cultivation for selling the same in the market and for consumption at home."
Overcoming Their Biggest Crisis – Water
Women were the most impacted by the water crisis as they had to take multiple daily trips to get water for their families. They thus took the key step in the decision-making process to have water and sanitation infrastructure for their community in the village, despite men stiffly opposing the plan  and even refusing to contribute in any way.
The women  realised that clean drinking water with a tap at home, toilets, and bathing rooms could significantly impact their dignity, health, and livelihood. "We did most of the hard work, from toiling in the fields to providing food and water to our families and cleaning our homes. Men never appreciate the work we do. We guessed they would strongly oppose us for this too," says Champamani Mahanta, 40, who is single and lives with her brother and his family in the village.
The women were nevertheless determined to end the constant body aches and mental fatigue of running around all the time. "In December last year, the village faced disruption of water supply due to a main pipe leakage connected to the overhead water tank. During that time, men from the village kept calling the authorities to resume the village's water supply. They complained about their difficulty due to lack of water in the taps. "There were so many phone calls day and night that the office bearers had to switch off their phones. It's funny how the men panicked when the water supply disruption occurred," says Champamani.
Since the disruption occurred, families in the village have made two to three months' advance payments toward electricity expenses. Each household in the village pays ₹50 towards monthly electricity expenses for operating the pump for the overhead water tank.
Champamani works on her brother's field during the day after finishing her work at home that includes cleaning the cowshed and the area around the house. She tends to her backyard garden, where she grows tuber roots, cowpea, drumstick, and papaya. She also works as a farmhand and earns ₹150 as a daily wage.
Champamani picked up pipe laying and tap fitting work while the pipe laying work took place in the village last year. She quickly honed her skills through practice and has now made it an income-generating activity.
Whenever a tap leaks, a pipeline cracks, or when a plumbing work is to be done, residents call Champamani to fix it. She charges ₹100 for a visit. The family bears the cost of the material. In a month, Champamani earns between ₹400-₹500, which she deposits in her account.
"Women in the village are a united lot. We understand the struggles we have gone through earlier and stand up for each other. The only aim we had earlier was waking up in the morning and  rushing to stand in the queue near the tubewell to fill the vessels left empty the previous night," says Jayanti Mahanta, 33.
Jayanti used to cook only rice and dal for all three meals at home when she walked to fetch water. When Jayanti got water supply at home, she started cooking two or three more dishes apart from rice and dal for their main meals. She has a backyard garden where she grows vegetables which helps her add more nutrition to the food she cooks at home for her family. She grows ladyfinger, bitter gourd, cowpea, bitter gourd, papaya, bottle gourd, and green chilies.
Jayanti lives with her teenage son and parents-in-law. Her husband, Dayanidhi Mahanta, 37, works as a JCB operator in a mine in Chhatisgarh and visits home every two months. She cultivates paddy on her one-acre land and employs a few labourers during the transplanting and harvesting season.
"My in-laws have been suffering from kidney ailments for the last six months. I don't know how they would have managed without water and toilet at home," says Jayanti. Jayanti sells part of the paddy she harvests and keeps the rest for the family's consumption for an entire year and a half. She saves the money she gets out of selling the paddy by transferring the same to  her account.
The eight SHG groups in the village get together and clean the village every month. The groups clean the overhead water tank once every two months. The women monitor the water supply and collect monthly contributions to maintain the water supply infrastructure in the village. Women in this village have thus  created a new order based on sustainability, equity, and dignity.
The water tower of Ghodaghaguri village in Mayurbhanj district.
Photograph by Chandrika Patnaik
ACKNOWLEDGEMENT
Parikhita Nayak, Thematic Coordinator, working in Gram Vikas' Village Institutions and Convergence programme, helped with the data collection of the story. Mark Sebastian edited the story.
ABOUT THE AUTHOR
Chandrika Patnaik leads content production within the Communications team in Gram Vikas.