Improved goat farming to boost income of farmers
Story
By Chandrika Patnaik
23 January 2023
Farmers train in new scientific methods of goat husbandry and management.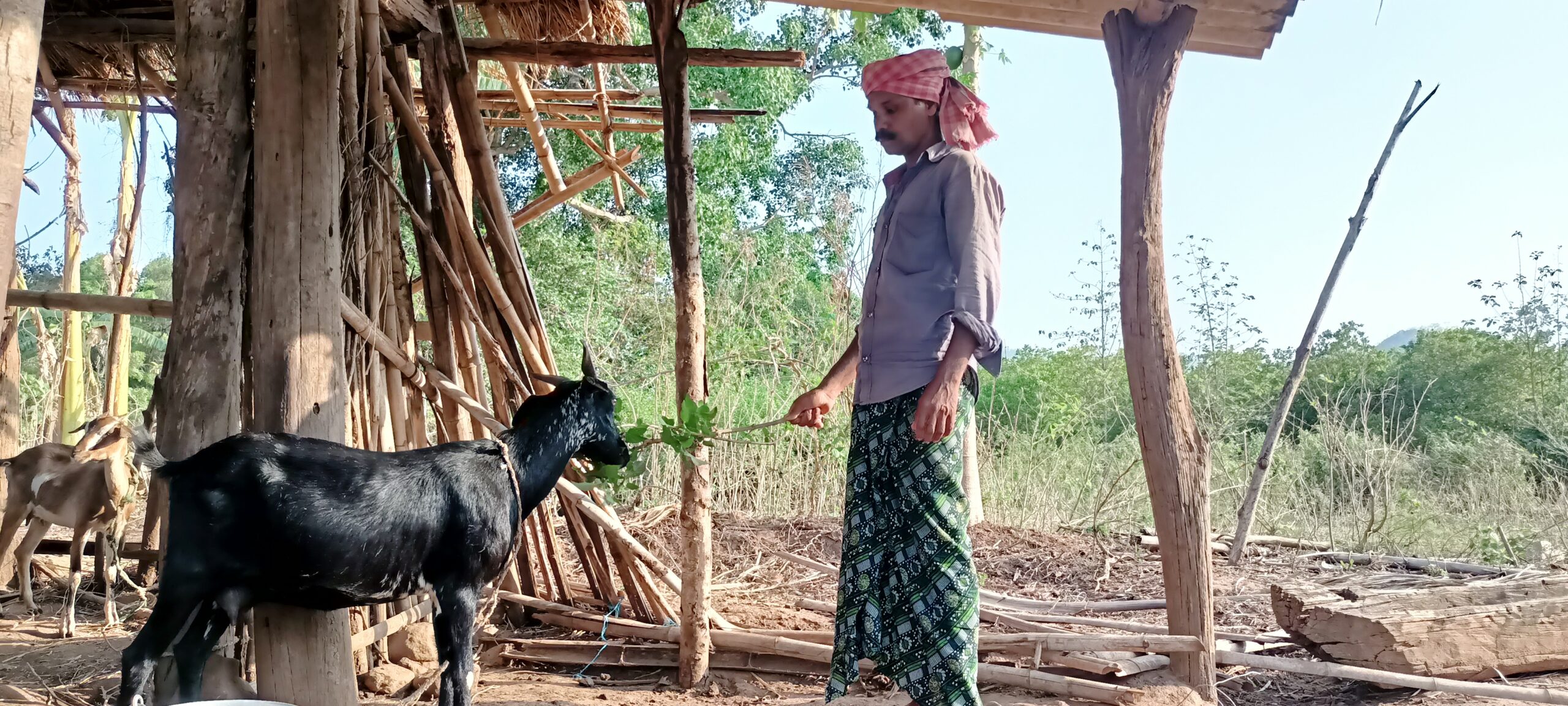 Narayan Mallik is benefitted after attending the training on improved goat husbandry.
Photograph by Prasanta Kumar Naik
Narayan Mallik, 36, is a farmer from Rudhapadar Gram Panchayat of Jagannathparad block in Ganjam district. He cultivates paddy, green gram, and seasonal vegetables. Narayan has a family of six, including his wife and four daughters. He has been rearing goats for the past ten years to supplement his earnings and meet emergency requirements at home. "Goat rearing benefits farmers like me who do not have ready cash. Whenever there has been a need or emergency at home, I have depended on my goats. They sell easily, and I get immediate cash in hand," says Narayan.
Many marginal and small farmers like Narayan depend on goat rearing for a fast-earning livelihood. However, the ways of growing the small ruminant are primarily traditional. Local breeds, conventional methods, and expensive feed mixtures are major challenges for rearing goats. "We cannot feed our goats with feed mixture and Pashu chat because of their high market cost. This results in slow growth and goats frequently falling ill," says Narayan.
Narayan attended a two-day training session on improved goat husbandry organised by The Goat Trust (TGT) at Ganjam district. Three such sessions on goat rearing were organised in Jagannathprasad block in Ganjam in collaboration with Gram Vikas. Like Narayan, nearly 75 farmers from 16 villages attended the sessions and learned about ways to improve local goat breeding, goat rearing, and management. With proper knowledge of Pashu chat and feeding mixture, the input costs have been reduced to 50%. The farmers can provide nutritional food to their goats, resulting in better meat, milk, and fibre production.
Speaking on how beneficial the training session was, Narayan said, "I have prepared the feed mixture by myself and also support the other farmers to prepare the feed mixture with locally available items. In the rainy season, it is tough for us to take goats for grazing on hillsides and forest areas. Learning about the feed mixture has benefitted us as we can save 50% in feeding cost against the market rate, and save time too."
There are plans to form a community Livestock Business Center (LBC). This centre will help in goat habitat management, selection and breeding strategy/practices for breed improvement, nutrition and disease management for better growth, treating common diseases of goats at home, vaccination of goats against PPR (sheep and goat plague), formulation and preparation of goat feed mixture, Pashu chat, and much more.
The Goat Husbandry-based Livelihood Enhancement Program (LEP) initiative by Gram Vikas primarily uses the traditional skills of the goat-keeping community. It optimises the practices with improved skills to enhance the economic conditions of the marginal, small and landless farmers. The focus is on promoting the group-based goat husbandry model approach and exploring the farm-to-market linkages. Like Narayan, other farmers in the village hope to improve goat rearing and supplement their incomes.
Knowledge of preparing goat manure helped farmers to use it in their fields. Goat manure is beneficial for the soil as it helps retain nitrogen levels, increasing its fertility, and resulting in better crop production.
Farmers also learned about the preparation of soap from goat milk. Due to the lack of awareness of preventive vaccinations, farmers often worry about the mortality of goats. The Goat Husbandry-based Program initiative helped value the importance of immunisation against such deadly diseases.
The Gram Vikas team that learnt making of goat milk soap, neem oil and Pashu chat from the training session.
Photograph by Prasanta Kumar Naik
ACKNOWLEDGEMENT
Prasanta Kumar Naik, a Thematic Coordinator in Planning Monitoring Documentation and Communication, helped with data collection for the story. Mark Lancy Sebastian edited the story.
ABOUT THE AUTHOR
Chandrika Patnaik leads content production within the Communications team in Gram Vikas.