Kantabanji village models grassroots climate action in reviving springs and conserving land
Story
By Chandrika Patnaik
16 October 2023
Kantabanji's community-driven initiatives breathe new life into water sources and landscapes, emphasising sustainable practices for long-term environmental health and resilience.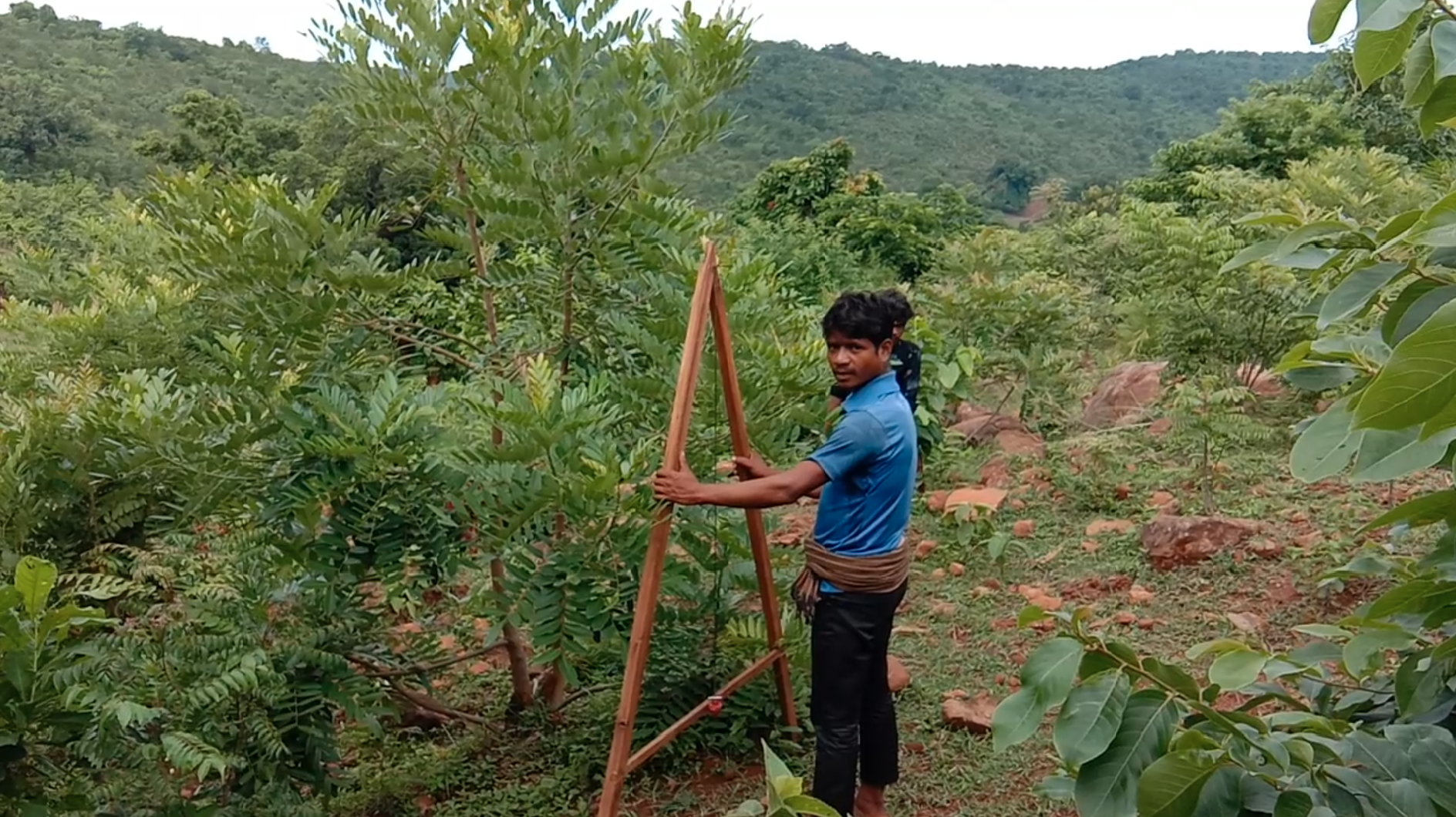 Krishna marking contour lines using A-Frame.
Photograph by Sachin Gurung
Residents of Kantabanji village have been facing water shortages since the winter months, which persist throughout the summers. In February 2023, 45 households from the village reached out to Gram Vikas, seeking a solution to their water problems.
Over the past 2-3 years, there has been a reduction in the amount of water flowing from the spring during the summer months, affecting water availability for both household taps and irrigation purposes.
Back in 2010, Gram Vikas assisted the people of Kantabanji by constructing toilets and bathrooms and establishing a pipe water supply system for their households.
Most of the fields used for cultivation in Kantabanji are on the foothills. Over the past five years, Gram Vikas has undertaken extensive watershed management and conservation activities in nearby villages such as Dhuliguda, Udiguna, and Mardiguda.
In Kantabanji, two volunteers received training in using a contour measuring tool called an A-frame. An A-frame level is a simple tool that helps us identify the contours or slopes of the land. It allows the construction of beds that collect rainwater and follow the land's natural shape. Building an A-frame level is simple and can be done using wood.
Given the varying slopes of the land in Kantabanji, the A-Frame tool is instrumental in following the contour line, enabling the construction of stone bunds along this contour line. The A-Frame ensures accurate marking and construction of these contours, effectively preventing soil erosion and protecting the land.
Krishna Chandra Majhi, an 18-year-old who has passed Class 10 and serves as a community volunteer in Kantabanji village, received training from Gram Vikas on using the A-Frame tool. He utilised this training to supervise the construction of Staggered Contour Trenches (SCTs) in his village in 2021. This year, in February 2023, the same training enabled him to effectively oversee the construction of stone bunds, a crucial element of water conservation.
Gram Vikas' Water Source Sustainability (WSS) programme empowers individuals like Krishna by providing them with the knowledge and skills to understand springs and groundwater aquifers. This is achieved by comprehensively mapping groundwater sources using the mWater app, thereby building local community capacities.
The mWater application assists in the management, mapping, analysis, and recording of data related to water sources collected during surveys. This data can be uploaded both offline and online via smartphones, utilising cloud technology.
Krishna assists the Village Development Committee (VDC) in his village by drafting resolutions for village meetings and managing vouchers and bookkeeping. He has established a good relationship with his community, encouraging and motivating residents to participate in watershed and conservation activities. Krishna finds it challenging to convince people to dedicate their time to such work because the results are not immediately visible or tangible.
Over the years, residents from his village have observed changes in water availability for their household and irrigation needs. They have also noticed a significant increase in trees covering the hills around Dhuliguda, Udiguna, and Mardiguda villages.
Krishna explains that seeing these transformations firsthand, along with the revitalisation of springs in those villages, motivates people to willingly offer to participate in the watershed work.
Using the A-Frame, he applied his training to oversee the digging of SCTs (Staggered Contour Trenches) in his village in 2021. Once the contour lines are marked using the A-Frame, a trench around one foot deep and with a size of 2×2 is dug as the foundation. Then, larger stones are placed first to create a sturdy base, followed by stacking smaller stones on top.
Since 2020, Gram Vikas has been providing comprehensive training to community volunteers like Krishna on various watershed activities, land development work, and the construction of structures such as Staggered Contour Trenches (SCT), gully plugs, field bunds, and stone bunds. They also receive training on social and agroforestry plantation work, with a specific focus on areas that experience water scarcity.
Staff from Gram Vikas, along with community volunteers, Village Development Committee (VDC) members, and residents, survey sites and create a detailed plan for building stone bunds in areas where the speed of surface runoff is high.
At the project level, a follow-up training organised by Gram Vikas includes Field Experts from the organisation who assess ground-level understanding of the trained individuals to ensure they have grasped the concepts effectively.
After the meeting, the team from Gram Vikas, volunteers, VDC members, and residents visit different sites to assess the situation. They carefully survey two specific areas where the speed of surface runoff is high and develop a detailed plan to address this issue.
Gram Vikas prepared a plan detailing the construction of Continuous Contour Trenches (CCTs) in Kantabanji village. These trenches prevent soil erosion caused by flash floods. When there are heavy rains or floods, the soil from the hill is carried down to the agricultural land, causing significant crop damage. The CCTs aim to mitigate this problem and minimise crop loss.
Roop Singh Majhi, 32, Secretary of Kantabanji VDC, has seen Gram Vikas' work in watershed and conservation activities in the region in the past two years. He is confident that these efforts will benefit the hill people in the future. However, he acknowledges that it may take another two years before the positive impact becomes evident.
Roop Singh notes that the saplings planted on the hills two years ago are now growing into trees, making the surrounding hills of their village appear greener than in previous years. He sees this as a promising sign of progress.
Ballabhadra Jani, the Sarpanch of Thuamul Gram Panchayat, which includes Kantabanji village, shared his thoughts on the extensive watershed work in the Panchayat. He highlighted the remarkable development achieved in the Panchayat compared to other Panchayats. The residents now have toilets and bathrooms, land development has improved the water table, and there has been an increase in spring water discharge in Kantabanji and Mardiguda. Farmers have also benefited from cultivating more land to grow and sell green vegetables.
As the President of 24 Gram Panchayats in the Thuamul Rampur block, Ballabhadra Jani has observed that villages supported by Gram Vikas experience significant development and progress.
Over the past two years, 4500 staggered contour trenches and 60 field bunds of 2X3X20 size have been completed in Kantabanji village. Approximately ten acres of land have been treated for agriculture and horticulture purposes, benefiting the 45households living here.
A stone bund structure at Kantabanji village.
Photograph by Sachin Gurung
ACKNOWLEDGEMENT
Sachin Gurung, a Thematic Coordinator in Water, helped with data collection for the story. Amrita Haldipur edited the story.
ABOUT THE AUTHOR
Chandrika Patnaik leads content production within the Communications team in Gram Vikas.