Khajurisahi community ends open defecation
Story
By Chandrika Patnaik
12 June 2023
Khajurisahi ends open defecation and reduces drudgery for women by adopting safe sanitation practices.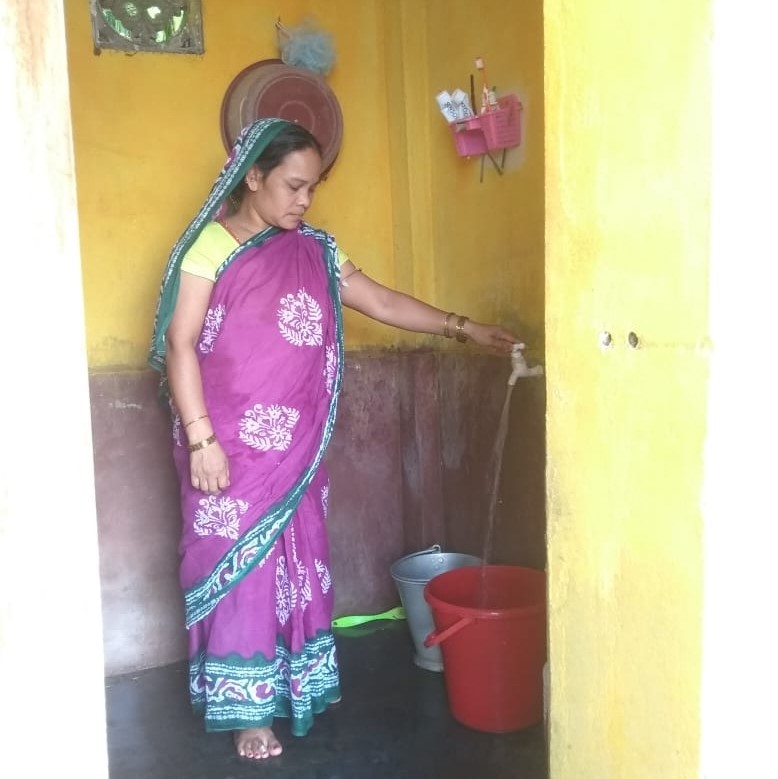 Puspalata Sabar, a member of Maa Bhabani SHG now has easy access to water at home.
Photograph by Sudam Sabar
Khajurisahi village in Badapali Gram Panchayat of Ganjam district is home to 46 Adivasi families. Most households in the village depend on agriculture and cultivate paddy, pulses, and vegetables, while many village residents also work as daily wage labourers.
Before Gram Vikas set up a piped water supply system to adopt safe sanitation practices and reduce drudgery for women, the village residents had to walk nearly one kilometre to Mankidiakhol spring to collect water. Inadequate water supply and open defecation near the village and in the forest led to the spread of diseases, especially among women, causing severe health issues.
"Poor sanitation has been a problem in our village. We have had frequent outbreaks of diarrhoea, intestinal worm infections, typhoid, cholera, and other water-related diseases," says Bandiata Sabara, 27, a member of the village's Maa Bhabani SHG. "Moreover, women underwent much discomfort defecating in the open as they had to walk further away from the village from prying eyes or wait until nightfall."
Jalandara Sabara, 30, an occupational teacher from Khajurisahi, married a girl from Talamanda village of Gajapati district. He was impressed by the water and sanitation programme in Talamanda and concerned to watch his wife struggle to adjust to her new home in Khajurisahi. She encouraged Jalandara to see if he could implement a similar system for the convenience of Khajurisahi's womenfolk.
Jalandara decided to motivate Khajurisahi's villagers about the water and sanitation programme and met with Gram Vikas' staff at the Khalikote block office to discuss the system with the residents of his village. Several meetings were held with the villagers between July and September 2018 to convince them to have a proper water and sanitation system.
Initially, some residents disagreed with the project as they found it too expensive. But soon enough, the residents, Village Development Committee (VDC) members, and SHG members developed a plan for reducing the input cost for constructing an overhead water tank, toilets and bathing rooms. All 46 families came together to build soak pits with stones, prepare chips from rocks, and contribute bamboo and wood for the construction, significantly reducing the total input costs.
VDC members Suresh Sabara and Sudam Sabara volunteered to supervise the work. Apart from shramdaan, the four SHGs in the village — Maa Bhabani, Maa Budhalingi, Maa Tarini, and Maa Gramadebi — mobilised each of the 46 families to contribute ₹500 for raw materials and two glasses of rice for the mason's overall food intake. Residents who could not volunteer for shramdaan made monetary donations instead. The residents spent nearly ₹25,000 to construct toilets and bathing rooms and approximately 12 lakhs for the overhead water tank.
Sudam Sabara feels that easy access to water at home and good sanitation practices has changed the lives of women, girls and the elderly for the better: "It is a major relief for a woman in her daily routine. It has greatly enhanced the dignity of women."
The VDC and Community have also taken up the responsibility of overseeing the village overhead water tank's maintenance. Each family contributes ₹30 as maintenance fees towards the same every month.
Khajurisahi is an excellent example of community participation accelerating social and behavioural change. Furthermore, during these meetings, the four SHGs have continuously striven to raise awareness on various social issues like the impact of alcohol consumption, child marriage, poor hygiene practices, and open defecation.
A community meeting in Khajurisahi village.
Photograph by Sudam Sabar
ACKNOWLEDGEMENT
Kailash Chandra Das, Thematic Coordinator, Village Institutions and Convergence, helped collect data for the story. Amrita Haldipur edited the story.
ABOUT THE AUTHOR
Chandrika Patnaik leads content production within the Communications team at Gram Vikas.