Making banking accessible to migrant workers
Story
By Chandrika Patnaik
1 July 2021
Community Champions from the Gram Vikas 'Safe and Dignified Migration of the Rural Poor', help migrant workers and their families start bank accounts. This will help raise household savings, make money transfer and access easy, and increase their financial security in the long term.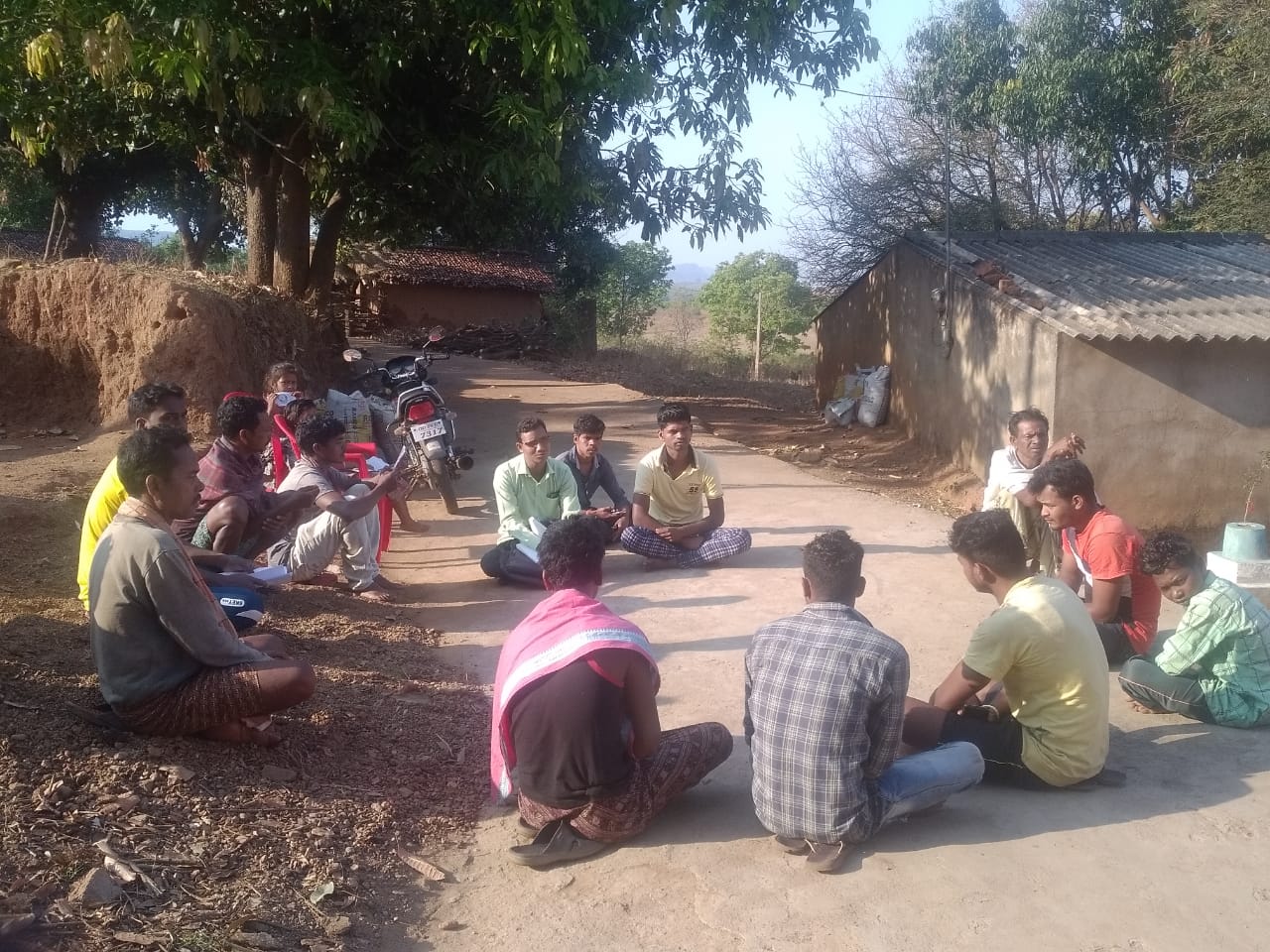 Ramesh Naik, a Community Champion discusses on opening saving bank accounts and encourages the migrant worker dependent families to save in village Bendajhola, Gopalpur Gram Panchayat.
Photograph by Pinyas Gamango
Santasila Majhi of Jabang village, under Kaniguma Gram Panchayat in Kalahandi district, is a migrant worker in Kerala. Every month, Santasila would deposit money to a relative's bank account, who would then withdraw and send the cash to his family. Balabhadra Nayak, 22 years, from Karang village, in Thuamul Gram Panchayat, has been working in stone quarries in the Rayagada district of Odisha for two years. He returns to his village once in six months, carrying the entire sum of his earnings in cash.
Like Santasila and Balabhadra, thousands of migrant workers who migrate for work remit money to their families through friends, relatives or anyone else in their village having a bank account.
Balabhadra visited the bank in Gunupur, 10 km from his village, twice but could not open a bank account. "The bank officials thrust a form in my hands and asked me to fill it up. I didn't know how to fill out the form and didn't have the necessary documents. I was unable to understand the formalities required. So, I came back", he says.
Community Champions in the Safe and Dignified Migration programme identifies the migrants and their dependants without a bank account. They conducted financial literacy campaigns in villages to help them understand the process and documents required for opening bank accounts.
For workers in the destination locations, they coordinated with the employers to open bank accounts. At the source level, they provided the necessary support to open bank accounts for migrant dependents.
Santasila has a bank account now and no longer relies on his relatives. "This passbook gives me a sense of confidence. It's a big thing for us as my wife can now plan to save some money in this account from what I earn from Kerala", says Santasila.
More than half of the migrant workers from the Kalahandi district who work outside the state earn more than ₹9,000 per month. Opening bank accounts and promoting cashless transactions will encourage them to save more for the future.
Puran Majhi, a Community Champion reaching out to migrant dependent families and encouraging them to open savings bank accounts in village Chirika, Adri Gram Panchayat.
Photograph by Pramita Majhi
ACKNOWLEDGEMENT
Reporting by Tambudhara Nayak, a member of the Community Champions Network of the Gram Vikas Safe and Dignified Migration of the Rural Poor programme supported by Arghyam. Tazeen Qureshy edited the story.
ABOUT THE AUTHOR
Chandrika Patnaik is a Junior Manager, Communications, with Gram Vikas.