Mason training helps Laxmi send her children to school
Story
By Aditya Amlan Kar
01 October 2019
Laxmi Ekka, a young mother, struggled to send her children to school as earnings from daily wage labour were just enough for her family to survive. But attending the mason training by Gram Vikas helped her get a job with OPGC, triple her income and send her children to school.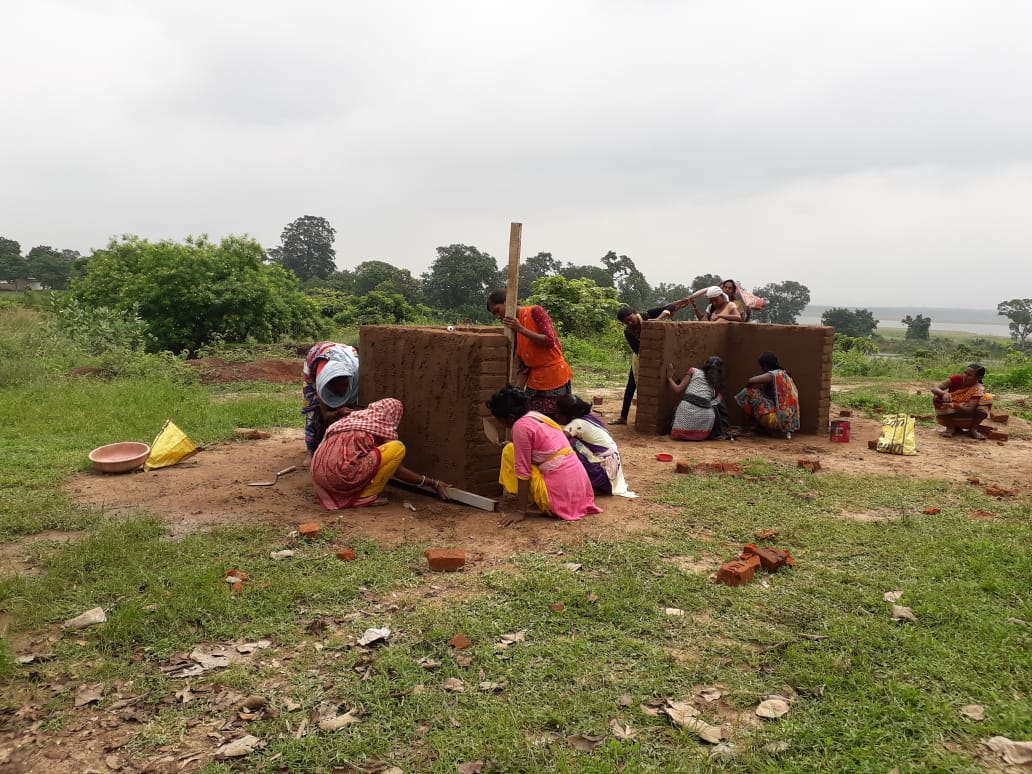 Laxmi (in yellow-pink dress) with other trainees in the mason training.
Photograph by Aditya Amlan Kar
Regular and decent income is a challenge for the people of Puruna Adhapada village in Telenpali block of Jharsuguda District. Most of the residents work as daily wage labourers and earn not more than ₹ 150 per day. Gram Vikas' mason training intervention has helped them improve their daily income.
Gram Vikas organised a Masons' Training programme in the village, with support of the Odisha Power Generation Corporation (OPGC) for 60 days during June – July 2018. Male trainees came from seven villages in the gram panchayat, where the OPGC-supported water and sanitation project had been implemented. Local staff motivated women from Puruna Adhapada to join the training, mobilisation and orientation skills. The staff shared success stories from elsewhere to overcome their reluctance. Fifteen women from the village thus joined as trainees.
The baseline of the trainees revealed that the trainees earned a monthly income of about ₹ 6,000 during months when labour was in demand. During the lean months, their income would fall to ₹ 4,000 per month. Their primary aspiration was to provide better education for their children. 
After the training, they now work as masons, earning a daily wage of ₹ 400-450, about three times their previous income.
Laxmi Ekka is a young woman, who was part of the training. Her dream was to be able to send her children to school. "We lived in a precarious condition where it was difficult to make ends meet.  My husband and I worked as daily labourers to feed our family of five. With our combined income of ₹ 5,000 per month, it was difficult to do anything but survive."
After completing the training, Laxmi is working as a mason in construction projects in the OPGC campus. Her income has increased to ₹ 15,000 per month. 
Laxmi's two children have started going to school regularly.
Participants learning masonry skills at the training conducted in Bhandartoli village, Palkot, Gumla.
Photograph by Santosh Kumar Patra
ACKNOWLEDGEMENT
Sangita Patra supported with the content framework for story collection and story finalisation. She is a member of the Monitoring, Documentation, Communication group at Gram Vikas.
ABOUT THE AUTHOR
Aditya Amlan Kar is a Young Management Trainee at Gram Vikas.