Migrant support centres help workers recover their dues from employers
Story
By Baisakhi Mishra
25 June 2022
Young migrant workers Abhiram and Gajendra had to return home to Kalahandi from Kerala without getting months of payment for their work. Gram Vikas' Community Champion from the Safe and Dignified Migration Programme, coordinated the efforts to help them to get their rightful dues.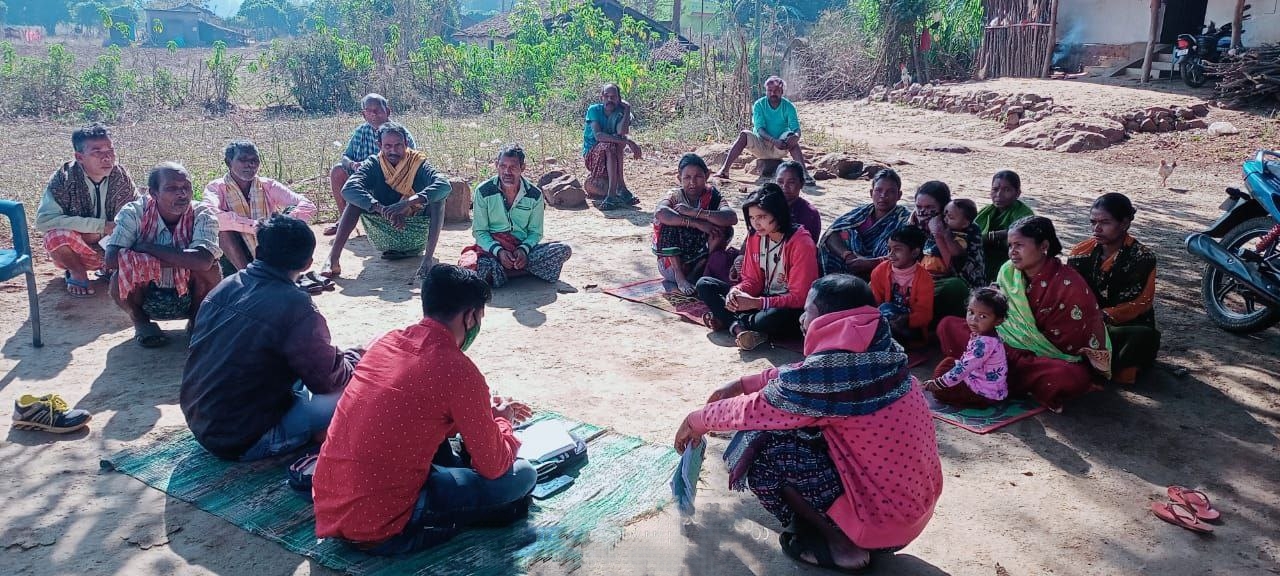 Community champions are taking financial literacy meeting.
Photograph from Gram Vikas Photo Archive.
Abhiram Majhi, 22, is a migrant worker from Karnibel Village in Thuamul Rampur block of Kalahandi district, Odisha. He lives with his three brothers and parents. He is not the first in his family to migrate in search of work. Rajendra, his eldest brother, had moved to Kottayam, Kerala, to work on a pineapple farm. The family needed money for an emergency. He returned home after four months when he earned enough.  
Abhiram had to drop out after Class 5 but has always wanted to study. In 2016, he decided to migrate to Palakkad, Kerala. He found work in a construction company through recommendations from Jitendra, a fellow migrant worker from his village. Over two months, Abhiram saved ₹8000 from his daily wage of ₹500. But he had to use that money for a family medical emergency when he returned home. 
Again in 2017, Abhiram migrated to Ernakulam district in Kerala to work in a papad manufacturing company. Over the next five years, his monthly income gradually increased from ₹8000 to ₹12000 per month. 
Hardships at work
The company had agreed to pay him and his colleagues ₹3000 at the end of every week. However, from 2019 payments became irregular. They received only weekly payments of ₹500 to ₹2000. Abhiram says there were many issues, "The work was physically exerting. We had to work long hours. The employer had also promised ₹40 per hour for overtime but we rarely got it". 
The employer then promised to clear all dues once the workers decided to return. Abhiram then started keeping track of the money to be got. He also kept track of overtime and encouraged his co-workers to do the same.
In January 2021, Abhiram wanted to return to his village with Gajendra, another fellow migrant from Karnibel. They approached their employer and asked for their dues, which were ₹63,000 and ₹25,000, respectively. He physically and verbally assaulted and refused to give them any money. The following day, he apologised and promised to clear their dues soon. Closer to the travel date, Abhiram and Gajendra again approached their employer. This time too, he refused to pay them. Left with no other choice, they returned home without their payment. 
Migrant support centres help to get the payments
In November 2021, Abhiram and Gajendra learned about Financial Literacy Training for migrants and migrant dependents in Karnibel. Gram Vikas' Community Champion, Tambudhar Nayak, conducted the training. They learned about the Shramik Bandhu Seva Kendra (SBSK) and the Bandhu helpline.
Abhiram called the helpline to register his complaint with the Berhampur operator, who then forwarded the complaint to the support centre at the source, Bandhu Shramik Seva Kendra (BSSK) in Ernakulam. The BSSK, with the support of the Labour Department of the Government of Kerala, reached Abhiram's employer. He agreed to refund all of Abhiram and Gajendra's outstanding money. 
Abhiram already had a bank account, but Gajendra did not. Tambudhar took Gajendra to Bhawanipatna, 65 km from Karnibel, and guided him to open a bank account. It would help the company transfer the pending payment to his account. 
Abhiram is currently cultivating paddy, millet, and some pulses on his land. He and Gajendra have increased confidence after learning about the Bandhu helpline and the SBSK. They are eager to migrate again in search of work. Their story has provided hope to many migrant workers often exploited at their workplaces without adequate grievance redressal mechanisms.
Abhiram Majhi is working in his paddy field.
Photograph by Mahendra Majhi.
ACKNOWLEDGEMENT
Kabir Rana, a Project Manager for the Rural Livelihood Project, helped in collecting data for the story. Priya Pillai edited the story.
ABOUT THE AUTHOR
Baisakhi Mishra works as an intern with the Communication Team.