Pramila learns masonry to rebuild her house ravaged by Cyclone Fani
Story
By Rahul Thekdi, Chandrika Pattnaik
22 June 2020
Cyclone Fani destroyed the homes and livelihoods of people of Krushnanagar, a small 56-household Adivasi village in the outskirts of Bhubaneswar. PriceWaterhouseCoopers India Foundation supported a masonry training program for the community that has helped women and men find sustainable livelihood opportunities post-disaster.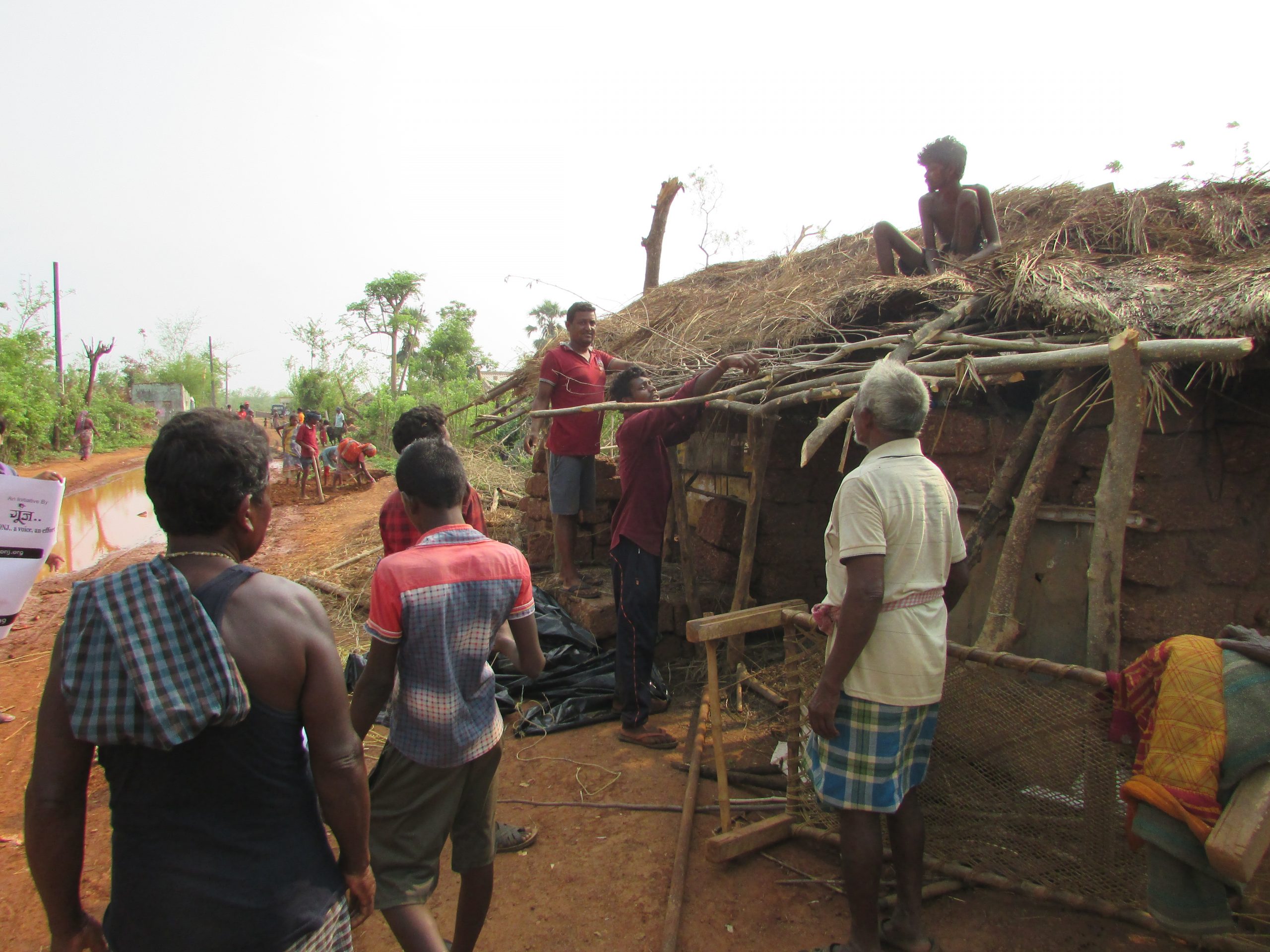 The villagers helping repair houses damaged by Cyclone Fani.
Photograph by Santosh Rout
Nestled quietly near the Chandaka forest is Krushnanagar Ambapadia, a small 56-household Adivasi hamlet of Krushnanagar village under the Daruthenga Gram Panchayat in Khordha district. Most of the households earn their living from daily wage labour.
Cyclone Fani, which hit Odisha in May 2019, devastated Krushnanagar like many other villages in the district. With their homes destroyed and livelihoods lost, the people of Krushnanagar were left with no assistance to survive on. When Gram Vikas learnt about the situation, we knew we had to act fast. 
Within the first 10 days, our teams were in Krushnanagar supporting the community with relief material and building tents for temporary accommodation. 
Livelihoods rehabilitation through skill building
In August 2019, help poured in from our partner PricewaterhouseCoopers India Foundation. With their support, Gram Vikas initiated a masonry training programme. Within a month, as many as 28 people, majority of them women, came forward to enrol themselves for the training. 
Pramila Singh was one of the first to join the training. With the support of her husband, she began her training in masonry, which typically is done mostly by men. 
Stamina and enthusiasm
Pramila attended the two-month intensive training with a lot of enthusiasm, determined to learn new skills and make a living out of it. "I learnt a lot from the training. It helped me gain self-confidence. The skills I learnt during the training gave me hope that I can work and add to my husband's meagre income," she says with a satisfying smile. "My husband works as a daily labourer in farms or vegetable markets. He has no knowledge of masonry. We both survive on whatever he manages to earn daily."
Building resilience
Before the cyclone hit her village, Pramila and her husband lived in a mud house with a thatched roof. Cyclone Fani tore their home, the entire thatched roof was blown away, giving way to lashing rains and wind. The months that followed saw her family living in a makeshift shelter with a plastic sheet as a roof over their heads.
Having completed her training in masonry, Pramila started building her new home. With some limited savings and help from her husband, she built the house in just two weeks. Today, she takes great pride as she gives us a tour of her new house. With a broad smile on her face, she tells us that she is the only one in her batch who has built a home, that too with her own hands.
The women in her village are very proud of her. The house that she has built provides her family with a safe place to live. 
Group photograph of mason training participants in Krushnanagar Ambapadia village.
Photograph by Artatrana Sunani
ACKNOWLEDGEMENT
Aswini Behera, Junior Manager with Gram Vikas, helped in data collection.
ABOUT THE AUTHOR
Rahul Thekdi is a communication intern and Chandrika Pattnaik is a Junior Manager at Gram Vikas.