SBI Youth for India Fellow collaborates with Gram Vikas to help shape career aspirations of younger generation of Adivasis
Story
By Rohan Gehlot
4 September 2023
Amid Odisha's captivating landscapes, dreams and aspirations of students get a new direction through career guidance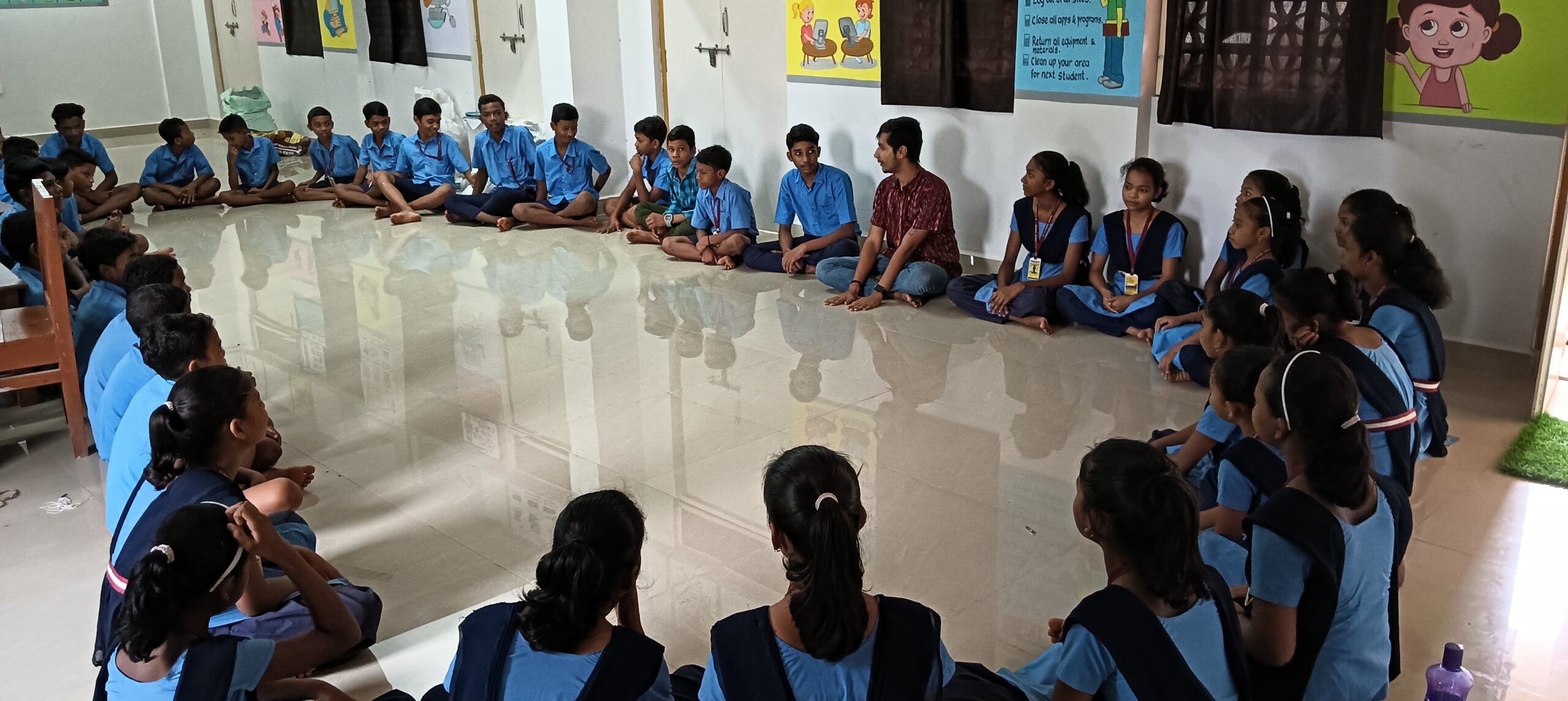 Rohan taking sessions of children of Mahendra Tanaya Ashram School in Koinpur
Photograph shared by Rohan Gehlot
Born and raised in Jodhpur, Rajasthan, my quest for knowledge and fulfilment took me from a bustling university to the serene embrace of an NGO called Camp Diaries, where I found my true calling – working with children and nurturing their dreams. Little did I know that this experience would ignite a fire within me to serve my nation through the UPSC Civil Service examination. While the road to becoming a civil servant may not have materialised as expected, my aspiration to serve the nation multiplied and led me to a different yet impactful path – as an SBI Youth for India fellow, working with rural communities in Odisha to drive lasting positive change. In the heart of rural Odisha lies a tale of passion, empowerment, and the pursuit of dreams.
Bridging the aspiration gap
As I immersed myself in the community, I encountered a poignant reality – the youth of Koinpur faced an aspiration gap. Many young hearts were unaware of the vast possibilities ahead of them, their dreams tethered by the constraints of circumstances and lack of exposure. The question of "What do I want to become?" loomed over them like an insurmountable mountain. I pledged to bridge this divide, initiating a project to enhance the student's soft skills and career guidance.
Project initiation: implementing the promise of change
With the foundation of leadership and confidence instilled by Mahendra Tanaya Ashram School (MTAS), my task was to mirror their brilliance and help them overcome the shadows of inferiority that clouded their interactions with the outside world.
The school recognised the students' artistic skills and encouraged them to participate in the Bureau of Energy Efficiency's painting competition on climate change and energy efficiency. I helped educate the students about climate change, global warming, and the circular economy, and we brainstormed ideas for how to portray these concepts in their paintings. Three students won at the district level, and two (Basudev Gamango and Dilsen Sabar) won at the state level. Their outstanding artistic talent earned them a prize of ₹ 7,500/-, which instilled a sense of pride and self-belief in them.
To further inspire them, I curated a school calendar for 2023 adorned with the Saura paintings painted by students, with their names and pictures on it that got launched on the 44th Gram Vikas Foundation Day in March 2023. The appreciation they received for the calendar became a confidence-building testament to their talents and dreams, sowing the seeds of ambition and limitless possibilities.
Breaking down barriers: guiding the career path
These first-generation learners need exposure and awareness of various career options. I introduced a career guidance program to provide them with the right information and support. More than 90% of the students made informed decisions and pursued higher education, shattering barriers and embracing their true aspirations.
Here are two inspiring narratives that embody the influence of career guidance.
Meet Sushanti Bhuyan, a determined young woman with dreams of becoming a reporter, and her talented brother Kunna Bhuyan, a skilled artist. Sushanti's desire to become a reporter led us to seize an opportunity that would change her life forever. With the support of my co-fellow Jahnvi Rathor, we submitted a film titled "Empowering Rural Odisha: Sushanti's Path to Becoming a Reporter" to the 4th Footprint Film Festival. The film beautifully portrayed Sushanti's journey and her aspiration to make a difference through storytelling. When the film was selected and showcased at the prestigious Indira Gandhi National Centre for Arts (IGNCA) in Delhi, it was not just a validation of Sushanti's dreams but a testament to the immense potential hidden in every Koinpur student.
Meanwhile, Kunna's artistic talents found direction, and he resolved to sharpen his skills further by pursuing higher education at an art school. Kunna set his sights on a future that was once a distant dream.
One crucial aspect of my project was providing digital literacy to bridge the gap. Yet, it wasn't without its hurdles. Frequent power cuts and limited infrastructure were a few major challenges. Despite the obstacles, the sheer determination of these students to learn and explore new horizons was awe-inspiring. Their thirst for knowledge made me realise the transformative power of technology.
Leaving a lasting impact
As my departure from Koinpur approached, I pondered whether my endeavours would imprint a lasting legacy. Could the dreams kindled within these young hearts continue to bloom beyond my presence?
To ensure sustainability, I devised a plan to develop digital courses in Odia, utilising existing resources in the public domain. The cyclical approach of video lessons, practice sessions, and reference books empowered the students to continue their learning journey even after my departure.
With the support of the SBI Foundation as Sahyog, they provided financial aid of ₹ 50,000/- to make this intervention sustainable and empower future generations to bridge the digital divide and seize the limitless opportunities that await them.
My journey in rural Odisha revealed to me the boundless potential that lies in the hearts of the youth, no matter their circumstances. The stories of Kunna, Sushanti, and countless other students of MTAS, Koinpur, are a testament to the transformative power of education and empowerment.
Through soft skills, career guidance, and digital literacy, we created a symphony of change that resonates far beyond the boundaries of Koinpur.
As I bid farewell to this beautiful village, I carry with me the indelible imprints of love, hope, and the promise of a brighter tomorrow. In the tapestry of rural Odisha, I discovered the essence of nation-building – nurturing aspirations, fostering dreams, and empowering souls to transcend limitations.
Children showing the image cards of types of computer hardware from their digital literacy class.
Photograph shared by Rohan Gehlot
ACKNOWLEDGEMENT
Rohan Gehlot is an SBI YFI Fellow from September 2022 to August 2023. He created video lessons, practice sessions, and reference books so that students could continue their learning journey even after his fellowship ended. Edited by Amrita Haldipur.
ABOUT THE AUTHOR
Rohan Gehlot is an SBI Youth for India fellow in Gram Vikas.