Self-determined women in groups come together to create sustainable livelihoods
Story
By Chandrika Patnaik
1 July 2021
Being in a group gives women courage, confidence and strength to take initiatives and support each other. They want to better their lives and family's economic condition.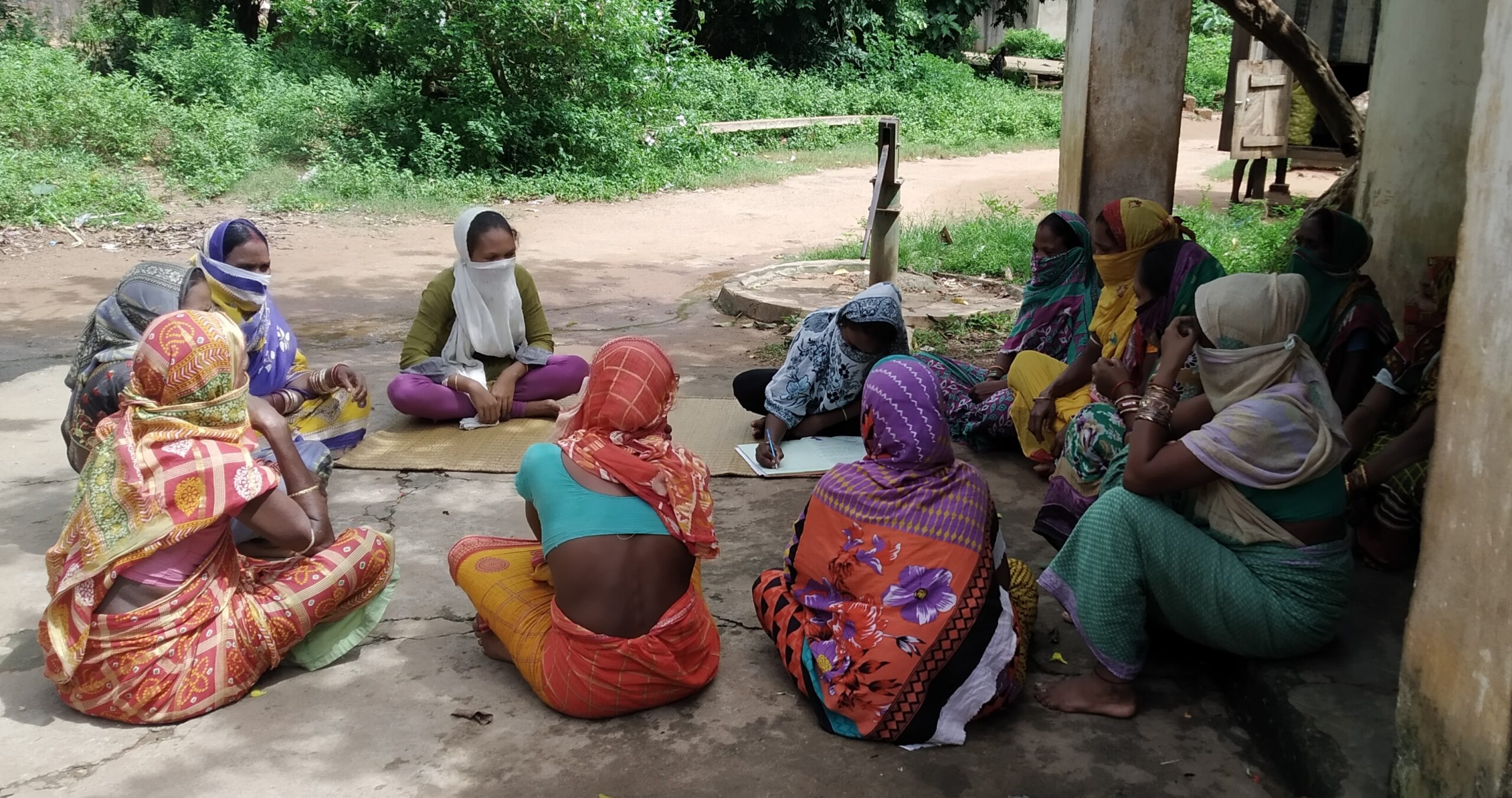 Members of the Maa Parbati Self Help Group attending their monthly meeting in Chudanga village.
Photograph by Sasmita Jena
Chudanga is a large village with nine habitations of different communities within the Chandaka forest in Odisha's Khurdha district. Hathigadhuasahi is a small hamlet deep inside the forest with 31 households populated by the Santal and Kolho Adivasi communities. Women and men from the village cycle or walk five kilometres to work in the Nandankanan Zoological Park, Bhubaneswar city.
On 3 May 2019, Cyclone Fani severely damaged the Hathigadhuasahi habitation. Fani destroyed the mud houses, the mud paths connecting the habitation to the main road, and aggravated the water scarcity crisis. Gram Vikas provided immediate relief and rehabilitation. The community knew Gram Vikas' work from the nearby habitations and was keen to partner to develop their community.
In December 2019, Gram Vikas started working with seven Fani-affected habitations in the Chandaka region through the UDAN project. Gram Vikas started working on strengthening the women's self-help groups (SHGs) to create sustainable livelihoods. The groups would get trained to produce for proximate urban markets and improve the natural environment to generate household incomes using land resources.
Members of the Maa Parbati Self Help Group (SHG) have been meeting regularly every month since being formed in February 2020. Anshumala Pingua, the SHG Secretary, says the group has big ambitions for the village, "We wish to better the economic status of the families and so decided to form this group. We opened a savings bank account in October 2020. The pandemic stalled our plans to begin a small enterprise like poultry. In January 2021, when restrictions eased, and business resumed, we deposited money with the hatchery to buy chicks."
Jamuna Murmu, another member of the SHG says, "We are regularly holding monthly meetings. We collect ₹250 every month from each member, which we deposit in the group's savings account in the bank. In January 2021, we decided to make a joint investment of ₹2800 to buy chicks. Once we receive the chicks, we will evenly distribute them among us and raise them. Being in a group has given us a lot of confidence."
In another habitation of Chudanga, Godibari, women say they derive strength from each other to act for the development of their community. Mani Piriya, the President of Shiva Shakti SHG says, "Work gets done better and faster when ten of us join hands together. Our group was a part of a team that distributed dry food ration to 559 families during April 2020 in seven habitations during the lockdown last year. Let me tell you, when the women get together, a lot of work gets done quickly and efficiently. Being part of a group has given us the courage to make decisions and face difficult situations in each of our personal lives and support each other."
Swarnaprabha Singh of Maa Binapani SHG in Phirkinali village echoes similar sentiments, "When Chicurubari Kuldi of our village lost her 16-year-old daughter to jaundice two to three months back, members of our group stood by her in times of crisis. Before her daughter's death, Chicurubari urgently required money for her treatment. Our group immediately gave her ₹2000. Our group has also been able to help Kabita Kala, a member of our group who needed ₹3000 to harvest the paddy on her leased land."
Sukanti Hembram, the President of Maa Dariani, another SHG in Phirkinali, says, "We joined hands together to better our condition and supplement our family's income. We wish to better our lives and rise economically. Women are capable of doing much more than just cooking and looking after the family. We have been able to motivate members of our group to start a nutrition garden in the spaces around their homes. The seeds provided by Gram Vikas were used to grow vegetables. We realised the importance of having our vegetable garden during the lockdown when shops and markets remained shut. We survived on whatever we grew. This year, our group has decided to start poultry farming."
Members find the group support helpful, "Look, when I required money to construct my house, I took a loan of ₹10,000 against a small rate of interest. The members arranged to disburse the money to me quickly. I have already returned ₹5000 to my group's account. I did not have to borrow from outside at a higher rate of interest. The benefits of being a part of a group and staying united are many," says Janaki Pingua from Maa Katyayani SHG.
Groups also take up community development activities. "Since last year, we have been regularly cleaning our village at least once a month,' says Jema Kala, a member of Jiban Saathi SHG in Phirikinali village. "Being a member of a group has made us aware of various schemes of the government. Before the lockdown (March 2020) when the Anganwadi was open, we would visit homes and motivate mothers and their children to go to the centre every day. This year (2021) the centre reopened on 2 February. We have already started meeting mothers and encouraging them to visit the centre with their children."
Swarnaprabha has similar stories to share, "We clean our village twice a month and have hung sacks at different locations in the village for residents to dump their waste. As a joint enterprise, the members of our group have identified a place to start mushroom cultivation. We are waiting for the bank to process the loan."
Members of the Maa Bhagabati SHG discussing on their business plan and way forward.
Photograph by Sasmita Jena
ACKNOWLEDGEMENT
Sasmita Jena helped in field story collection. Ganesh Chakravarthi edited the story.
ABOUT THE AUTHOR
Chandrika Patnaik leads on content production within the Communications team.