Skill development training helps youth double their incomes
Story
By Dibya Alok
11 May 2022
Young people in Gram Vikas partner villages undergo skill development training in masonry and double their incomes. They go on to support the education of their siblings and provide for their families.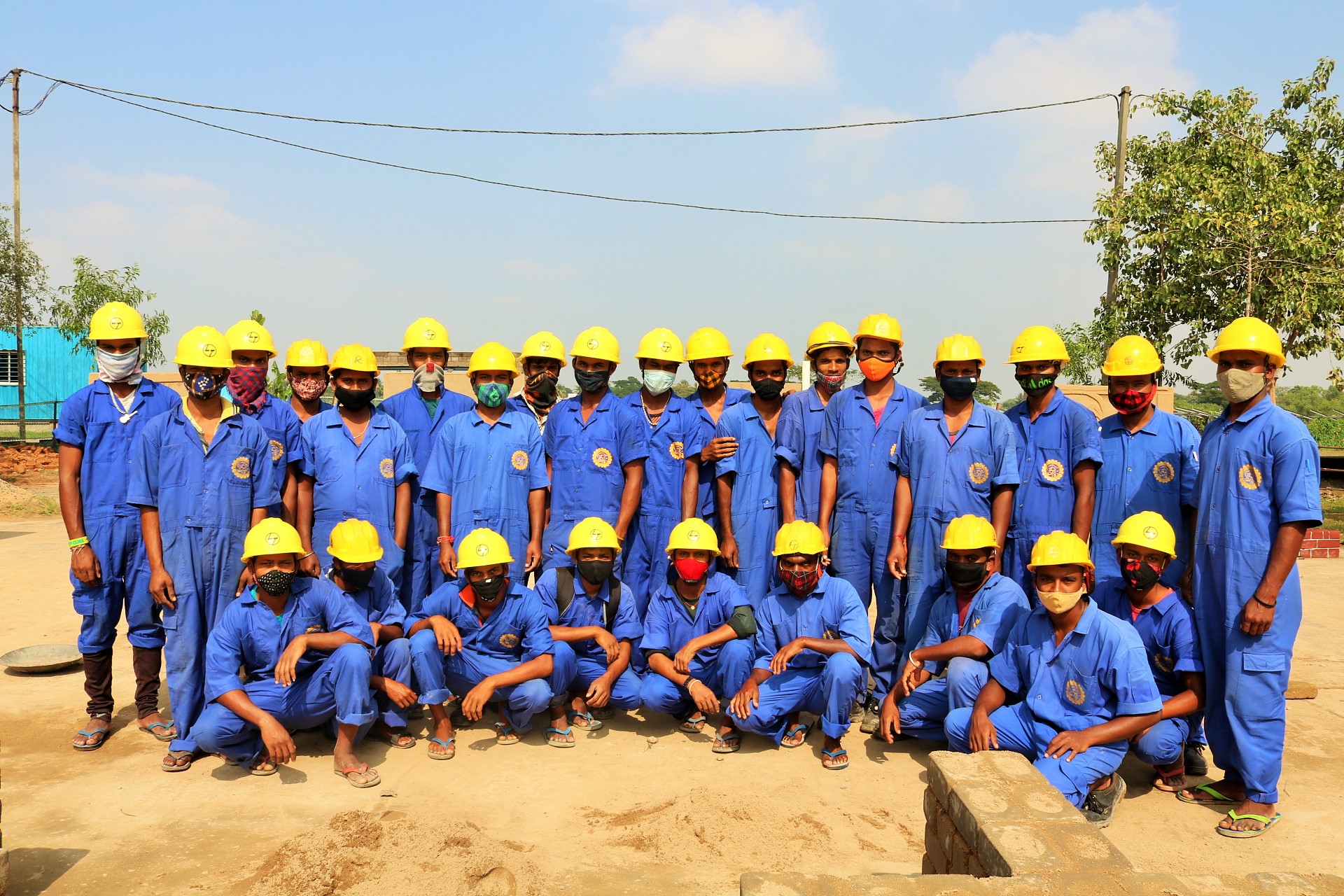 Participants of the masonry training at L&T Construction Skill Training Institute, Balikuda.
Photograph by Rufus Sunny
Bikash Naik, 20, from Rudhapadar village in Jagannath Prasad block in Ganjam district of Odisha. He lives with his parents, grandmother, brother, and younger sister. His father, Rama Naik, works in nearby villages as a labourer to support the family. Rama doesn't get work every day, and often the family goes without money to meet their subsistence needs.
Bikash dropped out of school in Class 8 because of the financial crisis in the family. After staying unemployed for a few years at home, he worked as a construction labourer for ₹200 rupees daily. However, everyday work was hard to find, so he migrated with his friend to Palladam in Tamil Nadu to work as a construction labourer earning  ₹400 daily.
While he continued to work in Palladam, his friend Muna told him about the masonry training organised by Gram Vikas. Bikash returned to Odisha to attend the training at L&T Construction Skill Training Institute, Balikuda. The skill training by technical experts is primarily practical with theory to supplement the learning. After completing the training, he returned to Tamil Nadu in January 2022 to join as a mason.
Learning advanced skills helped him double his earnings. Today, he finds work for 22-23 days a month and earns ₹800 a day. "I want first to make enough to complete the construction of my house. I feel confident in supporting my younger sister to complete Class 10 and study further," shares Bikash as he simultaneously grapples with the disappointment of dropping out of school while being hopeful about his sister's future.
LIC Housing Finance Limited and L&T Construction Skill Training Institution, located in Balikuda of Cuttack district, support the masonry training. Masonry training will help unemployed, and unskilled workers in villages build their capacity to increase their income and find opportunities locally.
Two batches of 31 youth from three districts have already attended the residential training. Upon completing 90 days of training, candidates receive ₹1500 from L&T Construction Skill Training Institution and ₹15,000 from LIC Housing Finance Limited and Gram Vikas. L&T Construction also offers them job opportunities.
Gram Vikas selects unemployed youths from our partner villages in Gajapati, Ganjam, and Kalahandi for this skill development training.
Bikash Naik now earns double after learning advanced skills in masonry.
Photograph by Santosh Kumar Rout
ACKNOWLEDGEMENT
Lipika Verma, Coordinator - Planning & Monitoring, helped in collecting data for the story. Priya Pillai edited the story.
ABOUT THE AUTHOR
Dibya Alok is a Coordinator working within the Documentation & Communications team in Gram Vikas.