Students of Gram Vikas residential schools win a national competition for Climate Action
Story
By Chandrika Patnaik
6 May 2022
Students from Gram Vikas Residential schools in Gajapati and Kalahandi districts win the 'Student Champs for Climate Action' campaign from 7000 participants across India.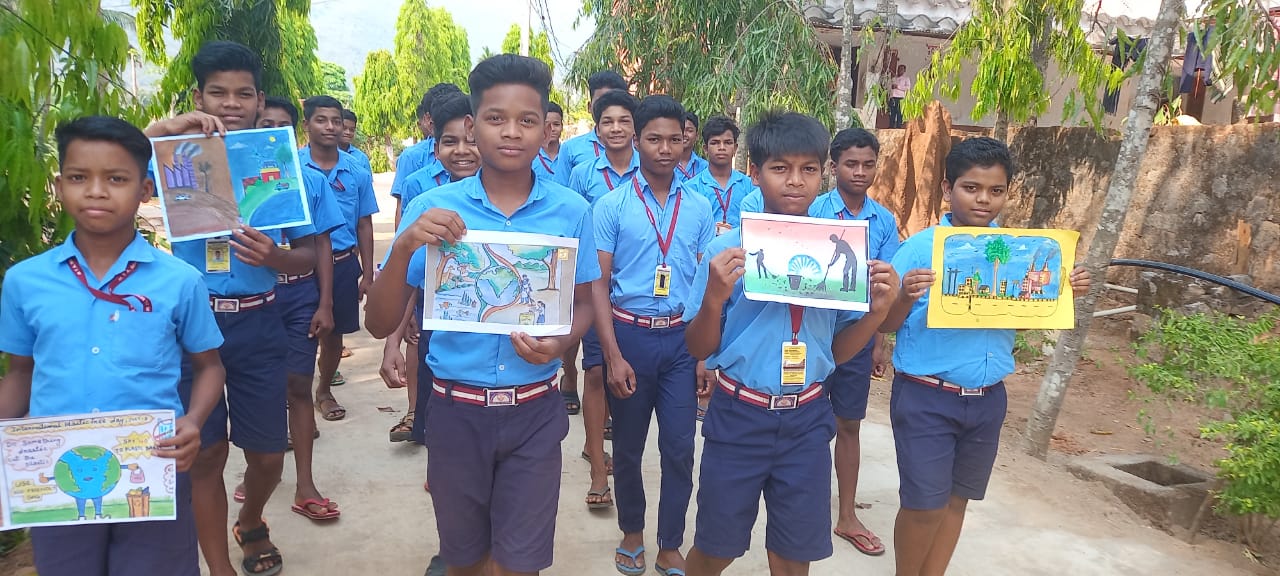 Deepak's art work is used in rallies in nearby villages organised by the school on World Environment Day to spread awareness on environmental degradation.
Photograph by Sachin Korla
"I feel students should take responsibility for saving our Mother Earth because children are the future, and they bear a tremendous burden of its impact," says 13 year old Deepak Sabar about winning the national 'Student Champs of Climate Action' campaign award.
Deepak and Jyoti Parabhoi, Class 8 students in two Gram Vikas Residential schools, bagged the first and second positions in a student-led national level campaign called 'Student Champs for Climate Action'. They won from amongst 7000 students who participated from across India. Deepak, who studies in Mahendra Tanaya Ashram School, a Gram Vikas residential school in Koinpur Panchayat in Gajapati district, has been reading on various topics on the climate crisis and its adverse impact on nature and humans alike. He used his painting skills to drive the message about the effects of climate change and spread the word among other students in his school and his community. Slowly, his paintings became popular among his peers. They used the art work in rallies in nearby villages organised by the school on World Environment Day to spread awareness on environmental degradation. His paintings also encouraged students in his school and community to dispose of waste properly to keep the surroundings clean.
Deepak participated in various District, State and National level competitions before taking part in the campaign. His paintings highlighted the need to create a future in which humans and nature thrive together. He won top prizes and scholarships, and inspired his peers in school to start painting to spread awareness in their respective villages.
Talking about his presentation in front of the jury he says, "I told them about my  paintings used during rallies and those I painted on the walls in my village. These paintings generated a lot of interest in my community about saving the forests surrounding our village."
Speaking on what motivated him to paint on sustainable practices and saving the planet, he says, "I wanted to instil a sense of responsibility towards the environment in my community through action, rather than just reading about sustainable practices in textbooks. My presentation to the jury for the Climate Action campaign was about the efforts I have made to generate interest towards saving the environment and our planet. These efforts have had an impact on my community and my peers in school alike."
Deepak is happy that the jury appreciated his efforts on climate change and that he won the national level competition. Jyoti Parabhoi, a student of Gram Vikas Shikshya Niketan in the Kalahandi district, presented the need to use sal and siali leaf plates during marriage and other functions. She says, "In Adivasi communities, people use leaf plates and bowls at home and during social functions. These leaf plates are biodegradable and therefore environment friendly. We do not use paper or plastic plates. But sadly today, one can often see the use of paper and plastic plates and cups during marriage functions and other social events. These plastic plates are made from single use plastic which takes hundreds of years to decompose therefore we need to use only leaf plates. Similarly, before going out to shop, we need to carry a cloth bag with us instead of taking polythene bags from shops."
Jyoti also spoke to the jury about students in her school, Gram Vikas Shikshya Niketan. The students were proud to be able to grow vegetables and paddy for consumption during their stay at the school. They used only natural manure and took care of the vegetables and crops themselves. Her presentation also highlighted the need for waste management like composting organic wastes and segregation of waste into separate bins for safe disopsal of non-biodegradable waste to minimise the chances of polluting the environment. Jyoti bagged the second prize in the national level competition.
Both Deepak and Jyoti are first-generation learners from Adivasi communities belonging to remote habitations. FairGaze conducted the campaign, a leading school focused media ecosystem in the country, in partnership with the United Nations Information Centre for India and Bhutan. The campaign was a four-month student-led campaign intended to spread awareness around actions against climate change and the need to act now.
The four Gram Vikas schools in Gajapati, Ganjam and Kalahandi districts provide high-quality and technology up-to-date education for children from Adivasi communities. Since Gram Vikas set up the first residential school, Mahendra Tanaya Ashram School was set up in Koinpur in 1992, 1241 first-generation learners (523 girls) from Adivasi communities from 173 habitations in Odisha have graduated.
Jyoti Parabhoi, in the middle of the photo, a student of Gram Vikas Shikshya Niketan in the Kalahandi district, bagged the second prize in the 'Student Champs for Climate Action'.
Photograph by Rama Chandra Nayak
ACKNOWLEDGEMENT
Rufus Sunny, Junior Manager, in the Communications team and Sachin Korla, SBI YFI Fellow with Gram Vikas from September 2021, helped in data collection for the story. Ganesh Chakravarthi edited the story.
ABOUT THE AUTHOR
Chandrika Patnaik leads on content production within the Communications team.