Toilets are now an essential and affordable need in Gram Vikas partner villages
Story
By Dibya Alok
2 November 2021
Gayatri Minj, a resident of Silam Bartoli village in Jharkhand, realised toilets are affordable after she constructed one for her family.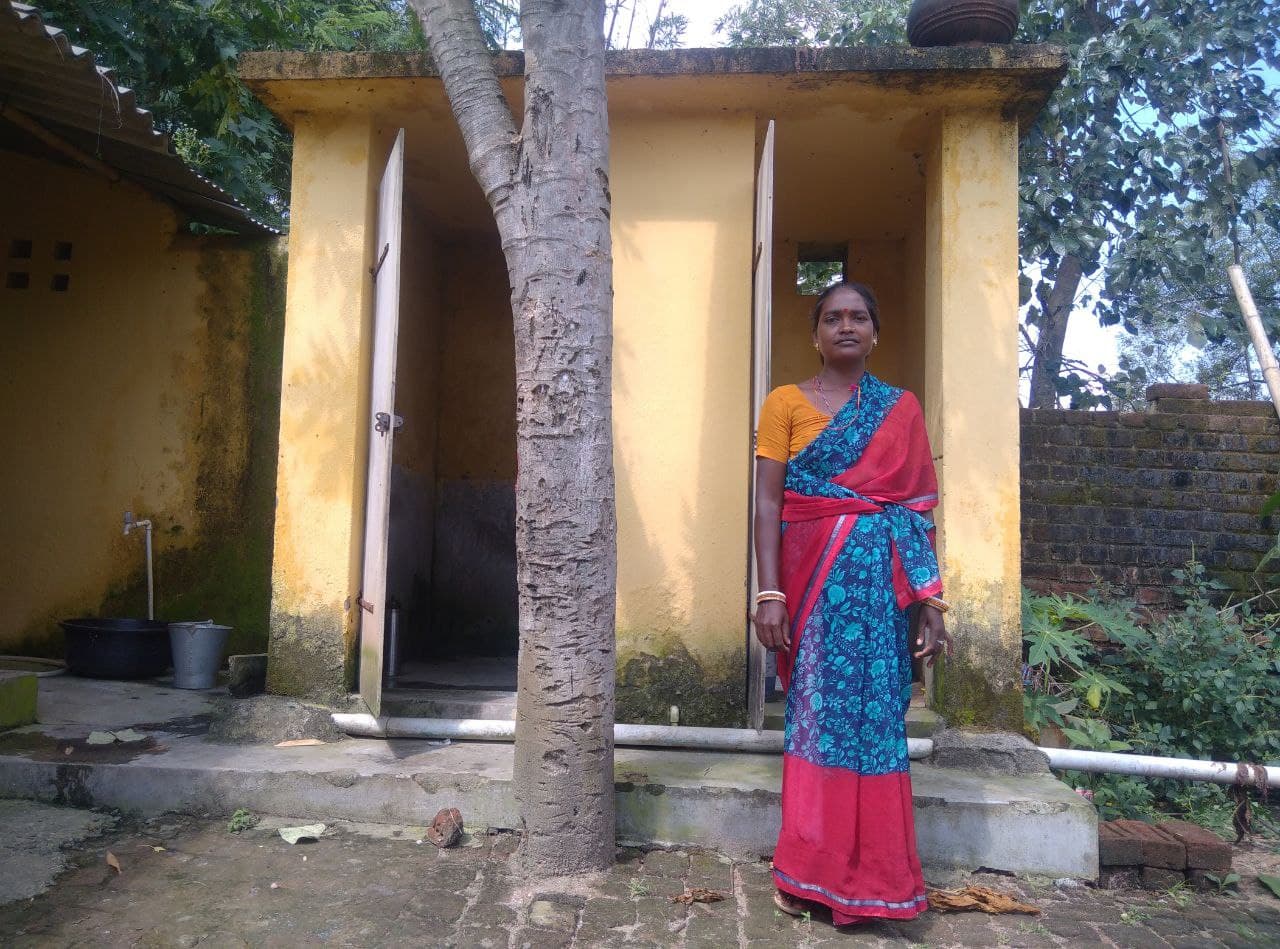 Gayatri with her household toilet and bathing room.
Photograph by Sumati Devi
"Whenever we thought of having a toilet at home, we felt it was too expensive. Only rich people owned it. We used to see toilets in town areas and few in villages." she says, recounting the earlier days where having a toilet in a rural setting was considered a luxury. She had often dreamed of owning one at home, but was worried about its cost. 
"When I first came to Silam Bartoli in 2003 after marriage, nobody had a household toilet. We had to walk far to defecate. There is a river far from here where we used to go for bathing and cleaning," she remembers. 
Aged thirty-four, Gayatri along with her husband, Birsaya Oraon, takes care of their two children, a girl, and a boy, who study in a school in Ranchi. Birsaya hails from Silam Bartoli village in Raidih block of Gumla district in Jharkhand. 
In 2003, when she first migrated to her new home, Silam Bartoli was suffering through a collective wave of poverty. She joined Birsaya's work as a manual laborer in one of the nearest towns, Gumla, in hopes of rising above their condition. While he worked as a mason, she contributed as a labourer. They managed their household expenses through their meager earnings, amounting to ₹250 a day.
In 2005, Gayatri joined twenty others in the Milan Devi self help group (SHG) and would regularly deposit ₹10 as savings in the group. After Birsaya was appointed to the police service, Gayatri and her children were able to enhance their current living conditions. She began to deposit ₹50-100 a week and got her children admitted to better schools.
But the issue of no toilets persisted. She narrates how most of the village coped. "There is a bamboo field on the side of my home where all the people from the village used to defecate. People would defecate and go away before we were awake in the morning. We were not able to find a road to walk. We faced difficulty going out. We were always surrounded by bad smells."
In 2014, the government launched the country-wide 'Swachh Bharat Mission', where every household was eligible to receive ₹ 12,000 to build toilets through the Gram Panchayat. Two years later, the staff of Gram Vikas visited the Silam Bartoli village and engaged with various SHGs to develop a sustainable model of sanitation. Motivating them to take ownership of the programme, Gram Vikas laid and assisted in the infrastructural and technical blueprint for building household toilets with attached bathrooms in the village. The construction of piped water supply was commissioned following the completion of the project.
Gayatri, along with scores of other villagers, now feel at ease. "I am happy because I have my own toilet and bathing room along with a water supply at home. I am able to save a lot of my time. I am saved from walking long distances to the river and pond, bathing in the open and with shame."
Her family shares her happiness and are comforted by the different uses of water. "We have benefited a lot from Gram Vikas' work in our village. The grey water from the bathroom is used in the kitchen garden. By doing this, the water doesn't remain stagnant. We get nutritious vegetables from the kitchen garden. Everything we grow is without the use of any chemicals."
In Silam Bartoli, the elders would say that they don't need toilets. "We are comfortable going out in the open," she recalls them speaking. "They considered it a waste of money to build toilets." But the young women of her community persevered with their demands and led the battle for support. Now, the villagers have become habituated with using toilets in their own homes and do not resort to open defecation. 
Overhead water tank ensures 24*7 water supply to the households.
Photograph by Sumati Devi
ACKNOWLEDGEMENT
Reporting and photography by Sumati Devi. Hameeda Syed edited the story.
ABOUT THE AUTHOR
Dibya Alok is the Coordinator Documentation in Gram Vikas.