Women take to paddy straw mushroom cultivation to tide over the income crisis during the pandemic
Story
By Chandrika Patnaik
3 October 2021
Self-help groups farm easy to grow paddy straw mushrooms to earn additional income and ensure nutritious diet for their families during the pandemic.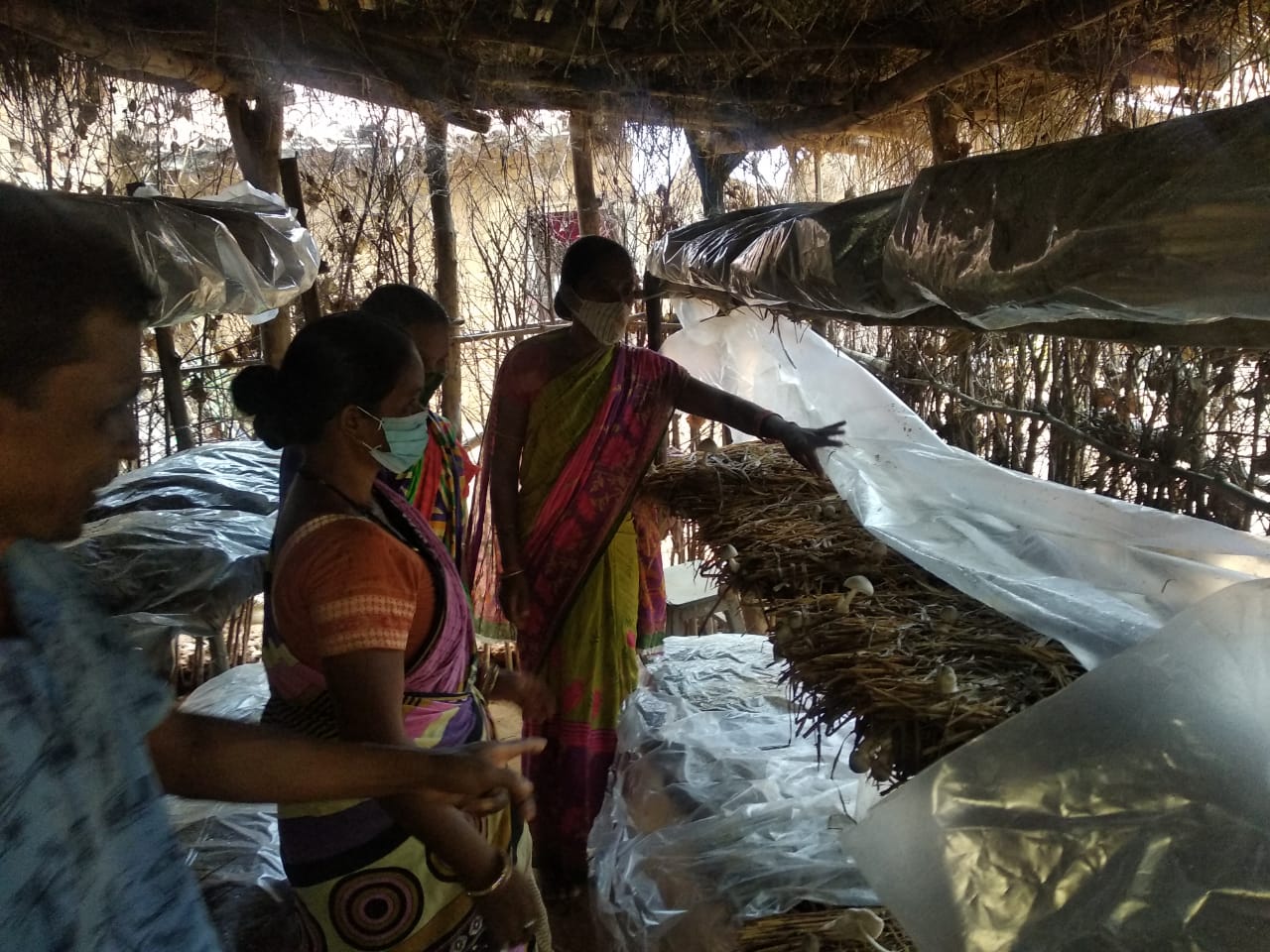 Members of the three SHGs take up mushroom farming to supplement their family's income.
Photograph by Bibhuti Patra
Members from self-help groups (SHGs) in Colonypada village in Lakhanpur block of Jharsuguda district have been harvesting two kilograms of mushroom and earning ₹200 every day since July 2021. Gram Vikas, under its village institution programme, trained three SHGs in the village Grama Devi A, Grama Devi B and Maa Mangala to start group farming of paddy straw mushroom as an alternative sustainable source of income during times of distress.
The members belonging to the three groups work with their husbands on their own land to cultivate vegetables. They sell these at the local market earning approximately ₹1000 every week. Since the lockdown allowed only a few hours of business on weekdays and it was a complete shutdown during the weekends, most of the vegetables they cultivated were sold at cheap prices, some lay unsold and the remaining vegetables rotted in the fields.
Kalyani Adha, a member of Gram Devi A SHG says, "I work as a farmhand where my husband grows vegetables and paddy. We faced losses during April-June 2021 when a lockdown was imposed in our district. The vegetable we grew rotted on the fields. All the money we invested in growing vegetables went down in the drain. With no other means of income, we faced a lot of hardships during that time."
Mission Shakti encouraged members of the three SHGs in the village to take up mushroom farming to supplement their family's income. Paddy straw mushroom grows in easily available agricultural waste. The mushroom can be grown inside the house giving high returns. Initially, each group invested ₹2000 from the group savings to buy inputs like a water spray machine and a straw cutter.
In June 2021, the three groups attended the 10-day training organised by Mission Shakti with the support of Vana Suraksha Samiti and TRL Krosaki at the panchayat office. During the 10-day training period, the women learnt to prepare the thatched house with mushroom beds, the optimum moisture required for the spawn and favourable time to harvest the mushrooms. They were provided with spawn and polythene during the training. Soon after the training, Mission Shakti provided financial support of ₹47,000 for each group, in installments.
Subhasini Adha, a member of Grama Devi A SHG who underwent the training says, "The training conducted by Mission Shakti, Vana Suraksha Samiti and TRL Krosaki Refractories Ltd was extensive. We started the cultivation in the third week of June. In July we sold the first lot of mushrooms we grew. It's convenient to grow inside four walls. Also, the market for mushrooms is very good. People from our village and nearby areas come and pick it up. Since mushrooms are nutritious and a good source of protein, we cook it regularly for our children these days. During such times like lockdown, mushroom cultivation is a good alternative source of income."
Paddy straw mushroom bed inside the thatched house.
Photograph by Bibhuti Patra
ACKNOWLEDGEMENT
Reporting by Sibaram Sahu and photographs by Bibhuti Patra. Ganesh Chakaravarthi edited the story.
ABOUT THE AUTHOR
Chandrika Patnaik leads on content production in the Communications team.