Comprehensive Water Supply & Sanitation
The 'Comprehensive Water Supply & Sanitation' project is constructing toilets and bathing rooms (with RCC roof) with round the clock water supply to each toilet, bathing room and kitchen for 375 households in five villages in Jharsuguda and Sundargarh districts in Odisha.
The project aims to achieve the welfare, self-sustenance and development of community in the five identified villages through a comprehensive water supply and sanitation programme.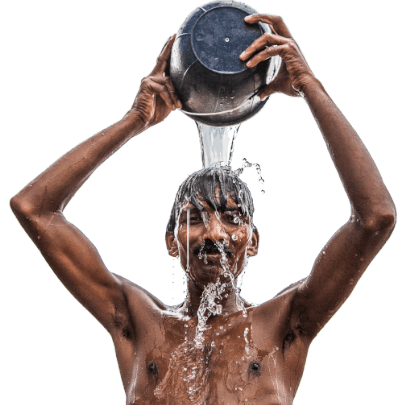 REACH
375 households, 5 villages
REGION
Jharsuguda, Sundargarh in Odisha
PROJECT STATUS
Completed
TIMELINE
February 2018 to August 2020
BUDGET
₹2 crore
PARTNERS
Mahanadi Coalfields Limited
ACTIVITIES
Exposure visits for villagers to completed project sites of Gram Vikas
Supporting village communities to form a registered village society with female or male head of households
Supporting the selection of a Village Executive Committee with five men, women and one Gram Vikas representative and proportional representation of all social classes and castes
Establishing a community corpus fund with contribution from individual families and building community capacities to manage it
Construction of household level toilets and bathing rooms
Establishment of village level water supply system and piped water connections to every household
Set up external electrification for electrical water pumping systems
Ongoing support for village institutions to help women participate in decision making and promote natural resources based livelihoods
RESULTS
375 households with toilet and bathing room facilities 

Five villages are open defecation free

24×7 piped water supply to 375 households in five villages 

₹3,87,000 corpus fund mobilised through community contributions for maintenance and upkeep of the water and sanitation infrastructure 

Five Village Water Sanitation Committees formed with equal representation of women and men in Jharsuguda and Nayagarh districts 

Water from every source tested for bacteria, nitrate and fluoride contamination to ensure quality and provision safe drinking water to all households.