Integrated Livelihood Development through WADI Approach
The 'Integrated Livelihood Development through WADI Approach' project sought to improve the quality of lives of tribal families through an integrated natural resources management (NRM) based
wadi
(small orchard) approach. The project was implemented in 24 villages of Jagannath Prasad block of Ganjam district in Odisha.
The project aimed to harness the potential of available land, water and human resources for enhancing livelihood opportunities for tribal families.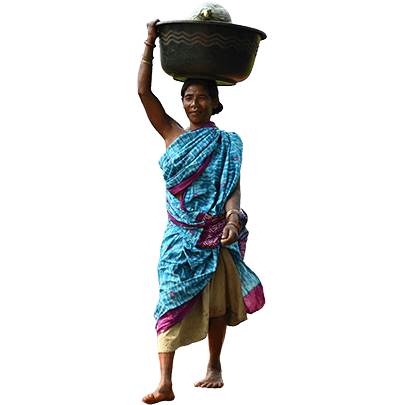 REACH
561 households, 24 villages
REGION
Ganjam in Odisha
PROJECT STATUS
Completed
TIMELINE
February 2011 to 2017
BUDGET
INR 3.2 crore
PARTNERS
National Bank for Agriculture and Rural Development (NABARD)
ACTIVITIES
Establishment of one acre orchard per beneficiary of the selected fruit crop as a foundation economic activity

Utilisation of the land area of the orchard for cultivating vegetables, different food crops and firewood and timber species in tandem with growth rate and complementary benefits

Adoption of in-situ soil conservation measures to arrest further degradation of soil and shaping of the land to make it suitable for establishment of orchard

Development of water resources individually or on community basis to provide protective irrigation for the developed fruit plants

Adoption of improved farming techniques by capacity building of the participating farmers through technology interventions, training, and exposure visits, etc., to improve the crop productivity, production and quality of the produce

Promotion of community health by educating the community on basic hygiene, nutritional aspects of food, access to piped drinking water and sanitation facilities

Income generation activities linked to processing of forest and wadi products through self help groups and other landless families

Skill building for rural youth in masonry, plumbing, bar bending etc.
RESULTS
Shrub dominant vegetative areas were converted into productive plantation sites. The fruits, forestry, and agricultural crops contributed to increase in income of the families. A WADI beneficiary earned in the range of about ₹ 15,000 to 20,000 per annum from intercrops from the first year. The major income of approximately ₹ 40,000 to 50,000 per annum extra came after five to six years, when the orchards started bearing fruits regularly.

Youth migration decreased up to 15% and the project beneficiaries are engaged in the agro-forestry work round the year.

Soil in nearly 501 acres conserved through soil conservation measures

Perennial vegetation grown through an agroforestry approach resulted in lesser dependency on forest thereby facilitating forest conservation.