Localising Climate Resilience
The project "
Localising Climate Resilience"
aims to enhance climate resilience in rural communities in Eastern Ghat regions of Odisha and Jharkhand. It will strengthen local market dynamics through effective governance, stakeholder collaboration, and policy coordination.
The project aims to showcase community-led climate resilience initiatives in the Eastern Ghat regions of Odisha and Jharkhand, with the aim of influencing State Government policies and actions.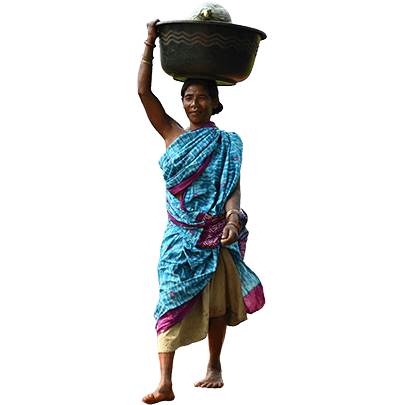 REACH
1000 Gram Panchayats
REGION
Odisha and Jharkhand
PROJECT STATUS
Ongoing
TIMELINE
August 2023 to July 2028
BUDGET
₹15 crore
PARTNERS
Rainmatter Foundation
ACTIVITIES
Develop a targeted research strategy to document the evidence of climate change and its impacts on community.

Create a comprehensive framework to map the various factors influencing climate resilience.

Collaborate with communities to co-create an evidence-based Village Climate Action Plan, thus further expanding the scope of  Village Poverty Reduction Plan (VPRP) process.

To conduct scoping, mapping and inventorization of local consumption supply chains, with a specific focus on village markets (haat).

Establish a statistical tool managed by Gram Panchayats to measure progress on social, economic, and ecological developments for climate resilient actions within communities.

Recognize villages and Gram Panchayats for sustainable development using the multidimensional development framework.

Disseminate ground-level stories of Community Combatting Climate Change (C4) efforts, showcasing the preparedness, adaptation, and mitigation efforts of communities and their effectiveness in socio-economic and ecological development.

Advocate and engage with State Government, district administration, and panchayati raj institutions for information, education, and follow-up action.

Collaborate with research and technology institutions for knowledge development and management.

Enhance capacities of communities, village institutions, and local governments in climate change adaptation, mitigation, impact reduction, and early warning.

Introduce a fellowship program for social action fellows to support communities and institutions in climate change-related planning and management.  

Promote relevant employment skills, particularly among youth and adults, to secure decent jobs and encourage entrepreneurship.

Demonstrate climate-sensitive value-chain measures by building on existing livelihood systems or introducing similar systems in agriculture and non-farm production.

Identify grassroots organizations to align with the vision and agenda and build their capacities to function as partners.