Sibaratri escapes child marriage and becomes a teacher by following her role model
Story
By Priya Pillai
27 September 2018
From a village in rural Odisha, where less than 25% of the women are literate, Sibaratri Naik studied to become a teacher inspiring other families in her village to send their girls to school.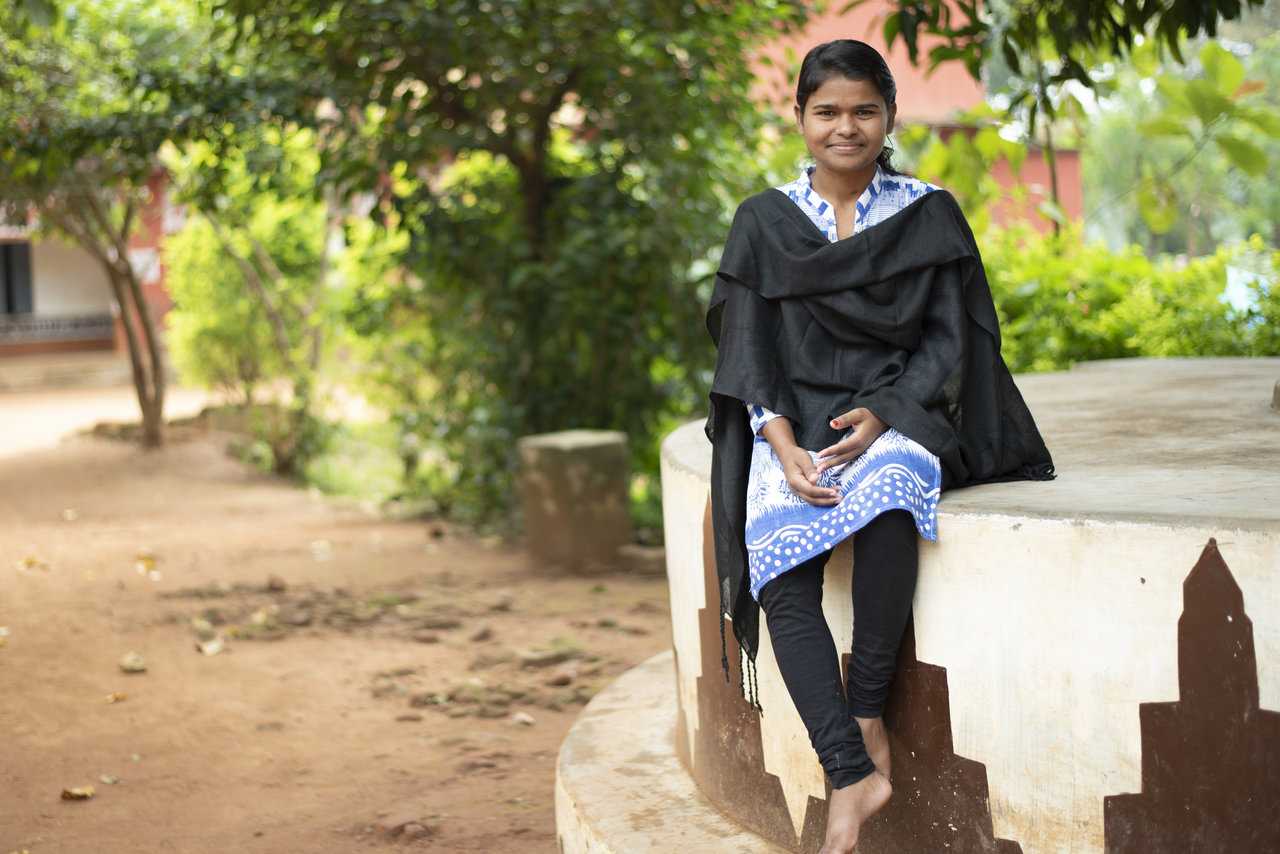 Sibaratri at the Gram Vikas Shikshya Niketan campus, Kalahandi.
Photograph by Ajaya Behera
"I lost a friend. I insisted that I go to the same school. Parents first said that they did not have money. But I would not stop crying. So, they arranged for the money." Sibaratri Naik is talking about a time, when her second brother and her only friend, Subash was sent to Gram Vikas Shikshya Niketan (GVSN), a residential school in Thuamul Rampur block of Kalahandi district in Odisha. Today, she teaches English and Maths to Class 5 students in the same school.
Sibaratri is from Dhamanguda village of Kalahandi district. Less than half of the female population is literate (41.38%), as compared to men (87.11%), in this village with 127 families and a population of 842. Born to illiterate parents in a village, where far fewer women than men go to school, Sibaratri is a role model for girls and other families.
In the early 1990s, Gram Vikas ran 110 non-formal education centres, conducting evening classes for children upto Class 3, in Thuamul Rampur block as part of its Education programme. Dhamanguda village had one of these centres.
The Gram Vikas Shikshya Niketan (GVSN) was set up in Kumudabahal village in the same block in 1998. At this time, the block had few schools with poor access and infrastructure, tribal families did not find them attractive and education itself had little significance in their lives.
Gram Vikas continued to work in Dhamanguda in livelihoods, water and sanitation and hygiene in the later years (2005-'07) and had the trust and goodwill of the community. Sibaratri's brother, Subash, benefitted from this relationship and was sent to GVSN. However, his parents who are marginal farmers, cultivating their homestead land, could not afford to educate all their seven children.
As is often the case in poor families, Sibaratri's three brothers went to high school, while her two sisters studied till Class 5 and were married shortly after the onset of puberty. Sibaratri though wanted to be with her brother and followed him to school. "I thought I will stay with my brother but they took me to the girls' hostel. I was not interested in studying. I had come here only to be with my friend, my older brother."
When she joined the school, she found that her brother was a topper, "I used to look at my brother studying and feel competitive. My whole life has been about doing better than him."
Sibaratri studied hard, topper her class and after Class 5, got admission in Jawahar Navodaya Vidyalaya, residential school by the Government of India for talented children from rural areas. To the family's disappointment, her brother did not clear the exam.
Subash, however, loved his sister and started taking tuitions after he finished Class 12 to pay for Sibaratri to undergo the Auxiliary Nurse and Midwifery (ANM) course, teacher training and support her to appear for the Odisha Teacher Eligibility Test, which she passed.
Today, her nephews and nieces study in GVSN as do other children from her village. Many families in Dhamanguda consider this the best school for their children. For Sibaratri, who says, "My life has been made by this school." her life at GVSN sets her apart from many other girls in her village, who are vulnerable to either staying home or becoming child brides.
A prayer session at the Gram Vikas Shikshya Niketan school in Kalahandi.
Photograph by Ajaya Behera
ACKNOWLEDGEMENT
Ajaya Behera supported in conducting the interview with Sibaratri Naik.
ABOUT THE AUTHOR
Priya Pillai is a Strategic Communications specialist for not for profit organisations.