FROM OUR ANNUAL REPORT
2021 - 2022
43RD YEAR OF GRAM VIKAS
We are driven by our commitment to equity and dignity for all.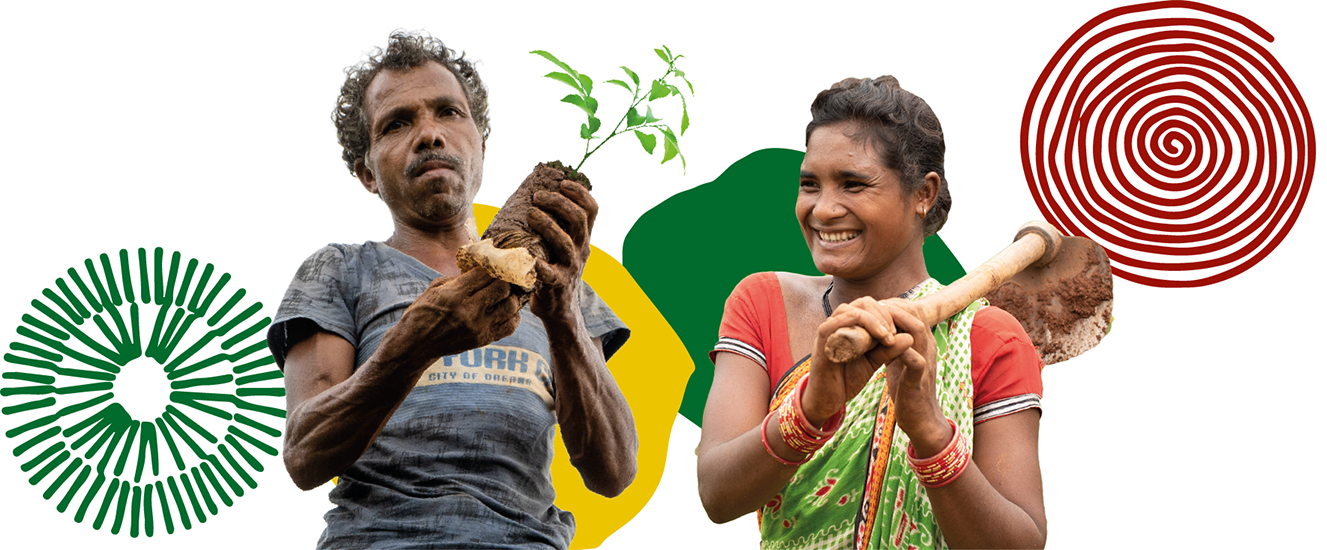 We are driven by our commitment to equity and dignity for all.
The year 2021-22 was a bitter-sweet one. The loss of Jashoda Devi continues to be a shock. The village communities faced health issues, but the economic implications of the pandemic and lockdowns were more severe. I am happy my colleagues did their best to help the communities manage the situation. The legal environment in which we operate has become more constraining. I can only hope that the government makes it easier for non-government development organisations to continue contributing to building an equitable and sustainable nation. The commitment and result orientation shown by my colleagues to achieve programmatic progress are commendable. Gram Vikas staff is a good mix of young and old, many with long years of feld experience and others with competence in new technologies and methods. I am particularly happy to see the addition of young men and women from among the communities that Gram Vikas work with to the staff pool. I am sure that Gram Vikas will continue to be an organisation that brings about relevant changes to the lives of the village communities we work with.
Joe Madiath
Chairman
The devastating second wave affected staff members of Gram Vikas and members of our partner village communities. We deeply mourn the loss of Ms. Jashoda Devi, Thematic Coordinator in Ganjam district, who succumbed to the virus. We devoted a lot of organisational energies to supporting our partner communities to cope with the distress caused by the pandemic. We fully rolled out the Water Secure Gram Panchayat Programme and Safe and Dignified Migration Programme platforms bringing together our work in the six focus areas in an interconnected manner. We developed the frst batch of Gram Vikas Saathis, engaging trained men and women from the villages with aptitude, willingness, and entrepreneurial spirit to support development interventions. Knowledge and programme partnerships deepened our efforts.The immense support from our donors and resource agencies has continued through the year. Gram Vikas received the Sat Paul Mittal National Award 2021 by the Nehru Sidhant Kender Trust. I am honoured to present the year's annual report from April 2021 to March 2022.
Liby T Johnson
Executive Director
Read the messages from the Chairman & Executive Director
---
In 2021-'22, we fully rolled out the two programme platforms - the Water Secure Gram Panchayat Programme (WSGP) and the Safe and Dignified Migration Programme (SDMP) to strengthen our work in our partner communities. The WSGP Programme platform enables community-led water resource management and resilient, sustainable and gender-equitable institutions. It brings together work in Village Institutions, Water, Sanitation & Health, Livelihoods and Habitat & Technology to improve health and economic outcomes for rural households. It will mobilise all households in the habitations within a Gram Panchayat to effectively manage their water resources and build the capacities of the local governance system to facilitate this. The SDMP seeks to promote opportunistic or aspirational migration, as against migration out of distress, to enable a dignified livelihood for rural communities. It will contribute to overall social and economic development of remote areas and help communities cope stronger with climate change's impacts. SDMP will ensure occupational, emotional, financial and social security for migrant workers and their families; create community-level capabilities and institutional systems; build skills and establish a safe corridor for migration between source and destination.
We reached 60,735 households in 1165 villages through our work in 2021-2022.
Our interventions are guided by our Movement and Action Network for Transformation of Rural Areas (MANTRA) approach. It initiates sustainable development processes in villages with water and sanitation as an entry point. Built around the core values of 100% inclusion of individuals and households in the village, MANTRA enables complete ownership and cost-sharing by the community, social and gender equality, and sustainability. This ensures that the benefits are shared equally among all irrespective of sex, caste, creed or economic status.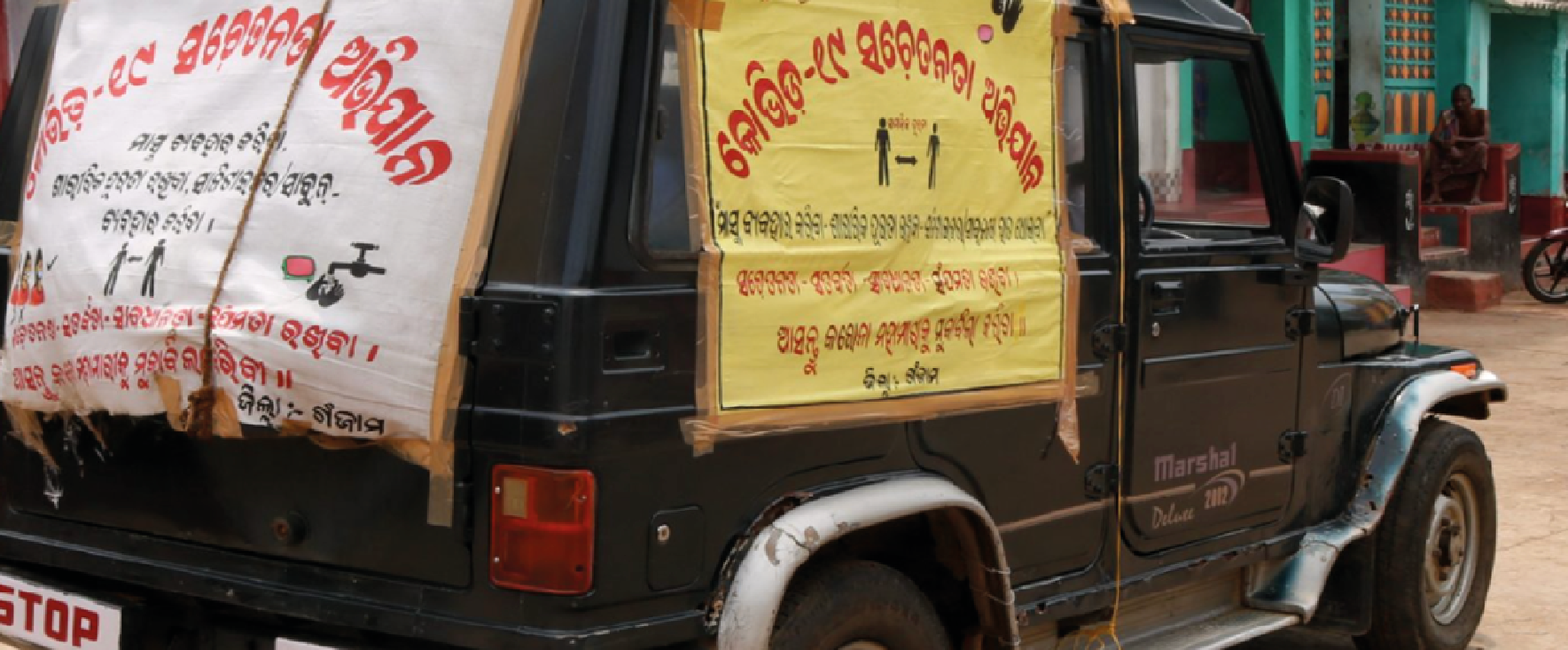 COVID-19 RESPONSE
Multipronged response supports village communities cope with the effects of COVID-19
Gram Vikas adopted varied and targeted efforts to enable marginalised communities to tackle health, livelihoods, food, education, and mental health issues because of the second wave of the pandemic. We undertook large scale awareness programmes, established quarantine and care facilities, and accelerated vaccination drives. Dry ration kits, a COVID Care Centre, a 24x7 helpline, and a mobile vaccination unit at the destination sites offered comprehensive support to the villagers, the migrant workers, and their families. We mobilised and trained community volunteers, frontline health workers, and local government representatives in COVID-19 response planning, care and surveillance. Technology-equipped learning centres made continued education possible, while recreational games minimised the psychosocial impact of the pandemic on children.
PROGRESS DURING THE YEAR
2,40,000 people reached with COVID awareness
14,000 people screened for COVID
560 medical and protective equipments distributed
5500+ migrant workers received food kits
9900+ migrant workers received their first vaccine dose
59,000+ vaccination coverage in Mohana block, Gajapati
89,000+ vaccination coverage in Thuamul Rampur block, Kalahandi
districts

Odisha
Gajapati, Ganjam, Jharsuguda, Kalahandi, Kandhamal, Keonjhar, Khurda, Mayurbhanj, Nayagarh, Rayagada, Sundargarh

PARTNERS WHO SUPPORTED OUR WORK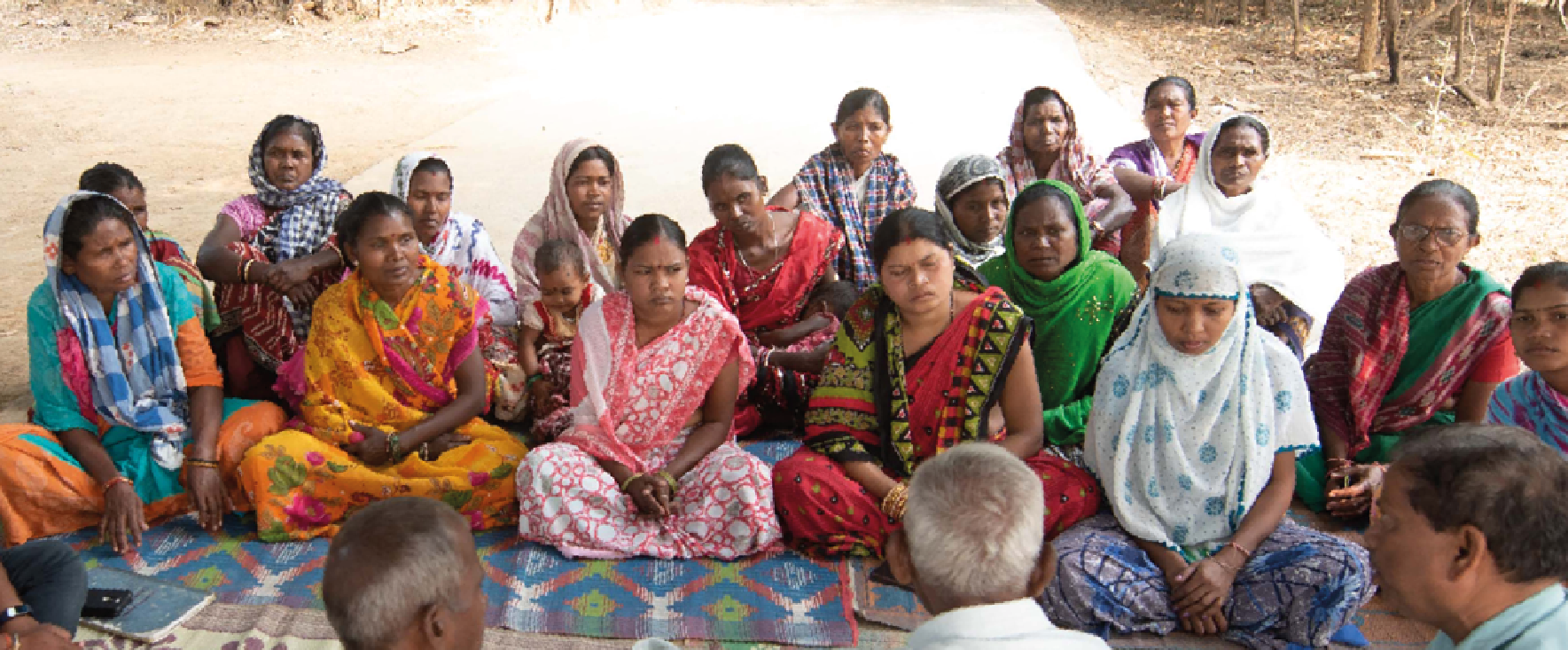 VILLAGE INSTITUTIONS
New leadership, young village development cadres, and mobilised women's groups strengthened community self-governance
The past year witnessed generational changes in the leadership of Village Development Committees (VDCs) and enhanced participation of young men, women and children in village development activities. Youth inclusion brought new perspectives on development needs while capacity building enhanced transparency and technology adoption by the VDCs. Thousand-plus women got trained in organisation management, with half of the women rising to leadership in the VDCs. Villages prepared poverty reduction plans, charting their development needs, preparing plans, and mobilising resources from the line departments to implement them. We established and mobilised specialised cadres of Village Institution Service Providers to support the VDCs in various development tasks.
PROGRESS DURING THE YEAR
1200+ habitations in Odisha reached to strengthen village institutions 
200+ new Village Development Committees formed
1300+ persons trained as Village Institution Service Providers
1100+ persons identified for accessing social protection benefits
1800+ SHG leaders trained in organisation management
districts

Odisha
Gajapati, Ganjam, Jharsuguda, Kalahandi, Kandhamal, Keonjhar, Khurda, Mayurbhanj, Nayagarh, Rayagada, Sundargarh

PARTNERS WHO SUPPORTED OUR WORK
Cultivating paddy-straw mushroom to tide over income crisis
Gram Vikas facilitated self-help groups in Colonypada village to start joint production of paddy straw mushrooms during distress. Capacity building, access to finance, and local market linkages for mushroom sales provided an alternate source of income to supplement household earnings. Read the story.
Community Champions give hope and comfort to families
Gram Vikas mobilised a cadre of youth volunteers, Community Champions, to provide occupational and financial literacy, emotional security and access to social entitlements for migrant households in the Ganjam district. Jhunilata Nayak supports Nandini, the migrant worker Susant's widow, to access insurance benefits under the Pradhan Mantri Jeevan Jyoti Bima Yojana. Read the story.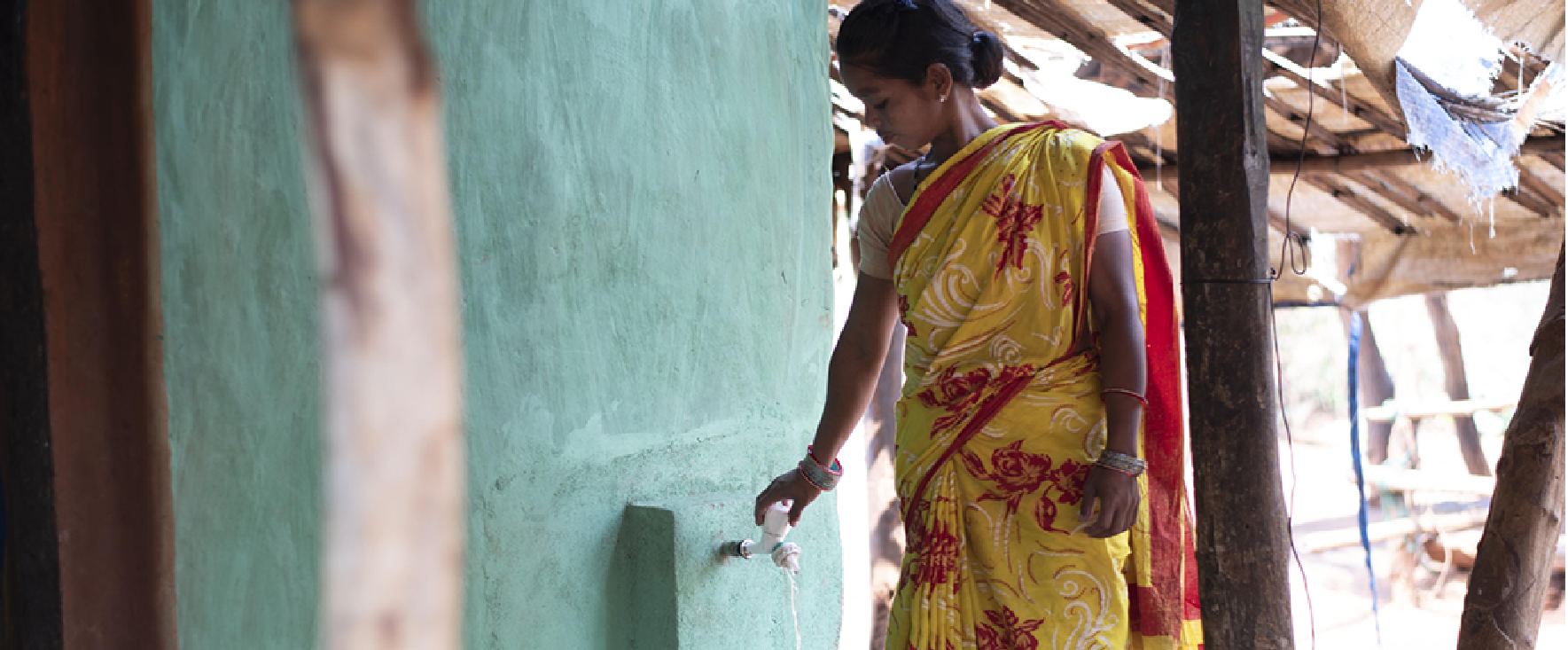 WATER
Piped water infrastructure, afforestation, technology and community leadership advanced water access, use, quality monitoring and source sustainability
During the year, we supported villages with household toilets and bathing rooms in all the households to develop their own piped water supply systems. We ensured that new families built toilets and bathing rooms, thus providing 100% coverage. We helped older partner village communities to revive, repair, and strengthen sanitation and water infrastructure to ensure sustainability. The Jal Bandhu fellowship trained a cohort of youth fellows with technical capacities on the springshed, watershed management, monitoring, and project implementation. We set up the Water Resources Technology Group, which played an essential role in building the capacities of staff and village-level service providers to undertake groundwater inventory mapping, prepare groundwater maps, and set up rain gauge networks.
PROGRESS DURING THE YEAR
4900+ households build piped water supply infrastructure
2000+ households get functional household tap connections
20,600+ households benefit from water source sustainability actions
80 acres of land get more water for irrigation
150 habitations maps spring water sources
districts

Odisha
Angul, Gajapati, Ganjam, Jharsuguda, Kalahandi, Kandhamal, Keonjhar, Khurda, Mayurbhanj, Nayagarh, Rayagada, Sundargarh

PARTNERS WHO SUPPORTED OUR WORK
Three women's persistence solves the water crisis in a village
Jashoda Mohanta mobilises women in her village, Ghodaghaguri, to install a piped water system. Their three-year effort led to 24×7 functional household piped water supply, toilets and bathing rooms for all 101 households in the village. Read the story.
Community action for strengthening springs
The Adivasi community of Nuasahi partners with the Forest Department and Gram Vikas to plant trees around the Spring catchment area to reduce rainwater run-off and stem the climate-change-induced water crisis. Read the story.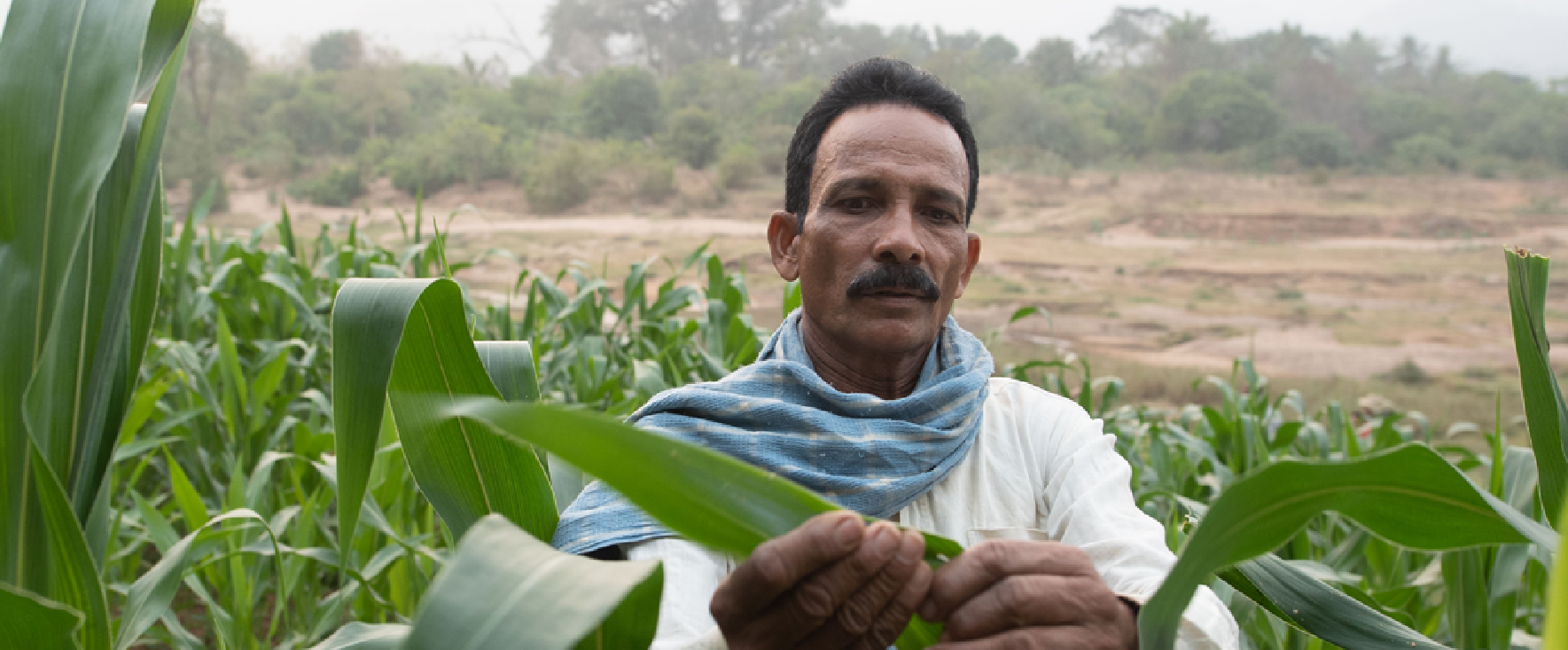 LIVELIHOODS
Producer collectives, advisories and technology enhance farm productivity and farmer incomes; resource centres and skill training improve social security access and incomes for migrant workers, young women and men
Promoting farmer-producer groups eased farming operations through collaborative planning, input, and harvest management. Technology integration for localised weather forecast and crop advisories, access to weather information, and agri-advisory supported farmers in better decision-making. We strengthened self-help group entrepreneurship in fisheries-based livelihoods and animal husbandry. Migrant Resource Centres opened bank accounts for migrant dependents, ensured insurance coverage, enrolled them into SHG networks, and encouraged productive investments with remittance incomes. At destination sites, they provided health and employer engagement services. Skill upgradation opened up new opportunities in the construction and geriatric caregiving sectors for young women and men.
PROGRESS DURING THE YEAR
5900+ households reached with farm livelihood initiatives
1700+ farmers get weather and crop advisories
450 farmers form new producer groups
3200+ households covered by the Safe and Dignified Migration programme
430+ migrant workers access insurance products and services
districts

Odisha
Gajapati, Ganjam, Kalahandi, Kandhamal, Khurda, Nayagarh
PARTNERS WHO SUPPORTED OUR WORK
Boosting productivity and incomes through crop planning
Capacity building through farmer producer groups helps small and marginal farmers in Raghunathpur village undertake multi-cropping, thereby minimising loss and improving farm incomes. Read the story.
Making banking accessible to migrant workers
Community Champions in the Safe and Dignified Migration programme help migrant workers and their families to open bank accounts at their destination and source, promoting safe money transfers and savings. Read the story.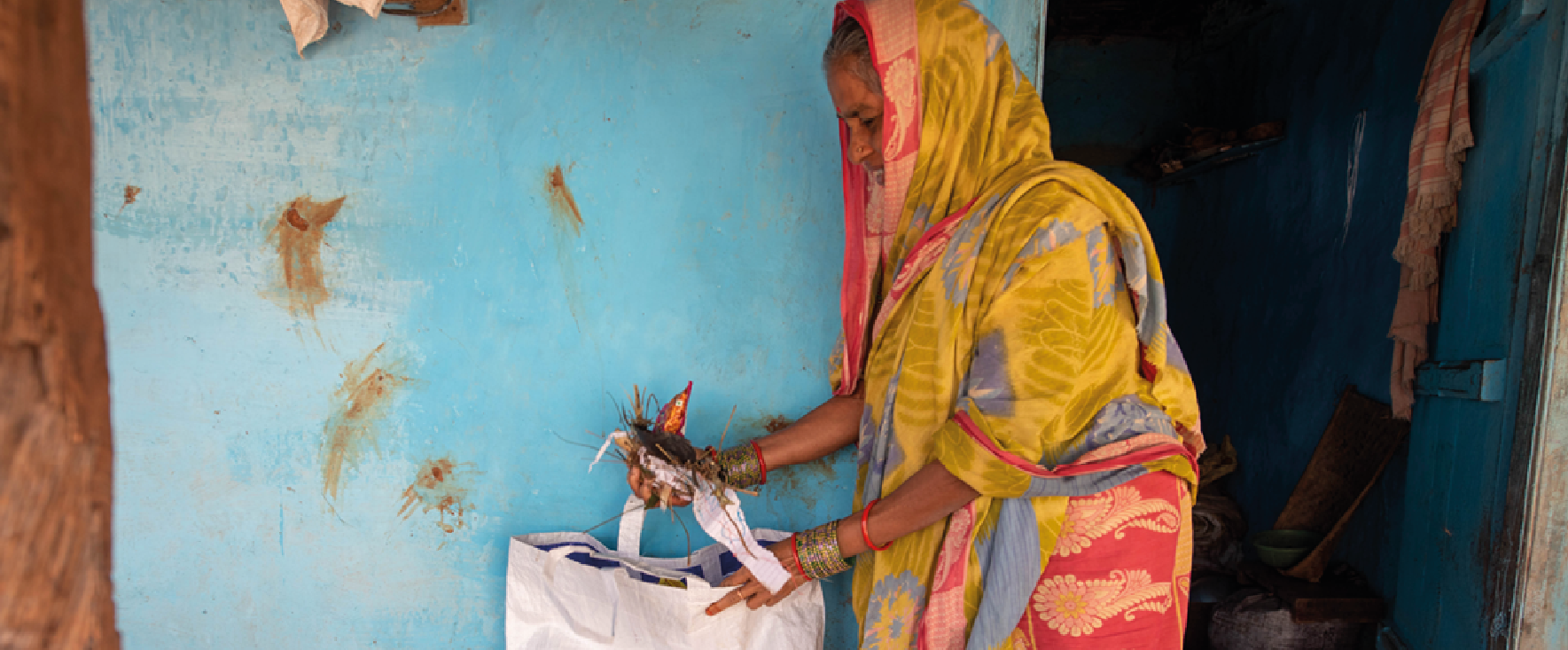 SANITATION & HEALTH
Capacity-building of village communities and institutions ensured water quality monitoring, waste management, and behaviour change towards better health
We built the capacities of village communities and local village institutions to influence social norm change in adopting hygiene practices and encourage behaviour change. Functional community-led water quality surveillance and management systems enabled village institutions to manage their water quality systems without external support. We set up SUJAL, the Water Quality Testing Laboratory and Training Centre at Mohuda and a community-managed water quality lab in Ikri village in Nayagarh district owned by a women's self-help group. Promotion of the use of sanitation infrastructure by all household members and improved waste management practices at home and the community level aided better health and hygiene.
PROGRESS DURING THE YEAR
250+ villages get water quality and surveillance systems
120+ villages become open defecation free
2600+ households set up nutrition gardens
4500 households practise solid waste segregation
109 villages – adolescent boys and girls get menstrual health education
districts

Odisha
Angul, Bolangir, Gajapati, Ganjam, Jharsuguda, Kalahandi, Kandhamal, Keonjhar, Khurda, Mayurbhanj, Nayagarh, Rayagada, Sundargarh

PARTNERS WHO SUPPORTED OUR WORK
Women-led drinking water management
Twenty-two women from Mandapathar village partnered with Gram Vikas to get piped water supply, toilets, and bathing rooms and lead on water quality management in the community. Read the story.
Adolescent girls lead health conversations and actions in villages
An adolescent girls group in Kujasingi village meets weekly, discusses sanitation and hygiene issues, and promotes appropriate WASH and nutrition behaviour. Read the story.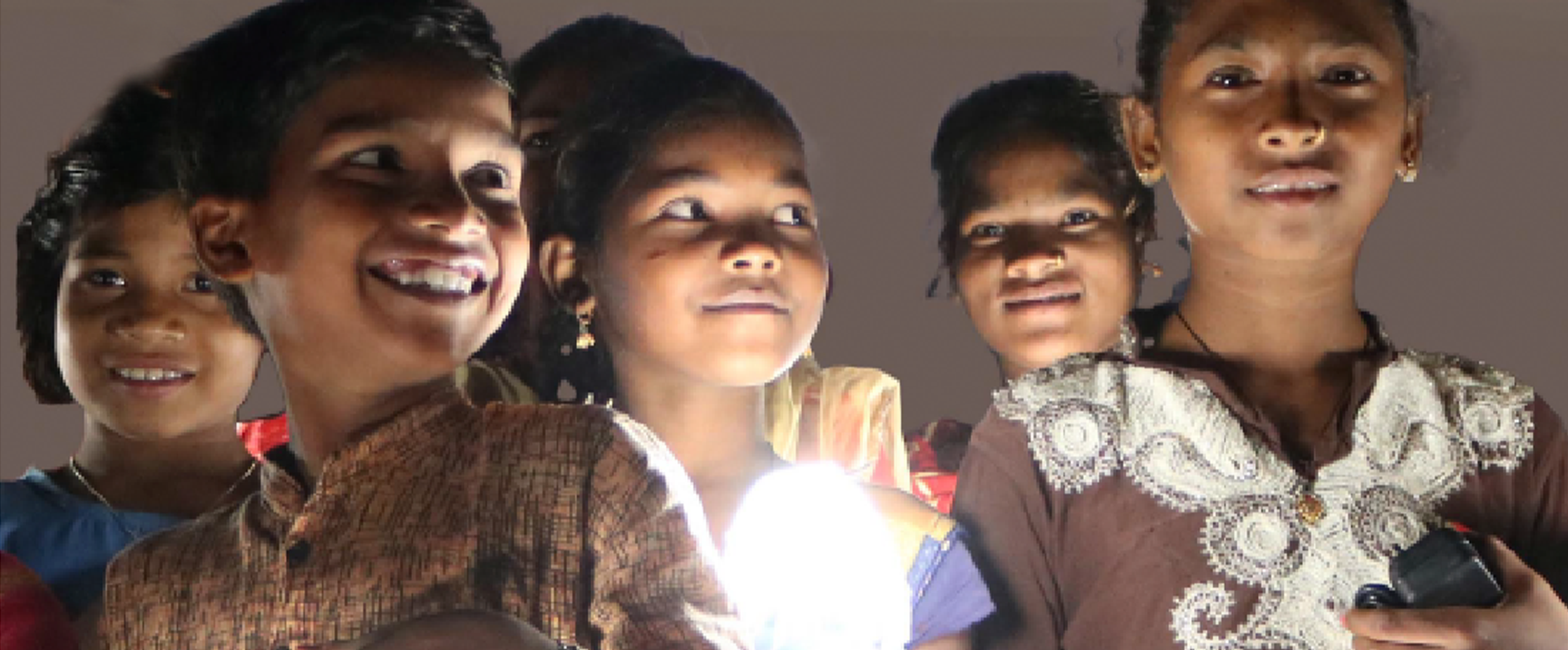 HABITAT & TECHNOLOGY
Renewable energy augmented water and electricity supply in remote villages, and ICT systems linked remote communities to information network
Solar pumps for the village-level piped water supply system improved water supply and helped communities to meet the seasonal water deficit. Solar-based home lighting solutions gave access to a consistent electricity supply for home lighting throughout the year. Village-level cadres and operators received preventive and general maintenance training to ensure the sustainability of the solar pumping systems and the mini-grids. We initiated work for reviving and augmenting the micro hydro project in Karnibel village in Kalahandi. Access to an information network connected migrant dependents in no-network regions with their family members working outside Odisha.
PROGRESS DURING THE YEAR
6800+ households covered by the renewable energy programme
70+ villages get water pumps for piped water supply systems
250 households get solar home lighting solutions
districts

Odisha
Gajapati, Ganjam, Kalahandi, Keonjhar, Mayurbhanj
PARTNERS WHO SUPPORTED OUR WORK
Lighting up homes with solar energy
Solar home lighting systems benefit children more time to learn and families more time for household work in Kanjiguda village of Kalahandi. Read the story.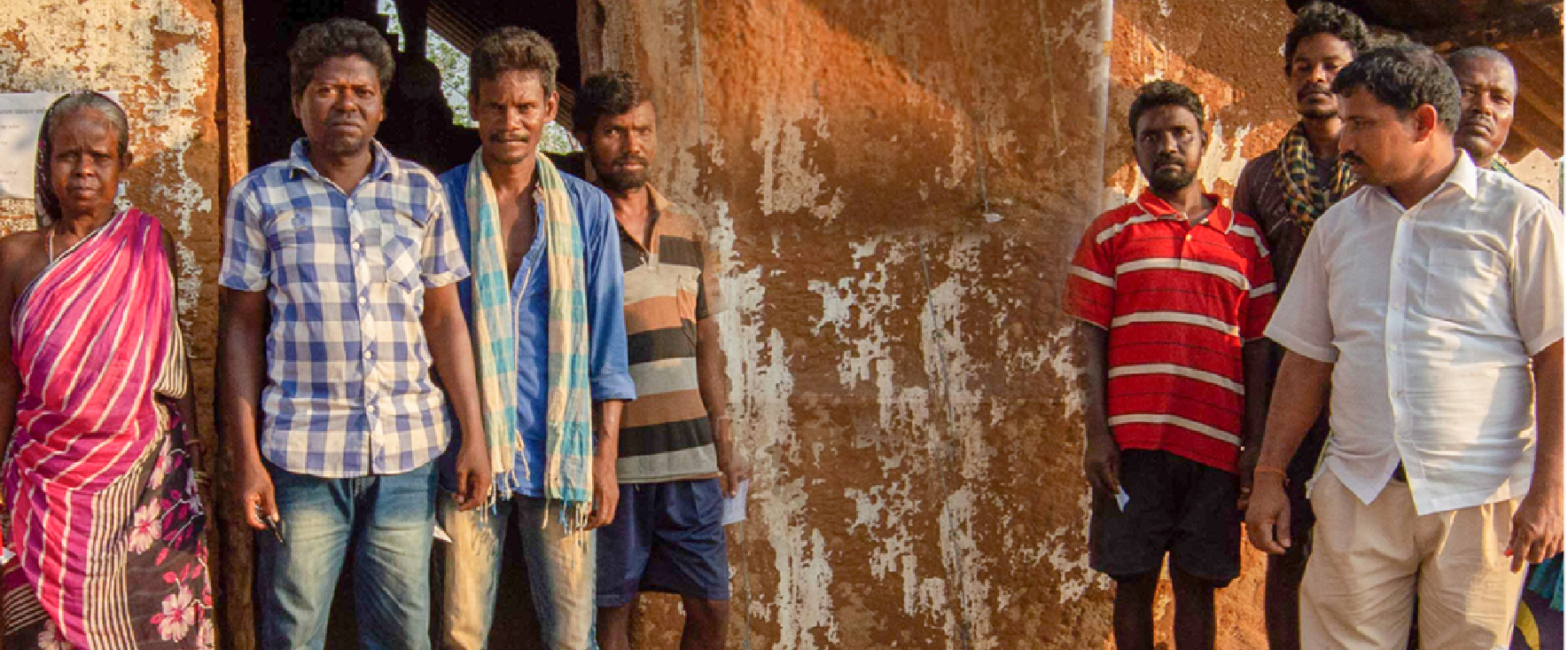 DISASTER RESPONSE
Cyclone relief made available food, shelter, access to safe water, and support for livelihood restoration
Community-level water filters provided safe water in villages where Cyclone Yaas submerged the regular drinking water sources. Families received household-level water filters, tarpaulins, dry ration, and clothes. Farm-related interventions helped replace the lost crops and mobilise farmers to adopt sustainable agricultural practices. Farmers got vegetable seeds for Rabi and Kharif seasons and seeds suitable for salinity-affected land. Farmers received training on biomass generation, production and use of organic manure, soil moisture and fertility management, establishing community seed banks, pest management and inter-cropping.
PROGRESS DURING THE YEAR
8 community kitchens serve Cyclone Yaas affected villages
1100+ households get household-level water filters
1000+ households get dry ration
800+ households get tarpaulins
1000+ farmers get seeds and training to replace lost crops
districts

Odisha
Balasore, Mayurbhanj
PARTNERS WHO SUPPORTED OUR WORK
Networking and sectoral contributions bolstered the impact of our efforts
The National Jal Jeevan Mission of the Ministry of Jal Shakti, Government of India, recognised Gram Vikas' experience in the community-owned and managed rural water and sanitation sector as a best practice. It selected Gram Vikas as a Key Resource Centre to provide capacity-building support to community-level stakeholders in Jal Jeevan Mission. We are part of several advisory and technical platforms at the national and State levels.
The Panchayati Raj and Drinking Water Department of the Government of Odisha appointed Gram Vikas as an Implementation Support Agency to support the preparation of Village Action Plans and the formation of Village Water and Sanitation Committees in 7,776 villages.
Gram Vikas joined the Rapid Community Response to COVID (RCRC) coalition. We participated in extensive research on the effects of COVID-19 among rural communities to advocate for changes in national-level policies.
We are a part of the Integrated Farming Clusters (IFC) initiative taken up by RCRC in partnership with the National Rural Livelihoods Mission (NRLM) and the Indian Council for Agriculture Research (ICAR). IFC aims to enhance the incomes of small and marginal farmers by promoting diversified value chain-based livelihoods and entrepreneurship in farming clusters.
Farmers Forum for Integrated Development (FFID) Chetna Organic visited our partner communities in Ganjam to understand the role of communities in sustainable village development. A team from the Scheduled Caste, Scheduled Tribe Research and Training Institute (SCSTRTI) visited several villages in Kalahandi to learn about community-owned and managed piped water supply systems, artificial groundwater recharging methods, and land development, among others.
Representatives of Gram Vikas participated in a webinar by India Migration Now and the Worldwide Symposium on Philanthropy by Charities Aid Foundation, India. We contributed to the report 'Between Binaries: the coming together of non-profit and for-profit organisations' by the Centre for Social and Economic Progress and recorded an IDR podcast on 'What should India learn from disasters?'.
Our research collaborations with Emory University produced evidence on WaSH practices and challenges during the Covid-19 pandemic and with Zurich and Emory Universities on the experience of the pandemic in rural Odisha. We partnered with the Centre for Migration and Inclusive Development, Kerala, to publish migration profiles of the Baliguda, Jagannathprasad and Rayagada blocks.
Stanford Social Innovation Review Spring 2022 edition published a case study on Gram Vikas, 'Waterborne Democracy for Rural India'.
Thank you to our knowledge, donor and resource support partners
Our knowledge partnerships strengthened our efforts to build community and staff capacities, support their psychological health, deepen our work, produce new evidence, deploy technology, and create opportunities for our partner communities. We thank ACWADAM, Pune, INREM Foundation, Anand, Gujarat, Rollins School of Public Health at Emory University; Vikas Anvesh Foundation, Pune, Gorakhpur Environmental Action Group, WOTR Pune and SkyMet; Goat Trust, Lucknow, Xylem Corporation, International Centre for Free and Open Software (ICFOSS); Rang De, HighBEE Consulting, Bhubaneswar, the Centre for Migration and Inclusive Development, Kerala; Urban Management Centre Asia, Ahmedabad, Life Circle Health Services Limited, Hyderabad, Sunlit Future, Auroville; Youth for India Fellowship of the State Bank of India Foundation, Pratham Books, Anthill Creations; Social Shapes Foundation, New Delhi and the Listeners Collective, Bangalore.
Generous support from our donors and resource support agencies allowed us to deepen and expand our work in meaningful ways. We thank Arghyam, Azim Premji Foundation-Philanthropy, B1G1 Singapore; charity: water, USA, Essel Mining and Industries Limited, ESAF Small Finance Bank; Godrej and Boyce, InterGlobe Foundation, HDFC Bank Parivartan; LIC Housing Finance Limited, Poul Due Jensen/Grundfos Foundation, SBI Foundation; Tetra Tech USA and Skoll Foundation.
130,208 households have benefited from Gram Vikas' partnership with village communities in Odisha and Jharkhand since 1979.