Young Adivasi women become microentrepreneurs to secure land, water sources and their future
Story
By Chandrika Patnaik
17 May 2023
Mangel Majhi and Kalindri Majhi from Kalahandi trained and worked as Spring Stewarship Fellows with Gram Vikas to make their communities water secure while ensuring their own financial independence.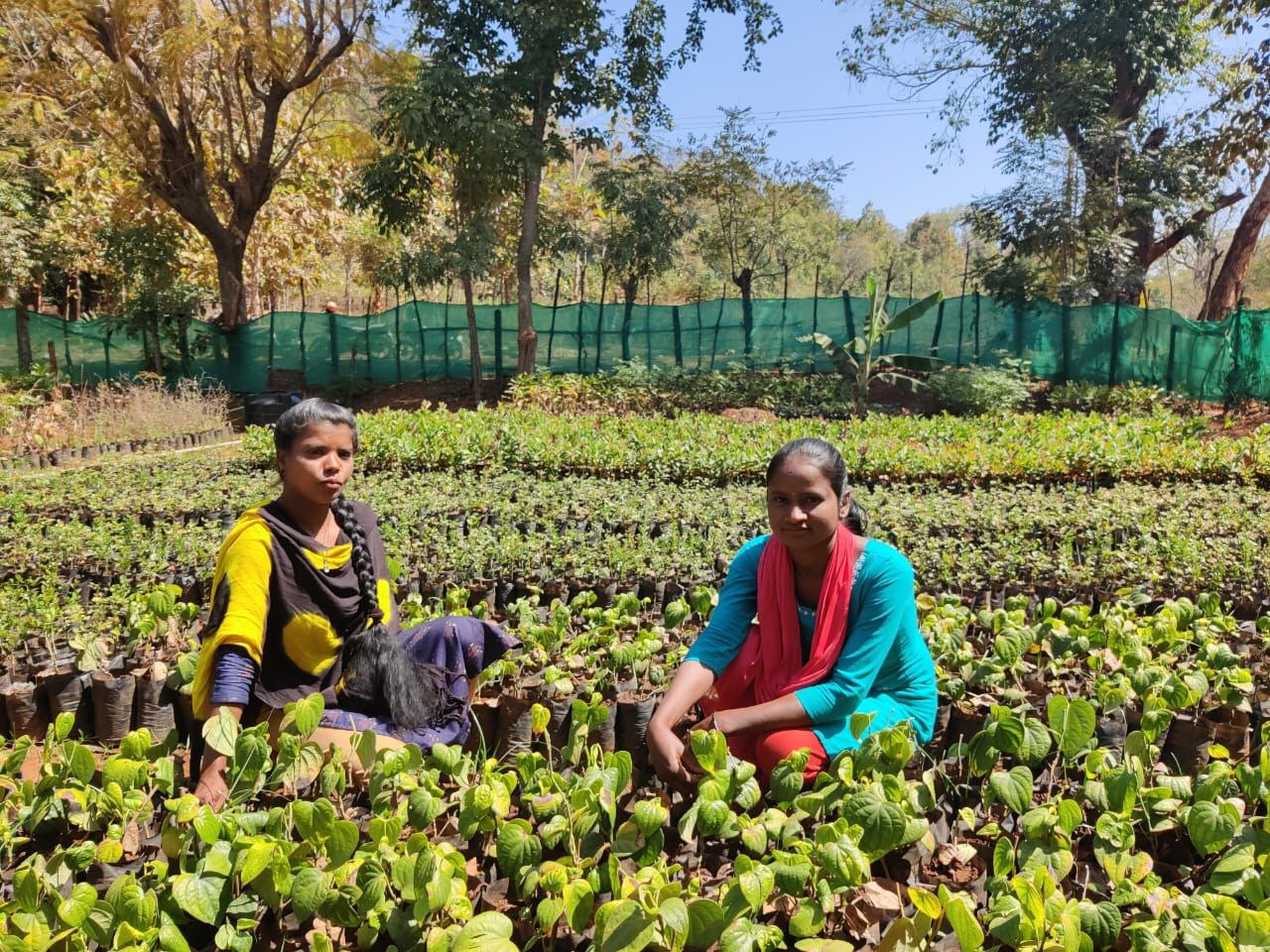 Mangel and Kalindri with their saplings in the nursey they jointly manage.
Photograph by Bidyutprava Praharaj
Mangel Majhi, 19, and Kalindri Majhi, 21, are the hopeful owners of an agroforestry microenterprise in Dudukaguda village of Odisha's Kalahandi district. The two young women from smallholder farming families in remote Adivasi habitations see this as a path to realising their aspirations for a better life.
Mangel is from Dhuliguda, a less than 500 people hamlet with 90% from the Scheduled Tribe communities, in Thuamul Rampur block of Kalahandi. Her father, Leli Majhi, is the only earning member of the family, working in a small Dhaba, a roadside eatery in a nearby village, Kaniguma. Only 32% of women in the village are literate, but Mangel's family wants her to study. "In 2020, I failed Class 12. However, my parents want me to study, but they cannot afford to pay for my education. If I study further, I will need money, and I will take up a course in nursing so that I can become a nurse someday," says Mangel.
Kalindri is from Dudukaguda, a smaller village with only 194 people, 21% from the Scheduled Tribes. More than 97% of the people have livelihoods for less than six months a year. Kalindri's mother is unwell and cannot work. Her father struggles with alcoholism and, though landed, has sold off most of the land to service his debts. Kalindri worked as a tailor in a garment factory in Bengaluru for six months in late 2020, "I returned home after my mother fell ill. I am their only child. I wanted to find work in or around the village."
Mangel and Kalindri met at Gram Vikas while training to be Jala Bandhus, the Spring Stewardship Fellows.
Learning to rejuvenate the Springs
The two young women applied for Gram Vikas' Spring Stewardship Fellowship programme, supported by the InterGlobe Foundation in Kalahandi, in early 2021.
The programme builds a cadre of young men and women from the Adivasi communities trained in hydrogeology, accounting, and technologies such as Google Earth Pro and Vertical Electric Sounding tests to become a knowledge resource pool for their communities. It promotes local skill-building and entrepreneurship while the cadres earn a stipend of ₹8000 a month.
Over the past three years, the Fellows have monitored 4709 water sources, including 523 Springs, pre and post-monsoon, across 71 Gram Panchayats in Odisha. Partner village communities and Gram Vikas used this data to prepare the five-year (2020-2025) Village Groundwater Management Plan.
Mangel and Kalindri learnt and trained their communities to map groundwater, monitor springs, develop degraded land, undertake social and agroforestry plantations, conserve soil and moisture, and intercrop to rejuvenate land and water sources.
Every day between April 2021 to March 2022, the young cadres visited the villages to measure the spring discharge. These villages are in water-scarce regions that are increasingly facing an uncertain future. The two young women monitored the water sources using water table monitoring tools, improved land and water conservation awareness, and set up and operated central and village-level plant nurseries.
Mangel and Kalindri visited a total of 22 villages in Kaniguma Gram Panchayat to help their communities plan, execute, and manage water and land development work.
Setting up their agroforestry nursery unit
After their one-year fellowship, Mangel and Kalindri started their own nursery in March 2022. Their ambitions of further education and financial independence fuelled the entrepreneurial spirit, "We had no means to earn in the village to pursue our goals. So we decided to raise plants in a nursery, something we learned during the fellowship."
Mangel and Kalindri used the money they saved from their fellowship to invest in the nursery. They employed four men for ₹120 a day to dig the soil and filter it of small stones and pebbles for two days. They then bought sand worth ₹2600, and manure costing ₹2000, to prepare the soil and fill 20,000 polybags.
Their parents supported their decision to start the nursery. "My father, Leli Majhi, and Kalindri's father, Derang Majhi, helped us set up the thatched roof for the nursery," says Mangel. The entire process of setting up the infrastructure for the nursery took around 15 days.
In the next two days, the girls collected over 20,000 seeds of mahalimba, chakunda, karanja, custard apple, jackfruit, tamarind, and kendu from the nearby forest. They then soaked the seeds in water for three days.
Mangel's mother, Somabari, 50 and Kalindri's mother, Panamati, 52, helped fill the polybags with the treated soil. After three days, the girls took the soaked seeds, removed the covering, and planted a seed in each polybag. In total, they invested ₹25,000 in setting up the nursery.
Within six months of setting up their nursery, in August 2022, they sold 19,450 saplings to Gram Vikas at the rate of ₹5.53. "Out of the 20,000 saplings, 550 did not survive. We sold the remaining 19,450 to Gram Vikas as they were doing plantation work on the hills of a village in our Gram Panchayat. We earned ₹1,07, 559."
Stitching a new independent future
The girls hope to make the most now that each one has earned a tidy sum. With the money she earned, Mangel is studying at home to appear for the Class 12 exam in 2023 and also pursuing her desire to take up a course in nursing, "I am confident I can make decisions and not depend on my parents for money."
Kalindri travelled to Bangalore in September 2022 to get the Provident Fund due from the garment export company she worked in earlier. After getting her money, Kalindri returned to her village in December 2022. For three months, she stayed in Bangalore, working in the same factory stitching clothes to meet her daily expenses in the city. She bought a sewing machine from the money she had saved while working in Bangalore.
Once she returned, she started a tailoring shop in Bhawanipatna town, the district headquarters of Kalahandi, about 65 kilometres from her village in Dudukaguda. She set up a shop in the rented house with two other girls she befriended from the Rayagada district and Lanjigarh block in Kalahandi during her visit to the factory in Bengaluru.
"We could not take a space in the market because of the high rent. We did not get any customers either. I returned to my village to stitch clothes and open a grocery shop at home," says Kalindri, sharing that this move will allow her to care for her mother and help her with household chores since she isn't keeping well.
Even though her mother, Panamati, wants her to get married, Kalindri insists she will wait for the right guy to come into her life and who will be willing to live in her parent's home so that her parents are not alone. "There is no way I can leave my parents and go elsewhere. Being the only child, my parents are my responsibility, and I want to look after them. I don't think I will be able to settle down soon, at least not for the next three years, until I properly set up my business in the village. I want to stand on my feet, earn well, and not depend on anyone."
Setting up the nursery for the first time was challenging, but Mangel and Kalindri gained much confidence, experience and pride in setting it up from scratch.
Gram Vikas recently offered Kalindri support to set up another nursery for 25,000 saplings. She looks forward to it, "I want to earn enough to take care of my parents and fulfil my aspirations."
Kalindri running her tailoring and grocery shop in her village.
Photograph by Bidyutprava Praharaj
ACKNOWLEDGEMENT
Bidyutprava Praharaj, Thematic Coordinator in Planning Monitoring Documentation and Communication, helped collect data for the story. Priya Pillai edited the story.
ABOUT THE AUTHOR
Chandrika Patnaik leads content production within the Communications team in Gram Vikas.