A long ordeal came to an end as women safeguarded their right to safe sanitation
Story
By Chandrika Patnaik
30 April 2020
Manju Munda and other women in her village Bileipada Mainsahi prepared themselves as sanitation warriors and set out on a mission to make their village open defecation free.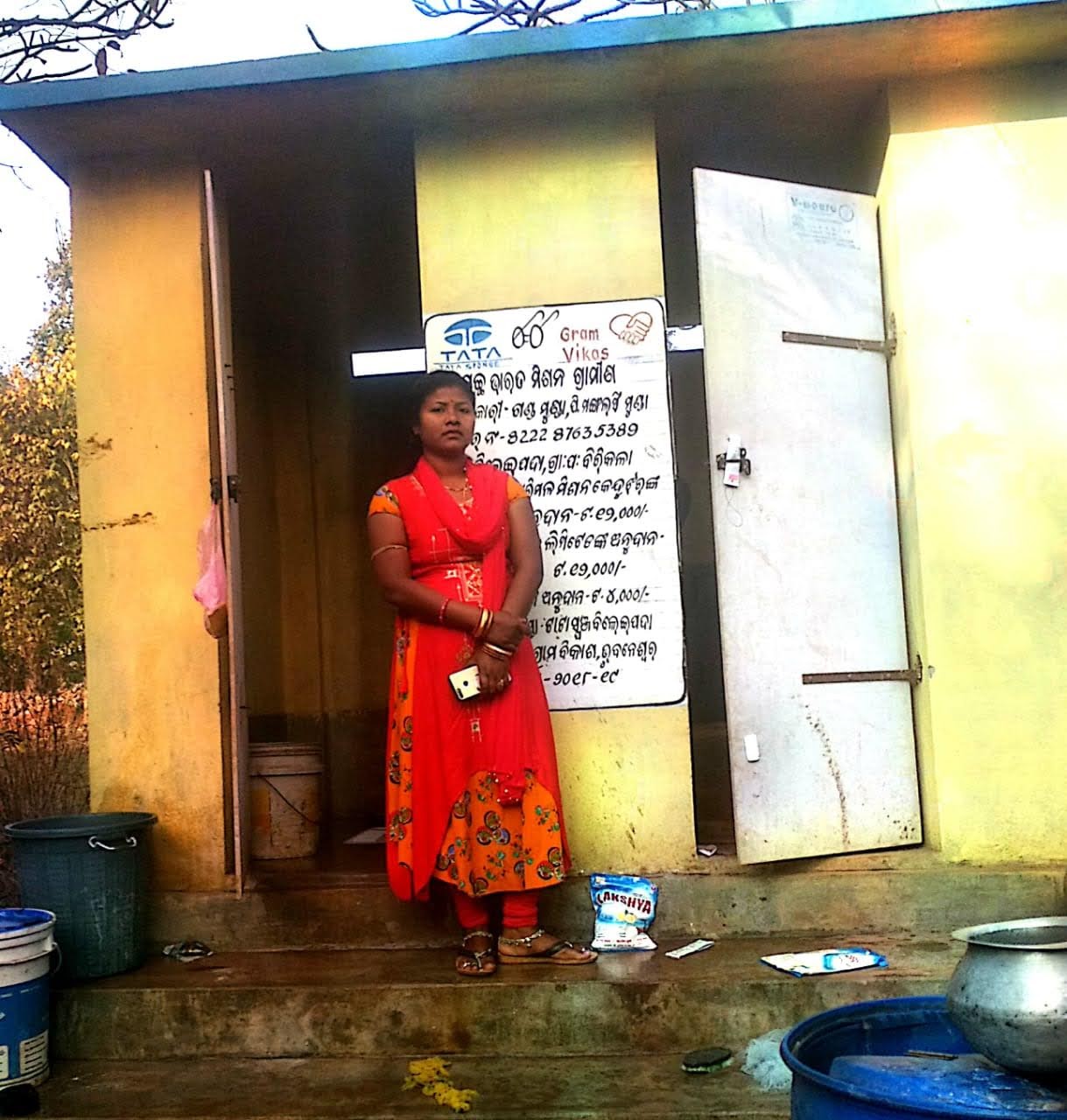 Manju Munda is a proud owner of a household toilet and bathing room after her long struggle for the right to safe sanitation.
Photograph by Gourav Mohapatra
Manju Munda recounts the suffering women in her village faced until 2019, "We usually went out early in the morning, when it was still dark outside. We woke up around 4 a.m. and preferred to go before the men started going out to relieve themselves. Once daylight broke, there was barely any place where we could go. We had to hide."
Women and adolescent girls in her village, Bileipada Mainsahi, walked to the outskirts every day to defecate. Manju Munda is the President of the Village Development Committee and a sanitation warrior of Bileipada Mainsahi, a small village of 89 households in Joda block of Keonjhar district in Odisha. Most of the 47 Adivasi households in the village did not have a toilet or bathroom. Women, men, and children had to defecate and bathe in the open. The practice of open defecation had gained social acceptance over the years, where it was considered okay for residents to defecate, take a bath and then enter their houses. The remaining 42 households of this village did not belong to the Adivasi community and were economically well-off and had their own bathrooms and toilets.
Looking back at how hard it was to bring about better health and safe sanitation among the residents of her village, Manju Munda believes she could achieve it only when other women in her village were convinced and joined her for the mission.
More than two years ago, Tata Steel Long Products Limited (TSLP), under its Swabhiman Project, started building toilets in 11 villages surrounding its factory, under the Birikala Panchayat of Joda Block of Keonjhar district, to make the entire area of the Birikala Panchayat surrounding the factory open defecation free. At the time, Manju Munda was a member of an SHG in her village and actively participated in awareness programmes related to health, like immunisation, distribution, and use of mosquito nets and implementing sanitation projects under SBM in her village. When TSLP approached Gram Vikas more than one and a half years ago for constructing toilets, bathrooms and to provide piped water supply to 47 Adivasi households of Bileipada Mainsahi, Manju gave her wholehearted support to Gram Vikas. In the nearby villages of Lahanda and Bhagalpur under the Birikala Panchayat, people of both villages were very happy with the efforts of Gram Vikas in making their village open defecation free and for making piped water supply to each household a reality. Also, in both the villages, the VWSC and SHGs had become active and conducted many developmental activities in the village with the support of Gram Vikas.
At first, when the team from Gram Vikas reached Bileipada Mainsahi and spoke to all the 47 households of the village about sanitation facilities, the idea of a toilet at first did not appeal to most of them. They thought constructing a toilet was unaffordable for them and unnecessary. Working with rural communities for the past many decades, we understood that bringing attitudinal and behaviour changes towards safe sanitation is not easy at first. Manju garnered support from a few other like-minded women and set out daily, door to door, motivating and mobilising the residents of her village. Being an active SHG member herself, she was vocal and spoke during the VWSC meetings and SHG meetings in her village, trying to convince the men and women of her village to support Gram Vikas in constructing toilets for the dignity of the women and girls in their families and also to get safe water supplied directly to their homes, ending the drudgery once and for all.
Initially Manju Munda faced resistance from her own family. Persuading elders, especially men in her family, was not an easy task. During summers, their village faced severe water scarcity. Women and girls would spend hours walking far to fetch water for their households. Now, they too wanted to live in clean environments like nearby Lahanda and Bhagalpur villages where Gram Vikas had successfully implemented the project. The women members of the SHG and a few in the VWSC became vocal about their rights during meetings. They went in groups spreading awareness for clean water and safe sanitation for their village. Soon women from all the 47 households of the village joined Manju to convince the men to agree and contribute to the project cost through free labour.
Today, Manju is a happy and proud owner of a toilet and a bathing unit at her home, "My family, as well as other families in my village, get 24 hours piped water supply directly in our homes, while also owning a functioning toilet and a bathing room. Women and children of my village do not have to go out and defecate and fall sick. I am really thankful to Gram Vikas for the work they have done in providing the women of Bileipada Mainsahi with safe sanitation and for continuing to respond to our needs even today. My two adolescent daughters don't need to wake up early anymore before day break or wait until sunset every day to relieve themselves. Nor do they have to bathe in public. Now, women do not have to spend all day fetching water from a distance for household chores either".
24*7 water supply to the households ensures an open defecation free village.
Photograph by Ajaya Kumar Behera.
ACKNOWLEDGEMENT
Gourav Mohapatra helped in field information collection. Ganesh Chakravarthi edited the story.
ABOUT THE AUTHOR
Chandrika Patnaik leads on content production within the Communications team.