Women-led drinking water management
Story
By Chandrika Patnaik
15 October 2021
22 women from Mandapathara village come together and partner with Gram Vikas to get functional household level 24x7 piped water supply, toilets, and bathing rooms, and be leaders of water quality management in their community.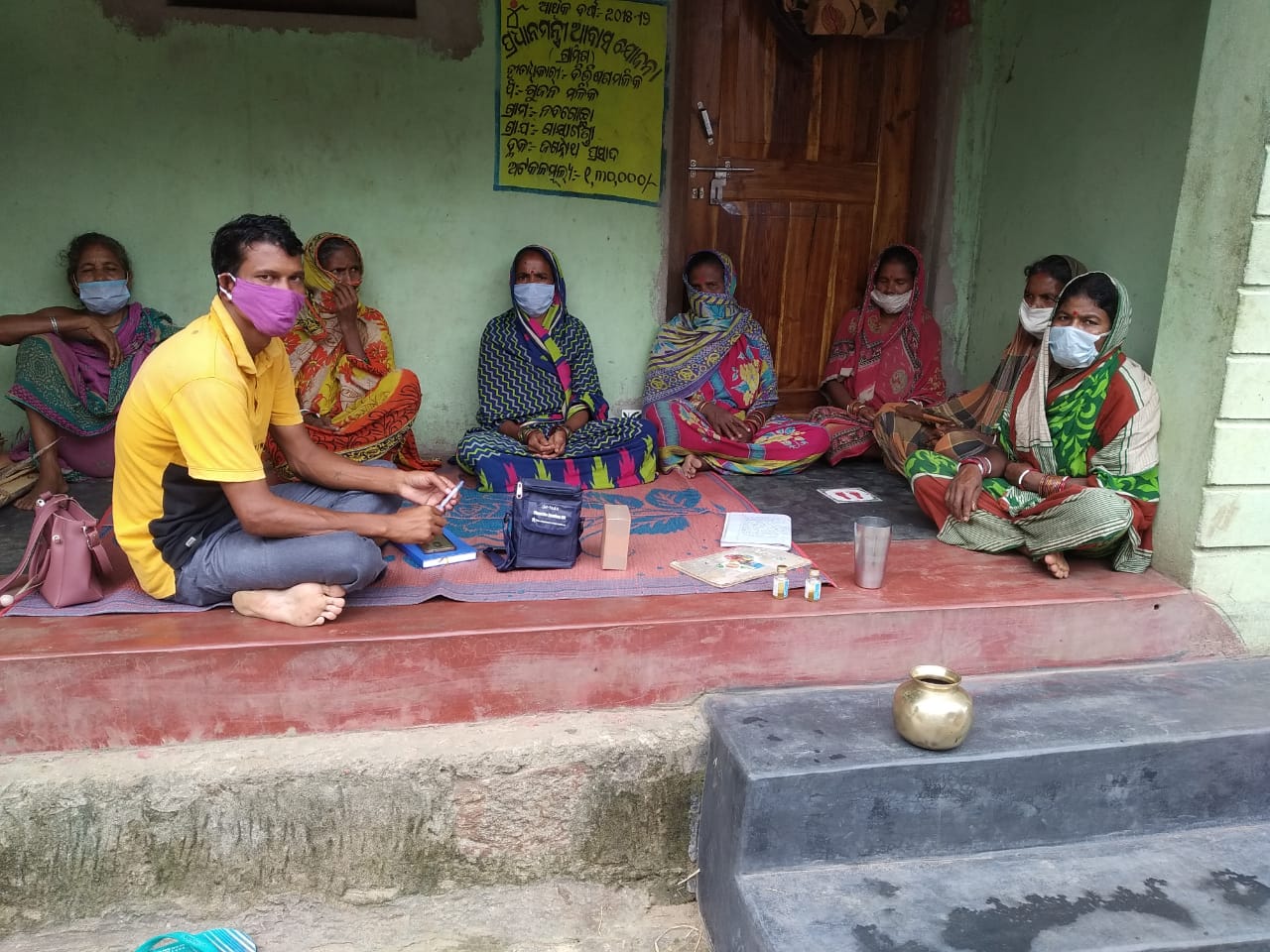 Mihir Bhuyan is demonstrating the water testing kit before the members of the Village Development Committee.
Photograph by Shivani Chandra
Mandapathar, a village in Jagannath Prasad block in Ganjam District, suffered from a lack of water and power supply. Twenty-two women from the village came together and partnered with Gram Vikas to get piped water supply, toilets, and bathing rooms. These women also became leaders of water quality management in the community.
Draupadi Jani, President of Mandapathar Village Development Committee, looks back on the struggle for water by the women of her village. "We held awareness meetings in the village for putting a piped water and sanitation system in place. None of the men supported us at that time." When women of all 22 households agreed to own a sanitation system and piped water at any cost, Gram Vikas agreed to set up the system in the village.
Little by little, these women saved money. They collected leaves from the forest and made leaf plates to sell in the village market, worked as daily wagers during road construction in Khajuripalli village at the time or as labourers at construction sites earning up to ₹90 per day. The women could save enough within one year to make the initial contribution of ₹1,000 for the corpus fund kept in a bank on a fixed deposit. The Village Development Committee will use the interest to provide financial assistance to new families in the village to build toilets and bathing rooms.
The women's determination to construct the TBR inspired a few men from our village to work on building the overhead water tank. "In 2012, pipes were laid, and water was supplied to our homes with the help of solar power. Our village still does not get power supply, but we have come a long way in our battle for water," said Basanti Jani, Secretary of Mandapathar Village Development Committee (VDC).
Their problems did not end there. In 2020, the village had a severe incidence of diarrhoea, scabies, and flu. Women and children faced the brunt and fell ill regularly. In December 2020, the Gram Vikas team tested water from household tap connections and found it contaminated. Later, the team found cracked pipes in two places, and the valves had sprung up leaks. Water was tested from these two points and found contaminated with bacteria causing diarrhoea and scabies.
In January 2021, Anjani Jani became a trained Water Quality Management cadre in the Gram Vikas programme to ensure access to safe water free from bacteria and other particulate matter. She talks about the collective strength of women in making safe water a reality for every home in the village, "Unlike other villages, our village is in darkness, but we have ensured piped water supply to every household. The water supplied is safe for drinking now. I got training and have learned the water testing protocols. We do not have any cases of diarrhoea or itching anymore." Anjani Jani is one of the 22 community-level water quality cadres in the Ganjam district of Odisha.
Anjani Jani is a trained Water Quality Management cadre who ensures safe water to the village.
Photograph by Mihir Bhuyan
ACKNOWLEDGEMENT
Reporting by Santosh Padhy, Mihir Bhuyan and photographs by Mihir Bhuyan, Shivani Chandra. Ganesh Chakravarthi edited the story.
ABOUT THE AUTHOR
Chandrika Patnaik leads on content production in the Communications team.