Adivasi communities use Google Earth Pro to digitally map their villages
Story
By Anas Koyali
6 April 2022
Community cadres in Kalahandi map natural resources, demographic data, infrastructure and other development activities in their village on Google Earth Pro application.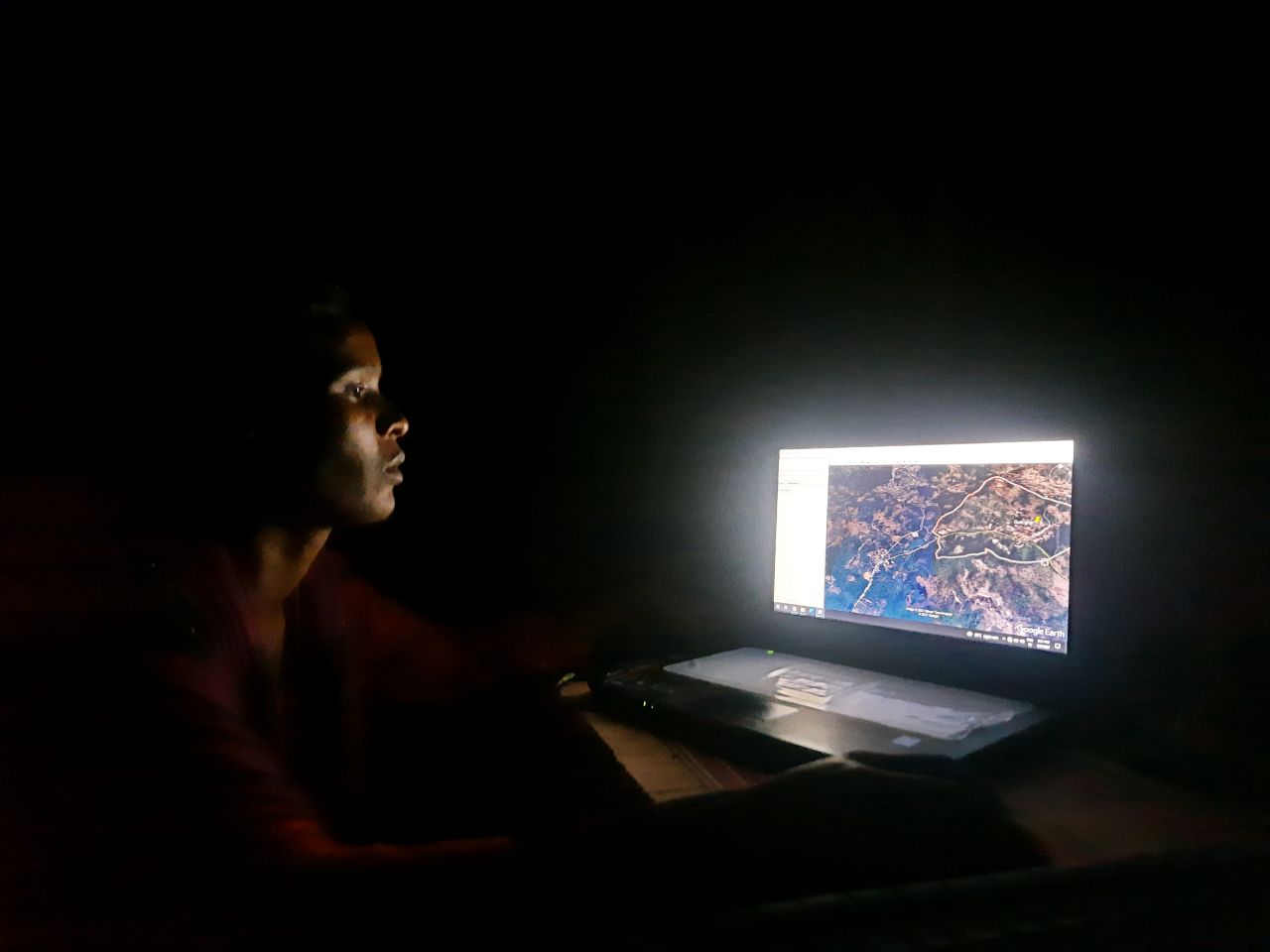 After completion of her training, Surekha Majhi is mapping her village on Google Earth.
Photograph by Anas Koyali
The struggle we face in understanding any new technology is not just the technology itself, but the language in which the technology is presented to us. Newer insights and innovations in the technology have always been enthralling to students. During my one-year SBI Youth for India fellowship in the district of Kalahandi with Gram Vikas, I took up a project on capacity building and training the young community cadres and volunteers on concepts of Geographic Information System (GIS) and digital mapping for rural development interventions.
We began with several orientation sessions to introduce and discuss the scope of creating a GIS-based village information system and a digital map, which could be deployed among the field level staff and cadres. The database would be a multi-layer thematic map, enabling access to village information with the key geographical location of the natural resources, demographic data, infrastructure/ structures, key resource buildings/landmarks, areas of interest on livelihood and other development activities. The key idea was to train the cadres on the digital mapping processes which had evolved into a village information database with later improvisations. The system was created by assisting the cadres in operating the Google Earth Pro application. Multiple GIS applications were used to gather and compile data.
The abbreviations and technological jargon pulled back many. It was then that a young girl, Surekha Majhi, came forward with passion to learn this new technology, where even the trained personnel were hesitant. Post a general orientation session she came to me and said "Sir, teach me, I want to learn whatever you just said."
Surekha Majhi, hails from the Chirikelguda village of Thuamul Rampur block. She has completed her plus two education from a nearby school. She aspires to study in a college. But the financial and social constraints of her family hold her up. To support her family and her dream, she has volunteered for the water stewardship programme of Gram Vikas.
As a Jal Bandhu, she manages the watershed initiatives at the community level by monitoring the water discharge measurements in the springs and managing the Agro-nursery, to be used for afforestation of slash and burn reclaimed lands. She mobilises the people in her village and villages nearby on the need for conservation of land and water resources. Her family belongs to the Khond tribe. The Adivasi communities in Thuamul Rampur used to practice slash and burn cultivation methods. Surekha mobilises her community to shift from slash and burn to more sustainable modes of agriculture.
In the hands of Surekha, the complexity that the others saw of GIS mapping and Google Earth was not an obstacle. Despite the relatively onerous nature of the technology, she was able to complete her training and mapped her village by herself on Google Earth. Post training, she is now skilled to understand, identify, and map features in Google Earth. Along with her, three other young cadres were also trained. With more support, Gram Vikas is hoping to break down these technologies and implement them in the communities.
The English language as a default system to operate computers and access to hardware with internet connection still pose major hurdles to Sureka's ability to continue her work. Building her and other community cadres' capacity in working with new technology driven methods will allow us to demystify the technological blocks. It will also allow us to bring up a whole new set of community leaders who are acquainted, understanding and passionate about the usage of innovative methods in the developmental activities. It will also allow these youth leaders to participate in planning and implementation on par with any professionals.
Ahead, Surekha will be continuing her quest for knowledge. She wants to share and pass the knowledge she acquired. She wants to study more. Surekha is a representative of an aspiring young population of mostly first generation learners. Technologies and innovations are out there to be taken up by any, but access and inclusive education for their leverage are still major issues. The struggle of our age will be to deconstruct technologically pumped innovative learning methods to serve their purpose for remote communities.
Anas Koyali training the community cadres and volunteers on Geographic Information System and digital mapping.
Photograph from Gram Vikas Photo Archive
ACKNOWLEDGEMENT
Anas Koyali was a SBI YFI Fellow with Gram Vikas from September 2020 to August 2021. He supported in building the capacities of community cadres to work with new technology and assist in the development activities of their village. Ganesh Chakravarthi edited the story.
ABOUT THE AUTHOR
Anas Koyali is working as a Junior Manager for Water Resource Technology Group in Gram Vikas. He was a SBI YFI Fellow with Gram Vikas from September 2020 to August 2021.