Adolescent girls lead health conversations and actions in villages
Story
By Sangita Patra, Pratap Chandra Panda
27 June 2022
Adolescent girls lead discussions on WaSH and nutrition to take charge of their health.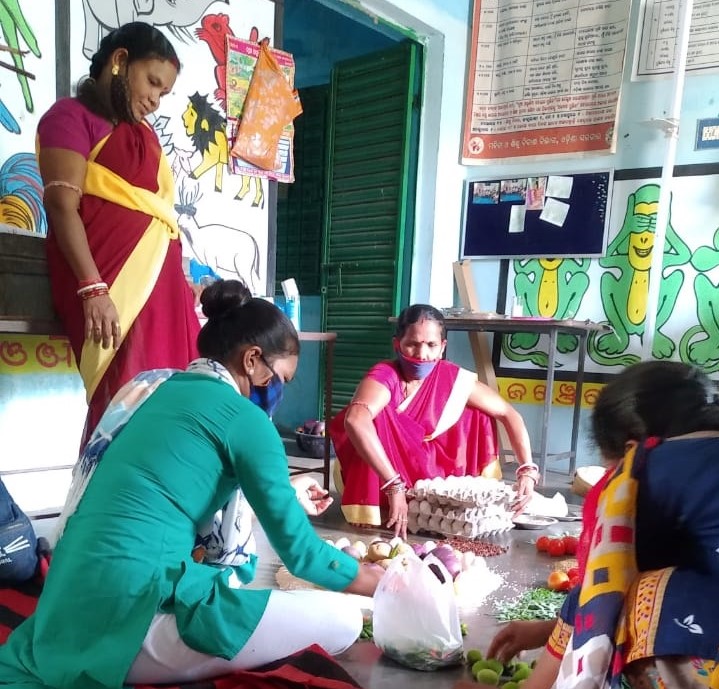 Adolescent girls learn to select food based on their nutritional value.
Photograph by Brundabati Sabar
"We don't talk about issues we face during menstrual days; we find it hard to dispose of used sanitary napkins. We use sanitary pads as we know this, but not sure if all the girls of our region are using and safely disposing of them", says L. Kalyani of Nuagaon in the Gajapati district. She is one among the 16 girls in the adolescent peer group.
Kalyani adds, "We learnt from the sessions we attended that we should eat healthy food during this adolescent period as this happens to be the age where significant changes happen in our bodies. We need adequate iron supplements to replenish the blood loss due to monthly menstrual cycles".
The adolescent group meets weekly, discusses sanitation and hygiene issues, and promotes appropriate WASH and nutrition behaviour. The group support children in the village with creative learning. Women in the community celebrate Nutrition Week at the Anganwadi Centres.
Rashmita Khanduala, the Anganwadi worker in Kujasingi, shares, "We observe the Nutrition Education events, especially the Nutrition Week. It is an appropriate space to discuss the 1000-day nutrition concept. Gram Vikas shares the importance of eating a balanced diet, water quality and the relevance of WASH behaviour in nutrition through the women and adolescent groups".
"WASH interventions such as availability of safe water for drinking, use and maintenance of toilets and the water supply systems, solid waste and grey water management are some critical components of the programme. These simple yet important behaviours and practices help keep the infectious diseases especially diarrhoea at bay", adds Manjula Ragas, SHG member from Nuagaon village.
Young girls are encouraged to eat balanced meals to lead a healthy lifestyle.
Photograph by Brundabati Sabar
ACKNOWLEDGEMENT
Brundabati Sabar, Field Expert and Tania Adak, Thematic Coordinator in Sanitation & Health thematic area supported in story collection.
ABOUT THE AUTHOR
Sangita Patra is the Thematic Manager for the Documentation and Communications and Pratap Chandra Panda is the Thematic Manager for Livelihoods and Sanitation & Health thematic areas in Gram Vikas.