Water gets Gasukia's children to eat better and stokes mothers' hopes of being entrepreneurs
Story
By By Sebati Digal, Chandrika Patnaik
30 September 2020
Household level piped water supply helps families in Gasukia village set up kitchen gardens reducing women's drudgery, improving dietary diversity and making available nutritious food for all.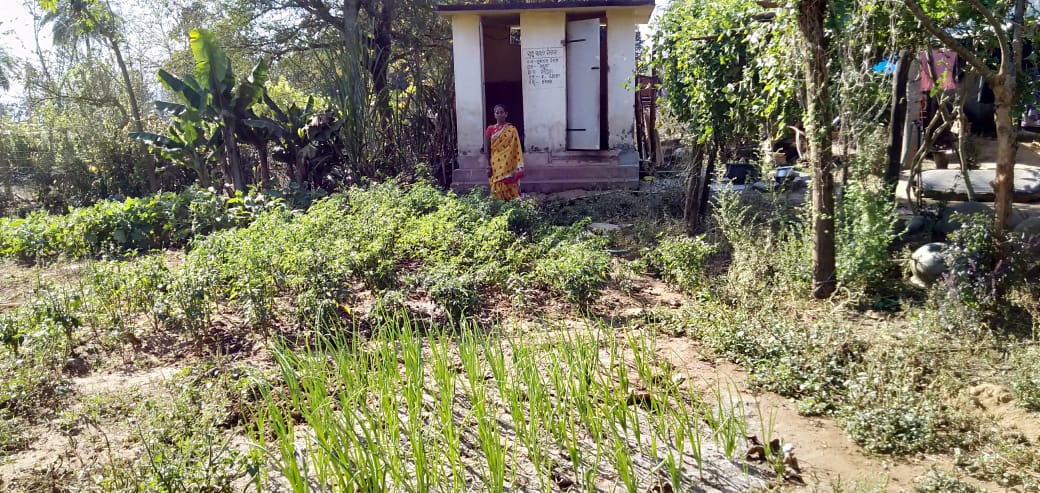 Janaki uses the household waste water to irrigate the backyard kitchen garden to grow vegetables and fruits.
Photograph by Sebati Digal
Janaki Mallik takes great pride in her backyard kitchen garden. She decided to pose with a fresh harvest of tomatoes from her garden as we took a photo of her, "I looked after my family and was busy with household chores throughout the day. Last February (2019), I started getting water at home through the pipes all through the day. I did not have to fetch water from a distance anymore. I suddenly had a lot of time in my hands. I set up this garden in April last year and used the waste water from the toilet, bathroom and kitchen to water the plants."
During a two day training on Nutrition Garden in Gasukia in March 2018, Janaki learnt how the household waste water can be used to irrigate the kitchen backyard garden to grow vegetables and fruits. Like many others in the village, Rindurekha Mallik and Priyatama Mallik attended the two-day training. Rindurekha  says, "We were trained on making and preparing beds for sowing seeds, channelling the waste water from the house through pipes into the beds, plant spacing, fencing the garden to keep out animals, nursery raising of seedlings, planning and choosing crops to enhance food security for our families throughout the year."
Janaki lives with her husband, Junos Malik, and their two young children in Gasukia village in Kandhamal district. Junos owns a small piece of land in which he cultivates paddy during the rainy season. Without a way to irrigate the field, after the monsoon season, the field is not put to use for the rest of the year.
In the village, work opportunities are hard to come by other than the occasional work as farm hand in other fields. With this little income, Janaki struggled to buy vegetables and essential food items for her two small children.
Once Gram Vikas set up the 24×7 piped water supply and household toilet, bathing rooms in their village, Junos helped Janaki to channel waste water from their house to water the garden.
Today, their children no longer eat just rice and potatoes but a more nutritious diet: "Initially, I grew only ladies' fingers and green chillies. Slowly, I have started growing a variety of vegetables like potatoes, garlic, beans, tomatoes, cauliflower, and brinjal. My children get nutritious food to eat every day. My husband is also very happy that our children get a nutritious diet. He also helps me a lot in looking after this garden.", says Janaki.
Encouraged by the success of her nutrition garden, Janaki is motivated to grow vegetables at scale and sell it in the market in a few years, "In the coming years, I wish to have my own vegetable business. I am confident I will be successful in growing vegetables in a bigger area and sell in larger quantities."
Janaki aims to grow vegetables at scale and sell it in market.
Photograph by Sebati Digal
ACKNOWLEDGEMENT
Priya Pillai edited the story.
ABOUT THE AUTHOR
Sebati Digal is a Supervisor and Chandrika Patnaik is a Junior Manager with Gram Vikas.