Community Champions help establish bank linkages for migrant workers
Story
By Chandrika Patnaik
2 June 2022
Financial literacy meetings help migrant workers and their families improve access to payments and banking facilities.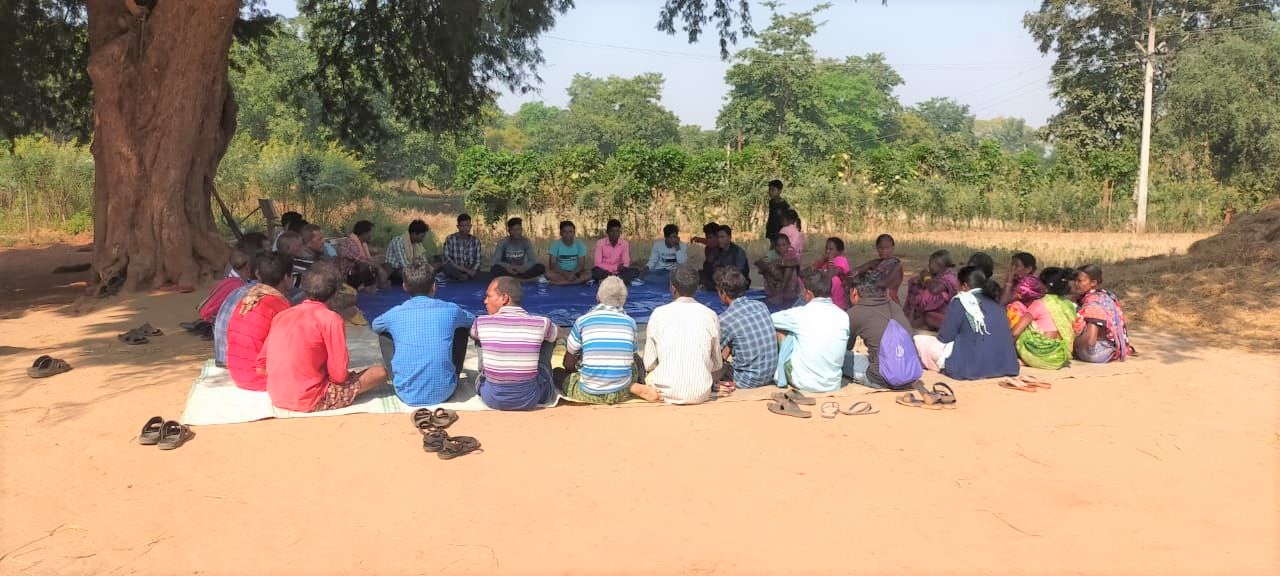 Community Champion conducting financial literacy meeting.
Photograph from Gram Vikas Archive
Lakshman Dandasena is a 22-year-old returnee migrant worker from Rajamunda village in the Kalahandi district. In 2019, he migrated to Thrissur, Kerala, searching for work. Lakshman found work on a cow farm for ₹7000 every month. Tired of the long and odd working hours, he soon shifted to working at a cooking gas agency, where he earned ₹12000 per month.
No one from Lakshman's family, including him, has a bank account. Lakshman received the payment in cash and could only give money to his family when he visited them. Thus, his family often ran out of funds when required.
Lakshman met Purna Chandra Majhi, a Community Champion from Gram Vikas, at the self-help group (SHG) meetings for migrant workers in Rajamunda. He learned about the benefits of opening a bank account. With Purna's help and guidance, he started a bank account for himself and his wife. Lakshman now hopes to return to Kerala without worry, "Now, with a bank account, I can send money home digitally."
Like in Lakshman's case in Rajamunda village, most people in Thuamul Rampur had no access to bank accounts. Village residents had to stand in long queues from the previous night to open a bank account the next day. It made it difficult for them to open a bank account.
Community Champion Purnachandra Majhi helped form an SHG, Maa Banabasi, to improve the villagers' access to payments and banking facilities. He regularly visits the village to carry out Financial Literacy campaigns. There were SHG groups earlier as well, but they broke down due to non-linkages with banks. The group has 11 members.
Purna liaised with the bank officials to set up an account for the group at the panchayat branch. Today, all the SHG members have bank accounts and health insurance. Earlier, migrant workers relied on going back home or on agents who charged a high fee to transfer money back home. However, with individual bank accounts, this problem is solved.
The SHG meets regularly and saves. The group plans to set up a puffed rice mill. Members consider their group "dala re bala", meaning "strength in togetherness".
Through the facilitation and resource centres for migrant workers, Community Champions is helping prospective migrants and their families to make informed choices about opportunities, services and entitlements.
Lakshman Dandasena now has a bank account to send money home.
Photograph by Kabir Rana
ACKNOWLEDGEMENT
Purna Chandra Majhi, Community Champion and Kabir Rana, Project Manager for the Rural Livelihood Project helped in story collection. Priya Pillai edited the story.
ABOUT THE AUTHOR
Chandrika Patnaik leads content production within the Communications team in Gram Vikas.