Boosting productivity and incomes through crop planning
Story
By Chandrika Patnaik
13 March 2022
Marginal and small farmers in 48 villages learn and apply crop planning techniques to improve irrigation methods, fight pest attacks and practice mixed cropping.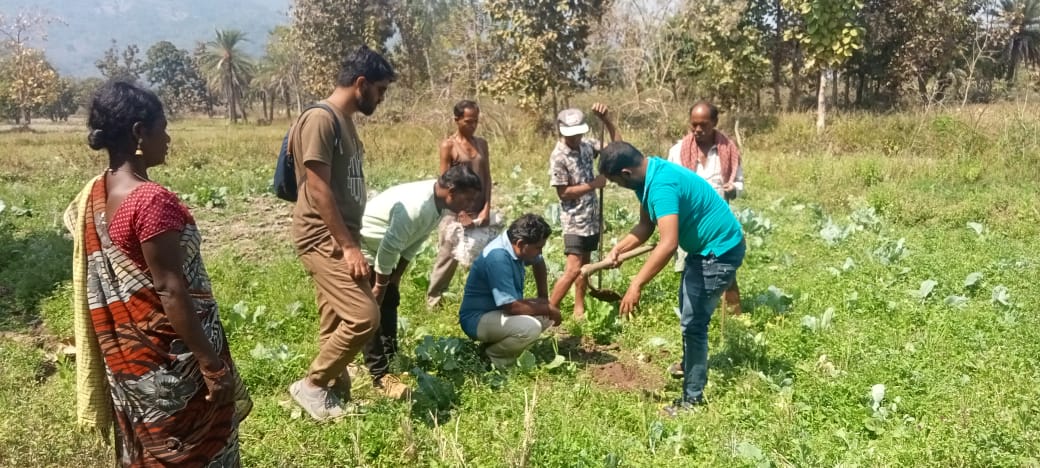 External resource person shows how to select the soil to send to lab for testing.
Photograph by Narayan Sahu
Krushna Chandra Bhuyan is a marginal farmer from Raghunathpur village of Rayagada block in Gajapati district who cultivates tomatoes on half an acre of land during the winter season.
"During the Rabi season in 2020, in September, I cultivated only tomatoes hoping to harvest 25-28 tons over a three-month period." He had invested ₹10,000 for buying fertilisers, pesticides, field preparation labour, and electricity costs for running a motor for irrigation. After meeting the input cost, he had hoped to earn ₹45,000 during this period as tomatoes sell at a high price during the beginning of the season.
In the past years, during the same time, he sold tomatoes at ₹25 per kg in the wholesale market. But unseasonal and heavy rainfall washed away more than half of his crop, causing a considerable loss. "Heavy rainfall during October 2021 washed away more than sixty percent of my crops. I could only recover the input cost of ₹10,000 from the crop that survived. I needed the money badly during that time but could not earn even a rupee."
In December 2021, with the help of an agriculture specialist, Gram Vikas conducted awareness sessions on agriculture, nutrition, water budgeting, organic farming, nursery raising, and composting. During the sessions conducted in Raghunathpur, farmers from two Farmer Producer Groups (FPGs), Maa Thakurani Krusaka Utpadaka of Raghunathpur village and Anugraha Krusaka Utpadaka Goshti from Saura Kujasing village were present.
Krushna, a member of Maa Thakurani Krusaka Utpadaka Farmer Producer Group, says attending these sessions made a lot of sense to him, "If a small farmer like me cultivates multiple crops on a single piece of land, crops which are comparatively resilient will help salvage the situation even if there is inclement weather. If one crop cannot survive an unfavourable climate condition, another crop growing on the same land might survive. This time, I shall cultivate tomatoes, radish, and grow pumpkins as a border crop. This will minimise my loss to a great extent and will not be a total washout."
Farmers, with the help of the agriculture specialist, prepared crop plans for Kharif and Rabi seasons. The plans were based on the previous year's agriculture data and local weather conditions. The aim was to promote crop diversity. Through crop planning, farmers are provided with low-cost technical solutions to help them improve irrigation methods, fight pest attacks and practice mixed cropping. The initiative will cover 450 farmers in 38 villages in Gajapati and 643 farmers in 10 villages in Nayagarh district.
Farmer Krushna Chandra Bhuyan inspecting the tomato plants in his field.
Photograph by Narayan Sahu
ACKNOWLEDGEMENT
Prasanta Kumar Nayak, Field Expert for Farm Livelihoods, Ramesh Naik and Narayan Sahu, Thematic Coordinators for Farm Livelihood, helped in data collection for the story. Ganesh Chakravarthi edited the story.
ABOUT THE AUTHOR
Chandrika Patnaik leads on content production within the Communications team.