Cultivating change: using wastewater for enhancing dietary diversity
Feature
By Apurva Ghugey
18 September 2023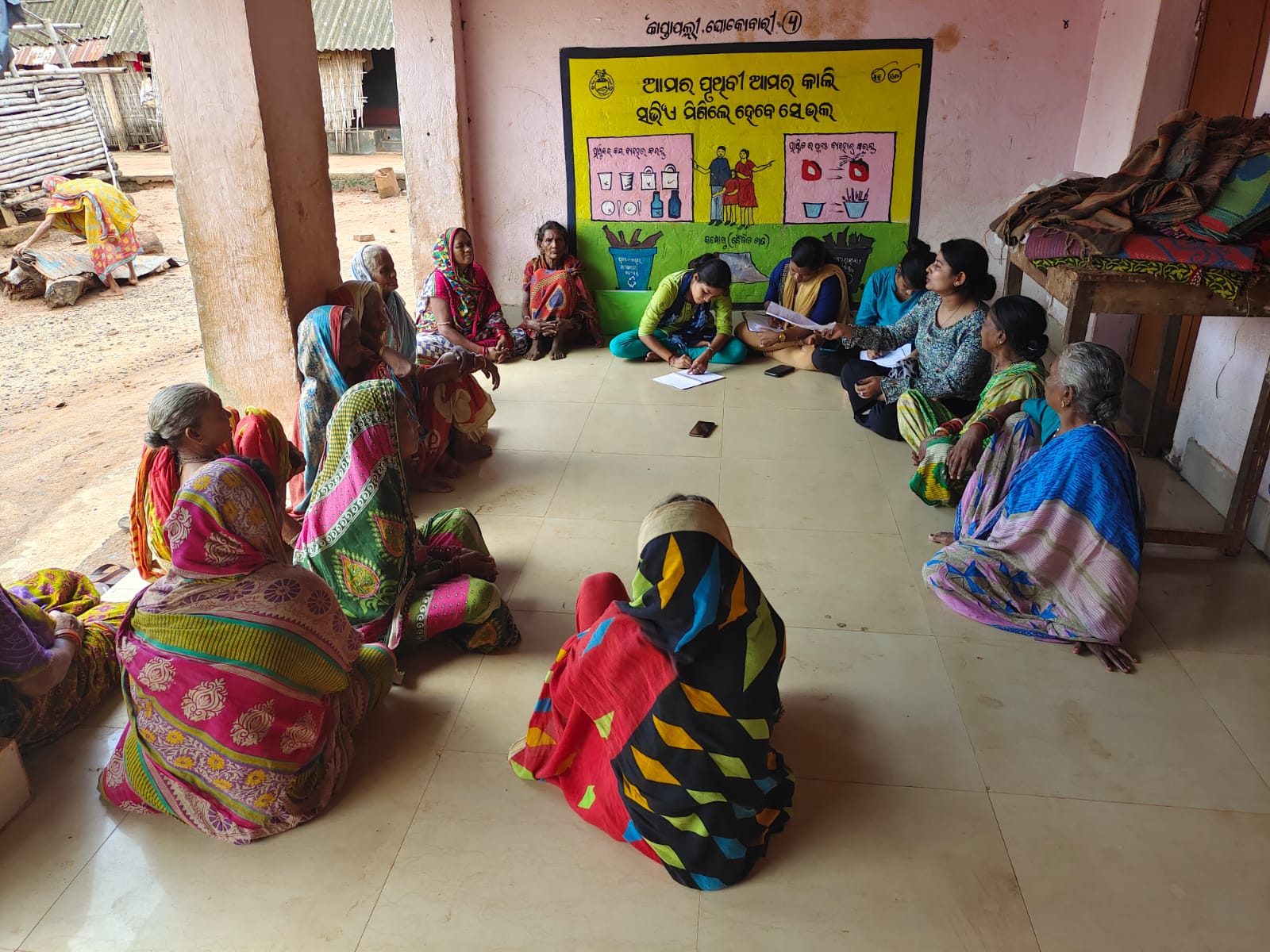 A community meeting with the women of Kaptapali village. Photograph shared by Apurva Ghugey
Gram Vikas has joined hands with Emory University, VIEWS India, World Vegetable Center and CARE to understand current practices in the community on nutrition. This understanding will lead to designing the intervention promoting dietary diversity, using grey water.
The initial survey focussed on:
Greywater Reuse and Water Security – Waste water from bathrooms and kitchen is directed into a backyard garden which can help in growing vegetables. This approach prevents water stagnation, curbing mosquito breeding, and conserves fresh water resources which would have poured to grow the backyard garden.

Gardens and Nutrition – Backyard gardens are intentionally cultivated with a diverse varieties of edible plants, ensuring that households have ready access to a variety of nutritious foods, thus enhancing chances to dietary diversity.

Gender and Empowerment – The establishment of backyard gardens can promote equal participation by all family members in growing vegetables, from planning and sowing to tending the garden. This shared endeavor fosters healthy eating habits and provides a common purpose for the family. Women are particularly engaged in home gardening due to the perceived benefits of food security, improved family health, and natural resource preservation.
Village level observations, Surveys and Group meetings carried out duringJuly-August 2022, served as preliminary data aimed at comprehending the existing practices and behaviours amongst target communities. 428 participants hailing from the Ganjam and Nayagarh districts of Odisha were engaged in various activities. The central objective was to ascertain the dietary choices made by households within the preceding 24 hours. This research phase unveiled some interesting insights:
Landless and economically disadvantaged households exhibited a greater dependance on market sources for their nutritional needs, making access to a diverse range of vegetables challenging. However, some of the households in proximity of forest areasderived their nutrition from tubers, mushrooms, and seasonal edible leaves sourced from the forests.

Additionally, the study unearthed the vital role played by the Public Distribution System (PDS) and a barter system within these villages, acting as pivotal mechanisms for sustenance among these communities.

Shifting climate patterns and alterations in agricultural practices have contributed to a decline in the cultivation of pulses and vegetables. Conversely, there has been a noticeable upswing in paddy cultivation. Moreover, deforestation has disrupted the natural habitat of wildlife, leading to an increased incidence of wild animals encroaching into cultivated fields.
Drawing from the insights, we tried to dig deeper to understand the challenges in achieving dietary diversity in day-to-day life. The community engagement sessions conducted in June-July 2023, revealed that households practiced greywater management for vegetable cultivation, but it was observed that the greywater was not being channelised effectively.
Also, they refrained from cultivating vegetables in their backyards during the summer months, due to limited water availability.
Households perceived the quantity of greywater available was insufficient for sustaining a backyard garden.
The pipe connection from the bathing room to facilitate the diversion of greywater to the backyard can be designed more efficiently.
The team discussed a few potential solutions to gauge the community feedbackduring engagement sessions like:
Washing dishes and utensils near the garden to utilise greywater effectively, 

Installation of a concrete channel connecting the bathroom pipe to the garden

Placing a container at the end of the bathroom pipe to collect greywater, which can then be manually used for watering plants,

Burying pipes underground to protect them from damage caused by animals.

Construction of an underground concrete storage "tank" resembling a soak pit. The chamber should be covered to prevent mosquito breeding. Greywater can be manually extracted from the tank as needed and applied to the garden.

Initiating awareness campaigns to educate the community about the advantages of using greywater for gardening.
Between 21 – 24 August 2023, representatives from the five collaborating organisations engaged in the research convened at Gram Vikas' Mohuda campus for a four-day session. The purpose of this gathering was to finalise the activities to be piloted in twelve villages spanning the Ganjam and Gajapati districts. The pilot program is set to kick off in late September 2023 and conclude in April 2024. Its objectives include community mobilisation and providing support for the cultivation of specific vegetables, with the aim of enriching dietary diversity within these local communities in twelve districts in the two districts.
These villages are affiliated with Gram Vikas and benefit from established piped water supply and sanitation systems. This infrastructure offers families the opportunity to allocate resources towards establishing backyard gardens, utilizing wastewater from the three taps within their households to cultivate vegetables.
The team that will take action in ground.
ACKNOWLEDGEMENT
Photograph shared by Apurva Ghugey
ABOUT THE AUTHOR
Apurva Ghugey is the Thematic Manager for Sanitation & Health programme in Gram Vikas.