Damayanti Patra becomes a mason to build her house in rural Odisha
Story
By Subhashree Sahoo
14 December 2018
Stepping into the exclusive male preserve of masonry, Damayanti Patra of rural Ganjam has shown exemplary determination to overcome personal tragedy and natural disaster to secure a sustainable vocation.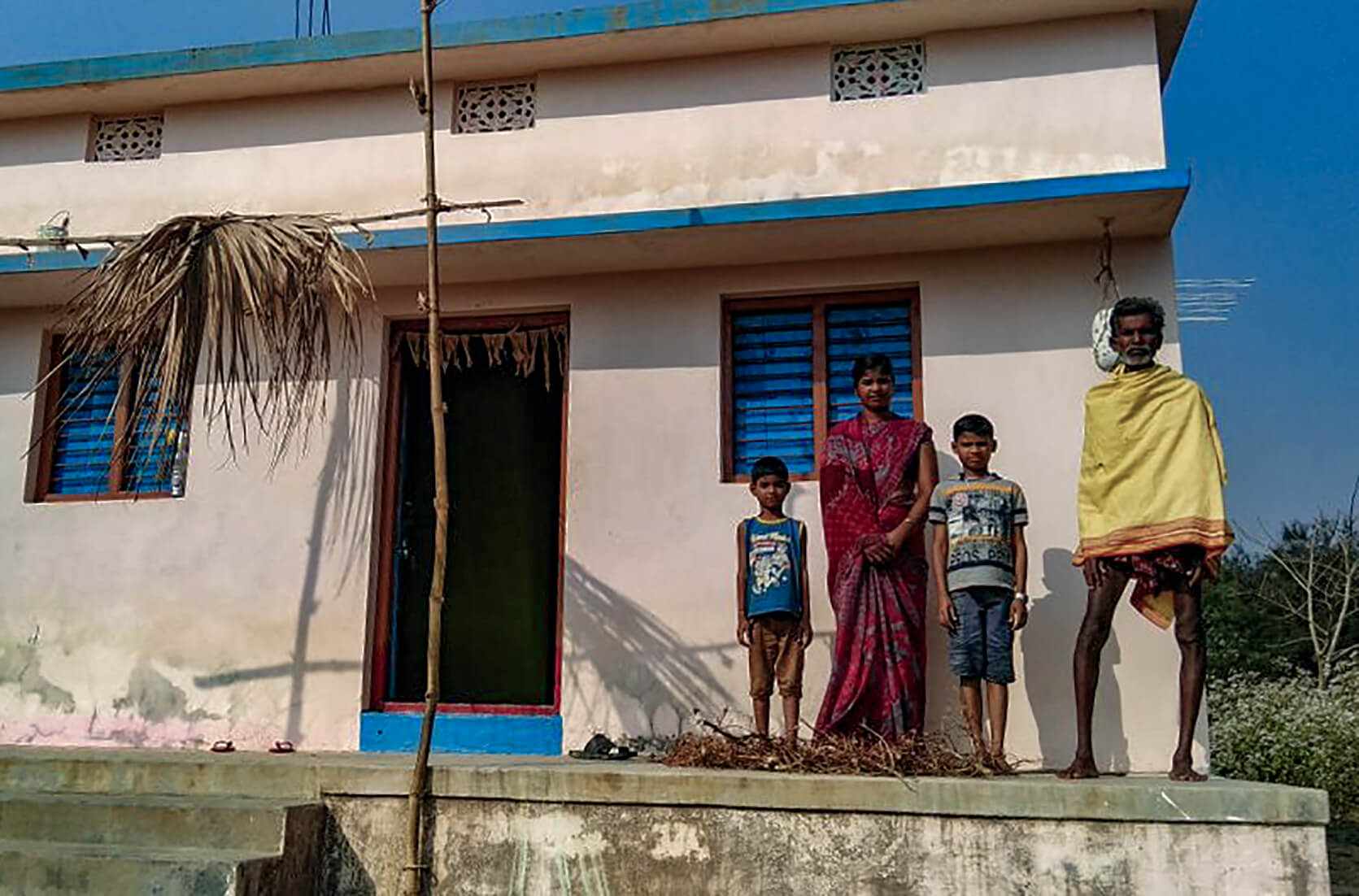 Damayanti Patra with her family in front of the house she helped construct.
Photograph from Gram Vikas archive.
Damayanti Patra stands out at a construction site. She is a mason, and it is not common to come across a woman mason in rural Odisha, or for that matter, anywhere else in the country. Patra was eking out a living as a labourer when Cyclone Phailin struck in 2013. The silver lining behind the disaster is her present vocation that has boosted her socio-economic standing.
Hailing from G.Gandapalli village of Khallikote block in Ganjam district, she was married when she was 14 years old. Married and widowed young, she struggled to bring up her two small children. With discord in her marital home, she moved back in with her parents. The financial situation was no better in her parents' home and she had to work as a labourer in agricultural fields or elsewhere for a meagre wage of around INR 150 per day.
In 2013, Cyclone Phailin struck another blow to Patra's never-ending financial crises. The cyclone devastated Odisha, particularly the districts of Ganjam, Puri and Khurda. The loss of lives was limited, but the devastation was huge. Crops in over 780,000 hectares of land were destroyed. The estimated damage was about INR 3,000 crore. In Ganjam district alone, about 90,000 houses were damaged. Patra's parents' house was one of them.
Rebuilding effort
The Odisha Disaster Recovery Project (ODRP), a Government of Odisha initiative supported by the World Bank, with the help of Gram Vikas, started rehabilitation work in the cyclone-hit areas. ODRP provided housing facilities as well as infrastructure facilities.
Under ODRP, as many as 16,000 houses were constructed to replace severely damaged homes. Patra's father was one of the beneficiaries of the housing project. The family was allotted INR 3 lakh to be paid in six instalments.
ODRP being a huge construction project had a massive requirement of land, raw materials, and most importantly, skilled workers — trained masons specifically. Puri and Khurda, the other cyclone-hit areas, had enough skilled masons but not Ganjam district.
Finding skilled masons in Ganjam was one of the main challenges during the housing project. The implementing agencies decided to train local people in construction skills such as masonry and plumbing and involve them in construction. The training was also expected to increase their employability in the competitive market after the reconstruction work was over.
Patra heard about the training programme and enrolled herself. She received a stipend of INR 200 per day during the training period of 60 days. She used the stipend money for her children's education.
Building with her hands
The main motto of the masons' training programme was to make the trainees self-sufficient so that they could construct their house without the help of a contractor, thus saving on the cost. For Patra, it was the time to translate her talent and training into work.
With her father, the beneficiary, being old, Patra did all the work from visiting the bank to constructing the house. Being a single mother, it was tough to handle all the work singlehandedly. She sought the help of fellow villagers, but they had also been badly hurt by the cyclone and were constructing or mending their own houses.
Finally, when she gathered the construction material and completed the procedural formalities, the villagers came to her aid and she completed the construction work after two years. Putting her training into practice, Patra built her house and saved nearly INR 30,000, the contractor's fee, had she hired one.
Bright future
After two years of working on her house and completing it, Patra wondered, "What next?". The contractors refused to accept her as a mason in spite of her training and experience in building her house. Contractors did not allow her to work as a mason in their construction projects, as they thought that she lacked practical knowledge.
Determinedly, Patra worked as a junior labourer to gain practical knowledge and experience about construction work. After she gained sufficient experience, the contractors allowed her to work as a mason. "It took time for the community to accept me and have confidence in me as a mason. They were convinced after seeing my work and thought I could be mason instead of a helper," said Patra. "I'm happy that my belief that people would someday accept me has come true."
She constructed many houses during the ODRP housing project and everyone was happy with her work. She now earns Rs 400 a day as a mason, which is nearly three times what she earned as a labourer earlier. She travels to nearby villages also to work in construction sites. With confidence, she said, "Mason training has changed my life. I have started dreaming of a brighter and better future for my children."
Group of women and men trained as masons as part of Cyclone Phailin rehabilitation efforts.
Photograph by Ajaya Behera.
ACKNOWLEDGEMENT
This story first appeared in Village Story, an integrated communications initiative focusing on the impact of national and local policies on rural communities.
ABOUT THE AUTHOR
Subhashree Sahoo is a development professional.