Daringbadi's Kalia Nayak get his due of ₹2,00,000
Story
By Chandrika Patnaik
20 December 2022
Gram Vikas' Community Champions under the Safe and Dignified Migration Programme in Kandhamal district help migrant workers enrol in social security schemes, ensuring they receive their rightful entitlements from the government.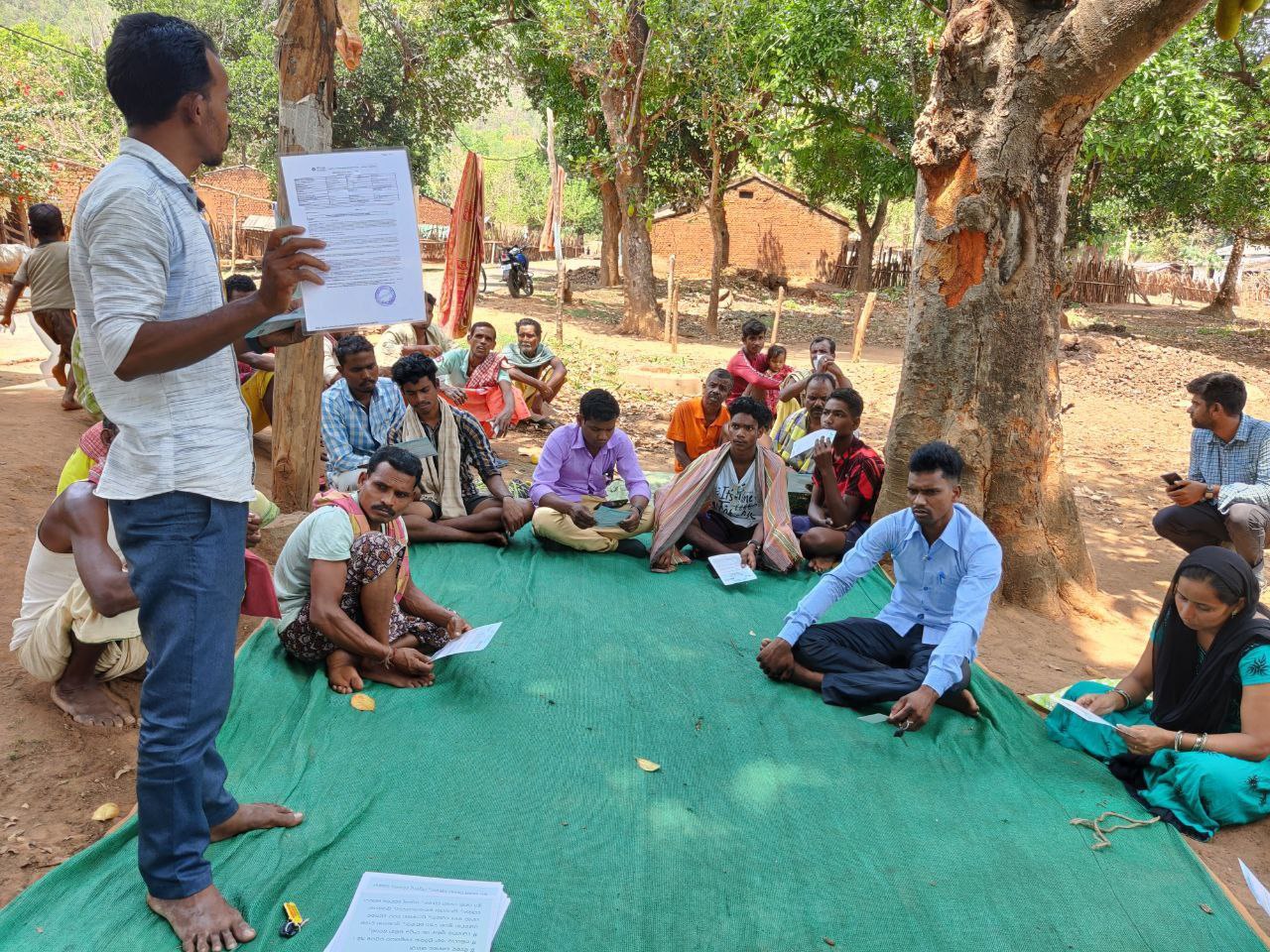 Dipak Digal, a Community Champion conducting a community meeting in Burangia village.
Photograph by Bulian Pradhan
A young Dipak Digal was not expecting death news when he was at work in Burangia village, in Kirikuti Gram Panchayat of Odisha, earlier this April. Dipak was doing a house listing survey as a Community Champion in Gram Vikas' Safe and Dignified Migration Programme.
Residents of the village told Dipak about the sudden death of Kalia Nayak's wife and child in March due to health complications. Kalia has been migrating for work for the past 12 years. On learning about the incident, Deepak decided to visit Kalia Nayak immediately.
Thirty-year-old Kalia first migrated out for work to Kerala in 2010. He worked on construction sites for a daily wage of ₹300. In 2020, he travelled to Bangalore to take up daily wage work earning ₹550 a day. Not having a bank account, Kalia remitted money to his wife's bank account through an agent.
In March 2022, he returned home to be with his wife, Santoshini, who was expecting their second child. Tragically, both the mother and the child died due to complications during the delivery.
When Dipak met Kalia, he asked to see Santoshini's bank passbook. He found that she had insurance coverage from Pradhan Mantri Jeevan Jyoti Bima Yojana (PMJJBY). The family was unaware of the entitlement. Santoshini had mentioned Kalia as a nominee in the policy, entitling him to compensation of ₹2,00,000 in the case of her sudden death. But Kalia needed to learn how to claim insurance.
Despite a month's delay, Dipak managed to get Santoshini's death certificate released from the hospital. The next day, Dipak and Kalia reached the bank where his wife had an account and filled out the required form to raise the insurance claim. They submitted the necessary documentation, including a copy of the death certificate, Santoshini's bank passbook, copies of the Aadhar cards of the policyholder and nominee, and the voter I-card. The bank manager assured them they would credit the amount in two months.
With Dipak's help, Kalia also enrolled in the PMJJBY scheme, keeping his daughter as a nominee. He will soon leave for Bangalore to meet the expenses of his family, including his mother, sister, and daughter, back home in their village.
Migration Programme in Daringbadi
Like Dipak, eight champions of the Community Champions Network (CCN) help migrant workers and their families access social security schemes and reduce their dependence on loans and advances from employers.
Since November 2021, we have enumerated 8966 households and individuals in 178 villages in ten Gram Panchayats in the block to create the migrant registry. The registries will help us identify migrant households and their issues in accessing social security schemes.
The programme has established three Source Facilitation and Resource Centres (SFRC), named Shramik Bandhu Seva Kendra (SBSK), in Daringbadi, Simanbadi, and Brahmunigaon. The SBSK Centres function as a one-stop centre to provide information for travel and transit to migrants at the source site.
In addition, a helpline centre equipped with a trained executive responds to calls from workers on workplace, travel, employer, and nonpayment of wages.
In the Thuamul Rampur block of Kalahandi district and the Daringbadi block of Kandhamal district, a network of such centres provides access to information and documentation services to workers from remote villages.
These centres have helped family members trace missing workers, secured the release of workers forcefully detained by their employers at the destination, and facilitated the return of the bodies of migrant workers who died away from home.
Kalia Nayak receiving the entitlement from the bank.
Photograph shared by Bulian Pradhan
ACKNOWLEDGEMENT
Kabir Rana, Project Manager for the Rural Livelihood Project, in the Safe and Dignified Migration programme, and Dipak Kumar Digal, Community Champion at the Shramik Bandhu Seva Kendra (SBSK), in Simanbadi Panchayat, helped with data collection for the story. Priya Pillai edited the story.
ABOUT THE AUTHOR
Chandrika Patnaik leads content production within the Communications team in Gram Vikas.