Eighteen years of access to water and sanitation transforms community-wide behaviour
Story
By Chandrika Patnaik
12 May 2021
The Khatuakuda village community united to build a water supply system, toilets and bathrooms and end the age-old practice of open defecation.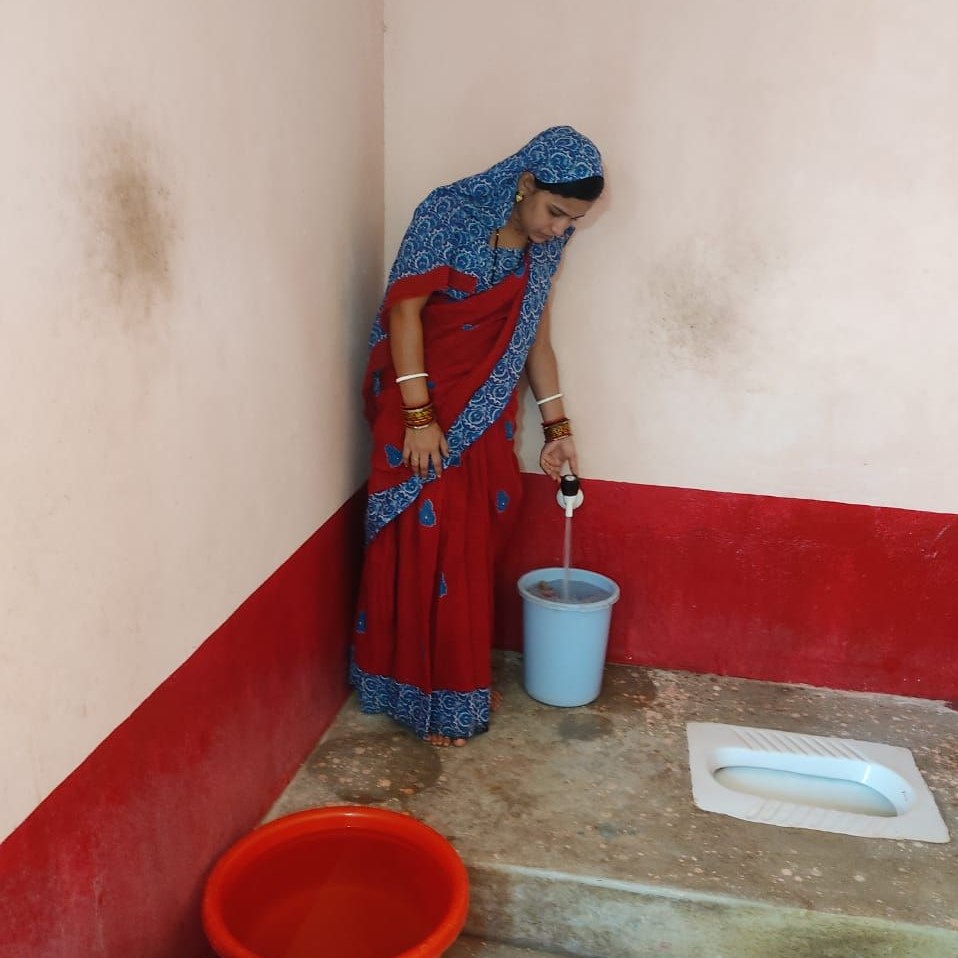 Every household in the village get functional water taps each in toilet, bathing room and kitchen. In the photo, Anita Badatya from Khatuakuda village.
Photograph by Kailash Chandra Das
"The condition of our village two decades ago was deplorable. I read about the successful implementation of a sanitation system by Gram Vikas in Samiapalli village, 30-35 km away, in the 'Sambad' newspaper in 2001. I was surprised to know that such clean villages existed close to us," says Pramod Pradhan, 55, President of Khatuakuda village in the Ganjam block in the Ganjam district of Odisha.
After reading the news piece on Samiapalli, Pramod decided to go to the Ganjam block office to meet the officials. He wanted to talk to them about how he could someday achieve his dream of seeing his village as clean as Samiapalli. Pramod says he got lucky, "Gram Vikas staff was present at the office on the day I went to the block office, and a block official introduced me to them."
Most of the 156 households in Khatuakuda are farming families cultivating paddy and vegetables. In 2002, Gram Vikas organised meetings in the village to plan the construction of toilets and bathrooms. The Village Development Committee (VDC) extended its support for vulnerable families by providing bricks and other requirements.
After six months, in 2003, the village community and Gram Vikas completed the construction of individual bathing rooms and toilets. The following year each household received piped water supply directly in their homes. Pramod Pradhan says, "Residents felt responsible and had a feeling of ownership for the sanitation system."
In 2004, they instituted a rule in the village, "We decided to penalise ₹1000 to whomsoever defecated in the open. Two residents were levied with the penalty a few months later when the residents caught them defecating in the open."
"Unity among the 156 families in our village has been possible due to the strong leadership of VDC and self-help group (SHG) members. People in nearby villages have toilets but still, defecate outside. We take pride in our village for being one of those few where there aren't any open defecation instances reported in the last two decades," says Tulasi Biswal, 30, a member of Prabhupada SHG.
Households use the wastewater from their houses to irrigate their backyard kitchen gardens to grow vegetables. Kesini Gowda, 35, a Community Resource Person (CRP) and a member of Maa Santoshi SHG, says, "By growing vegetables in my backyard garden, I have been able to cook vegetables that we could not afford earlier. These days, I grow vegetables that my children are fond of."
By channelling the wastewater into the garden, water does not accumulate anymore. The stagnant water around our house caused a foul smell and attracted flies and mosquitoes." Like Kesini, women from forty-six households in the village are growing vegetables in their backyards, improving food availability and diversity as easy access to water at home has given them more time for other activities.
Tillotama Sahu, 37, Maa Padukei SHG, says, "A central team from Jal Jeevan Mission (JJM) visited our village in November 2021. They felt the strong leadership abilities and efforts of the VDC and SHG members in the village had helped in the successful implementation of the water and sanitation program for more than 18 years. The team found our village clean and were happy to have visited us."
The overhead water tank of Khatuakuda village that caters to 156 families water need.
Photograph by Kailash Chandra Das
ACKNOWLEDGEMENT
Kailash Chandra Das, a Thematic Coordinator in Village Institution, helped collect data for the story. Priya Pillai edited the story.
ABOUT THE AUTHOR
Chandrika Patnaik leads content production within the Communications team in Gram Vikas.