Enabling safe migration and dignified livelihoods for rural youth
Story
By Sangita Patra
24 July 2020
Basanti is one of the many young men and women from remote tribal villages in Odisha, who left their daily wage jobs behind and trained in geriatric caregiving, to work across India, to shape better lives for themselves and their families.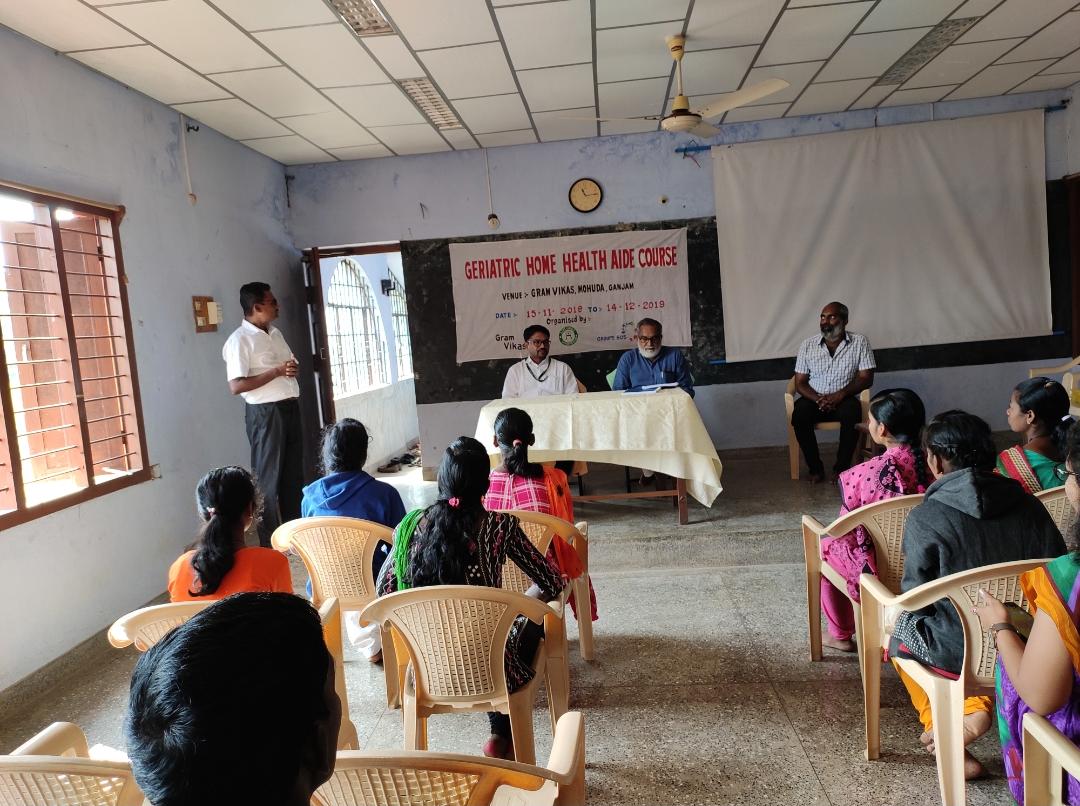 Young women from tribal communities attend the training on geriatric caregiving, part of a Gram Vikas initiative to ensure rural youth with safe and dignified migrant livelihood options.
Photograph by Ajaya Behera
After completing high school in 2009, Basanti Naik worked as a labourer in her village Tukuguda in Kalahandi district of Odisha. On days that she had work, she made ₹200 for a day's labour. There would be many days of no work in a month. Basanti desired to end this uncertainty by studying further. However, she had no guidance and was unsure about employment options beyond the unremunerative ones in the village.
Basanti attended a meeting organised by Gram Vikas in the village, where they explained about the opportunity to work as a professional geriatric caregiver. It suddenly opened a whole new world of opportunities for her.
Today, Basanti is a caregiver to an octogenarian in Bengaluru, in the southern state of Karnataka. Her journey from being a daily wage labourer to a geriatric caregiver was made possible by Life Circle Health Services Pvt Ltd, a geriatric home nursing and caregiving company.
Gram Vikas has partnered with the company to train and develop young men and women in villages as professional geriatric caregivers. Through Gram Vikas, Basanti enrolled in the training, one month of classroom and two months of on-the-job training, offered by the company.
Though Basanti was willing, her father was unsure of sending her to a far-off place beyond Odisha for the training and job. Once she managed to convince him, there was no looking back. Basanti completed her on-the-job training in Hyderabad and joined full time work as a caregiver in Bangalore in February 2020.
Basanti shares the same room with the care receiver. She helps him through the day from brushing his teeth, walking him around the home, helping him draw, sketch and scribble to cleaning the room. The training helped her learn how to patiently cater to the emotional needs of care receivers.
Basanti earns ₹14000 per month for her job as a caregiver. Her father is a farmer and her only brother works as a teacher in the village school. As the family is not dependent on Basanti's income, she can save money from her employment to do a nursing course and become a nurse in the future.
As a caregiver, Basanti has so far looked after three care receivers. Basanti believes in treating all her care receivers as family members while discharging her duties as a caregiver. She is today an inspiration for other young girls from the nearby villages of Dhamanguda, and Melkundel in Kalahandi. They want to follow Basanti's footsteps to get meaningful livelihood options.
For people like Basanti, from remote rural Odisha, who could not complete formal schooling, the training offered an opportunity to secure work beyond the traditional and unsteady livelihood options.
Basanti is now a professional geriatic caregiver working in Bengaluru.
Photograph by Basanti Naik
ACKNOWLEDGEMENT
Thank you to Basanti for sharing her experience. Priya Pillai edited the story.
ABOUT THE AUTHOR
Sangita Patra is a Thematic Manager in Gram Vikas.