Wastewater management helps families eat nutritious food and earn alongside
Story
By Chandrika Patnaik
7 February 2021
Forty ultra-poor households in Balita Pokharipada village use access to water in their homes to set up kitchen gardens producing food for their families and neighbourhood sale.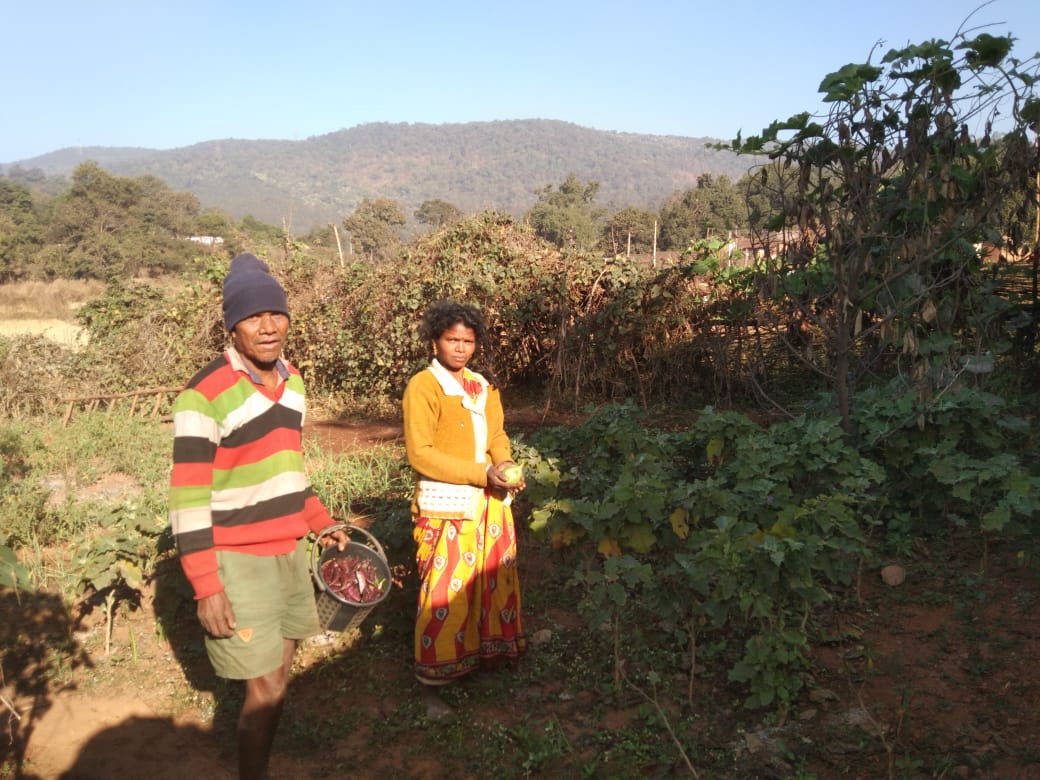 Naranga Naik and her husband, Rabi Naik show us fresh plucked broad beans and papaya from their kitchen garden.
Photograph by Rama Mohanty
Naranga Naik wakes up early to tend to her plants in her backyard. Together with her husband, Rabi Naik, she has set up a kitchen garden in 12 decimals of land that she owns at the back of her house to grow vegetables. Balita Pokharipada in Keonjhar district which houses 51 families, started receiving piped water supply in July 2020. Naranga shows us the vegetable garden and says, "This vegetable garden has been possible only because of the piped water supply that began a few months ago. I put the used water from my house as water for the plants."
The residents, mostly from the Bhuiyan and Munda tribes, depend on the nearby forest for fuelwood, which they sell in the local market to earn their livelihood. With water unavailable for irrigation, the fields are left unused for six months in a year after the paddy harvest. They cycle or walk nearly three kilometres every day to work for a daily wage in the three mining companies operating in the area.
The 51 families of this hamlet reside in houses scattered around a hill. Many times in a day, they used to walk up and down the hilly terrain to fetch water from the two tube wells, the only sources of drinking water. They walked half a kilometre to bathe in a small canal fed by the Balita check dam. With no toilets and water, they had to relieve themselves on the sides of the canal or the fields nearby, or the surrounding forests. The road leading to the hamlet, from the nearby Bileipada town, was strewn with faeces and the stench made it unbearable to use the road.
Even as they struggled, residents of the Balita Pokharipada hamlet noticed that the nearby villages of Kaliabeda, Lahanda, and Bhagalpur had village-level piped water supply systems and individual household toilets and bathrooms. Kanhei Munda, President of the Balita Pokharipada village committee wanted the same for his hamlet. In June 2018, Gram Vikas partnered with the village to construct toilets and bathrooms for all 51 households. By July 2020, all of them started getting piped water supply, through three taps, directly to their houses. Forty houses in the village had 10-20 decimals of unused backyard land available. Gram Vikas trained the women to start growing vegetables in this space to supplement their daily food and nutrition needs.
Having access to water 24×7, Naranga and other women in the hamlet started nurturing vegetable gardens. "Earlier, we managed with a single meal of rice and salt. Today, I grow broad beans, tomatoes, brinjal, onion, garlic, leafy vegetables, lady's fingers, green chillies, and papaya in our garden. This garden gives nutritional food for my children every day," says Naranga.
Gram Vikas trained all households in the village to set up kitchen gardens in the final month of setting up the integrated water sanitation system. "The same month that we got the water supply, Gram Vikas trained us to prepare raised beds, grow vegetables according to the season, and use farmyard manure. Slowly, I am getting better at it and have started reaping a good harvest."
Besides food, the home garden earns Naranga a small but steady income, "I worked as a farmhand earlier, but regular work was difficult to come by. I was the only person who brought in any income at home. It was difficult to make ends meet. I look after my two school-going children and my husband from whatever little I earn. Now, people from my village drop by to pick up fresh vegetables at a very reasonable price. Every week, I earn around ₹200. My husband Rabi has taken an interest and now helps me in looking after the plants."
When Naranga started in July 2020, she was the only one in her village to start a vegetable garden. Seeing her success, 40 other households have started vegetable gardens, "I was inspired by Naranga, who successfully grew vegetables from scratch. I started my vegetable garden in September 2020 in 20 decimals of land at the back of my house. I grow tomatoes, brinjals, and beans, which I could not afford to buy earlier from the market. I have also started earning a little by selling some of the vegetables I grow." says Subhadra Naik from Balita Pokharipada.
Subhadra Naik took the inspiration from Naranga to set up her kitchen garden.
Photograph by Rama Mohanty
ACKNOWLEDGEMENT
Rama Mohanty, Field Supervisor, collected data for the story. Priya Pillai and Ganesh Chakravarthi edited the story.
ABOUT THE AUTHOR
Chandrika Patnaik leads on content production within the Communications team.