From scarcity to plenty: A parched village solves its perennial water crisis
Story
By Chandrika Patnaik
3 February 2021
Jarkanibeda village community builds a piped water supply system on their own and then gathers government support to create diverse water sources in the village.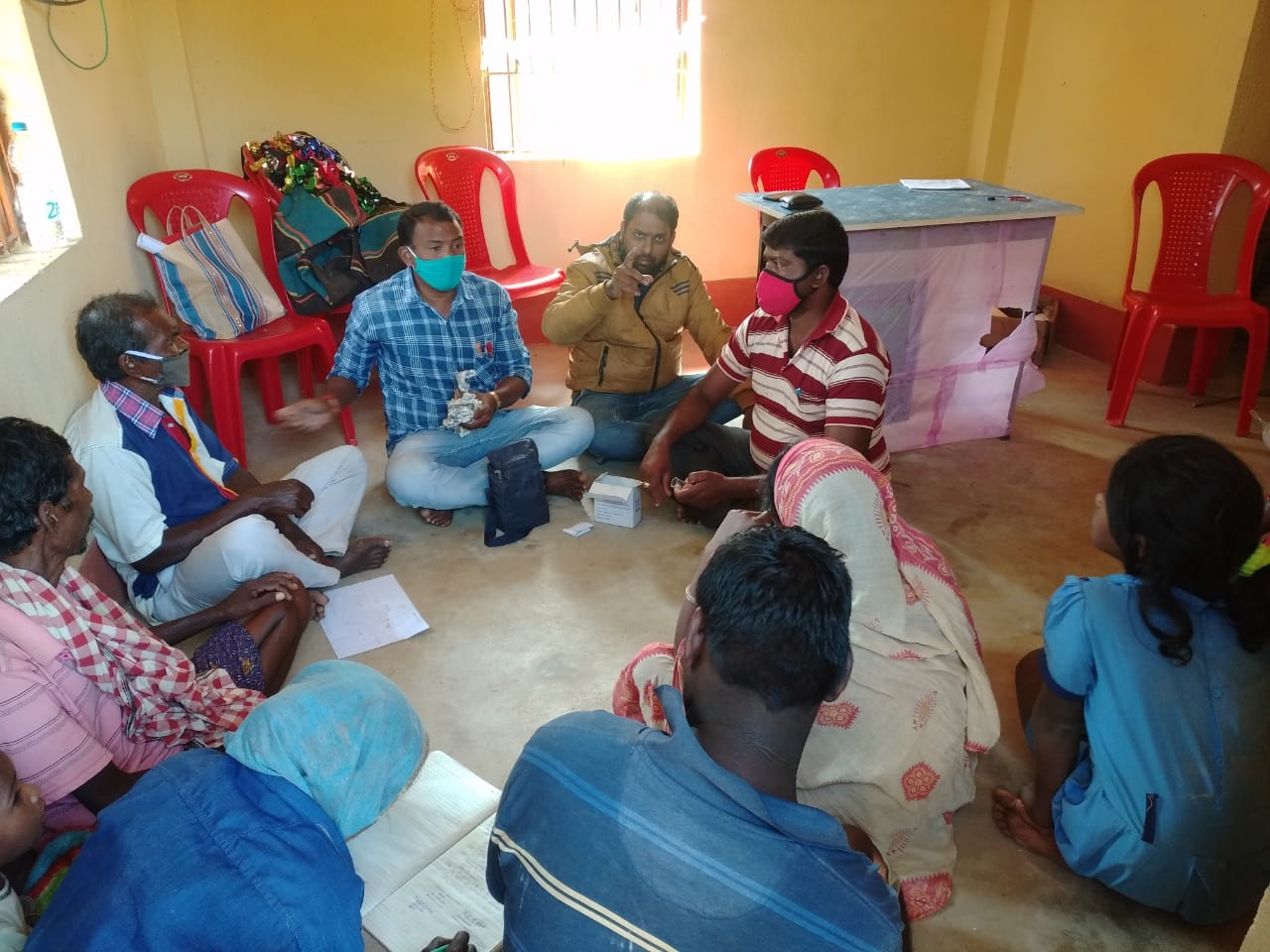 A meeting on water supply and water quality management in Jarkanibeda village.
Photograph by Ratnakar Shaw
Jarkanibeda is a small village of 52 households in Kendujhar district of Odisha. Most people are engaged in farming or daily wage labour. The village had one common tubewell with little water. Although it received good rainfall, because of the hilly and rocky terrain, most of the rainwater flowed away.
Years of water scarcity often led the residents of Jarkanibeda village to depend on water from a muddy rainwater pond, Pandabandha, for drinking and domestic uses. "During summers, water dried up leaving very little at the bottom of the pond. We used this muddy water to bathe. On the periphery of the pond, we dug holes to get water and filtered it with a piece of fabric to use the water for drinking. Some used the area to defecate. Every year, there were high incidences of diarrhoea and water-borne diseases. Women and children often faced the brunt of water shortages as collecting water was primarily their job.", says Biranchi Majhi, Secretary of the Jarkanibeda Village Committee.
A farmer, who grew vegetables and sold them at the village weekly market, Biranchi understood the importance of getting water through the year. The neighbouring Chadheibhol village, under Digposi Panchayat, had a  sanitation and water supply system in place. Biranchi and the other members of the village committee wanted the same for Jarkanibeda. "Somehow, I aimed to change this.", said Biranchi, remembering his determination to get water to his village.
In 2011, the Sarpanch of Digposi, Panamani Marandi, rose to prominence when he received the Nirmal Gram Puraskar award from Government of India for making all villages under the Panchayat open defecation free (ODF). An initiative of the Department of Drinking Water Supply and Sanitation under the Ministry of Rural Development, the award recognises Panchayati Raj Institutions that work to achieve full sanitation coverage and access to water in their villages and hamlets.
Biranchi used to meet Tapan Nayak from Gram Vikas whenever he passed Jarkanibeda on his way to Chadheibhol. Biranchi asked Tapan if his village could also get a piped water system. In 2013, Tapan Nayak and L.N. Panda from Gram Vikas met with the Jarkanibeda village community and explained the process of getting water. The community soon formed a Village Water Sanitation Committee (VWSC) electing Chandrakanti Majhi as the VWSC President.
As a woman whose daily labour for years included walking many times over to fetch water for her family, Chandrakanti fully understood the significance of getting piped water at home. She joined Biranchi to raise awareness and mobilise support for the project, as Gram Vikas' approach mandated 100% participation, from every single household, to start any work.
After a year, in 2014, construction of the bathrooms and toilets at the household level began in Jarkanibeda. In three years, by 2017, the village had a water sanitation system in place where all 52 households received piped water supply directly in their homes. Each of the houses had three piped water connections – one in the toilet, bathroom and kitchen.
Chandrakanti talks about the VWSC support for Biranchi, "Because of his efforts, today, we have a water and sanitation system in place. Our village looks so neat and clean. Women do not have to walk long distances for water anymore. There are hardly any cases of diarrhoea. All of us in the village committee work together for the development of our village and support Biranchi's initiatives."
In 2019, Biranchi became a trained Water Quality Management (WQM) cadre, as part of the Gram Vikas programme to ensure access to safe water free of bacteria, nitrates and other particulate matter. He is one of the 28 WQM cadres in Keonjhar district of Odisha. In the training, he learned about the testing protocol, and using field test kits to test quality of water from the source, main pipeline and household. Twice a year, Biranchi tests the water supplied through the piped system, "It is my responsibility, so I always remain vigilant and conduct periodic tests to ensure good health of the community."
Once the piped water supply system was put in place, the Gram Panchayat sanctioned funds for watershed work in Jarkanibeda. From not having water to drink, the village now has dug wells and borewells filled with water, which has led to new livelihood opportunities like pisciculture and duck farming.
Biranchi, a water quality management cadre doing water quality test.
Photograph by Parakshita Nayak
ACKNOWLEDGEMENT
Parakshita Nayak, a Field Supervisor with Gram Vikas, supported in data collection. Priya Pillai edited the story.
ABOUT THE AUTHOR
Chandrika Patnaik is a Junior Manager, Communications, with Gram Vikas.