GRAM VIKAS COVID-19 RESPONSE 2021: Safeguarding health, life & livelihood security of rural communities
Feature
By Gram Vikas
6 May 2021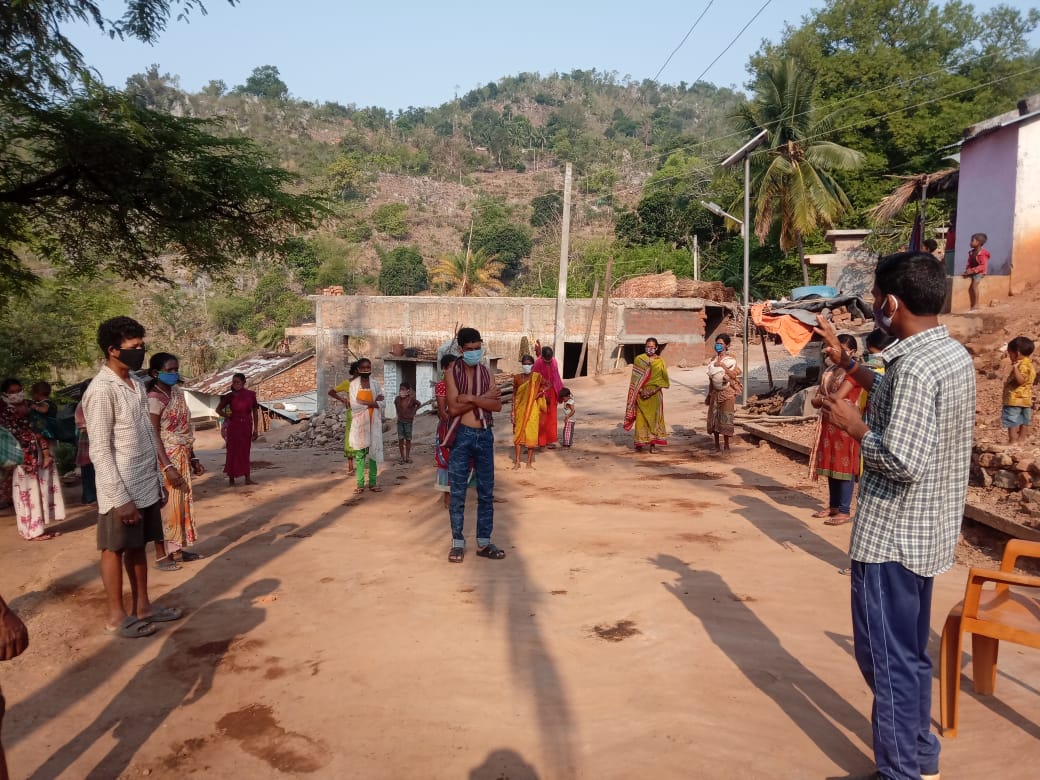 Awareness programme on COVID-19 safety measures in Margosahi village, Rayagada Block in Gajapati district of Odisha. Photograph by Dukhiram Nayak
The onset of the second wave of the COVID-19 pandemic poses increasing and fast rising distress amongst our partner village communities in Odisha and Jharkhand.
Gram Vikas conducted a situation assessment to gauge the risk of COVID-19 on severity of the health crisis, household vulnerabilities, on migrant households, and school education. This document presents the findings from the assessment conducted between 20 to 30 April amongst a total of 14,864 households across 246 partner villages in Odisha.
We propose a list of measures for immediate support to the communities.
I. FINDINGS FROM THE ASSESSMENT
COVID-19 Disease Incidence
Our survey covered 14,864 households to assess the incidence of COVID-19 among the people in 246 partner villages.
About 7% of the households reported symptoms of COVID-19 infection and 34 tested positive.
1086 people had reported having common symptoms of the disease like fever, headache, body ache, loss of smell and taste, and breathing difficulty.
A total of 6619 people, less than 10% of the population surveyed, were vaccinated in the nearby primary or community health centres or the panchayat office.
Our survey focused on gathering information from 13,079 households to identify those with increased vulnerability to the pandemic's impact on livelihood, food, and health.
74% households have increased vulnerability to COVID-19 and its consequences. 
The assessment in 211 villages found 1434 households to be women headed, most times the only earning member with the exception of a few households with adult sons. In 601 households, old people lived alone without any support. A total of 818 households faced extreme vulnerability without any member earning an income. Food insecurity was particularly higher in 638 households with no ration cards.
While a total of 990 households had no MGNREGS job cards, 5147 families with the job card had not found work under the scheme in the past two months.
The survey collected data from 11,388 households across 192 villages to understand the impact on migrant workers and their families. We found that nearly 12% of the households depend primarily on incomes earned by migrant workers. 
1382 households are primarily dependent on migrant income and live in uncertainty because of the onset of the second wave of the pandemic and measures to mitigate its spread. 
We are seeing the return of migrant workers to the villages. A total of 165 migrant workers had returned to the village due to the onset of the second wave of COVID-19. Reasons are many – 96 of them returned due to fear of getting infected, 22 of them due to job loss or a fear of job loss, and 40 due to an emergency at home.
Vaccination rates among the migrant workers remained low with only 47 having been vaccinated at their destination states.
In the 219 villages surveyed, there are 3702 school going boys and 3570 school going girls impacted by the pandemic.
1411 girls and 1522 boys in high school are struggling with disruptions to their education and associated emotional distress.
II. OUR RESPONSE
As vulnerabilities are interlinked, our support will be multipronged. Gram Vikas have developed village level cadre, men and women trained in different thematic areas, who we can rely on, to lead village level efforts. Direct physical access to the villages will be limited during the month of May 2021, due to the lockdown across Odisha and to safeguard the health of our staff.
We will coordinate with the village leaders and the cadre through telephone calls and WhatsApp messages, for planning and execution of the interventions.
COVID-19 care in remote villages
We will make provision for necessary care and support to the communities.
Support frontline health workers and local governments to spread awareness on COVID-19 safety measures

Establish quarantine centres with testing facilities for returnee migrants, and positive patients from the villages

Supply essential medicines kits with oximeters to families or villages for health monitoring and care

Partner local governments and hospitals for people to get timely and needed care

Register community members on COWIN for vaccination
Need-specific support to vulnerable households
We will work with the village institutions to identify the most vulnerable households, assess their needs and provide appropriate support. Such support will include:
Supply of food & essentials materials

Linkage to entitlements such as PDS and pensions

Linkage to work under MGNREGS
Support to migrant workers 
We will continue the outreach to men and women from the villages who work in other States and ensure their well-being.
Collaborate with

our destination-State partners to ensure access to food, accommodation and safe travel of migrant workers

Set up and manage the Bandhu Helpline to redress the grievances of migrant workers 

Establish Quarantine Centres

with testing facilities for returnee migrants

Linkage to work under MGNREGS
Support to children
Children continue to be at the receiving end of unintended consequences of the pandemic. Immediately, we will focus on their emotional well-being. With regard to education, we are assessing the situation and waiting to firm up our plans once the lockdown is lifted in Odisha.
Psychosocial counselling to provide mental health support to address anxiety among the children 
III. COVERAGE
We will focus our efforts in villages in Gajapati, Ganjam, Kalahandi, Kandhamal, Rayagada, Nayagarh, Khordha, Keonjhar, Mayurbhanj, Sundergarh and Jharsuguda districts of Odisha, and Gumla district of Jharkhand.
We expect to reach out to more than 1,00,000 persons, in 700 habitations, in these districts.
Community members pledge to wear mask, keep safe physical distance and wash hands regularly to prevent from COVID-19 infection. Photograph by Dukhiram Nayak.
ACKNOWLEDGEMENT
We acknowledge all the staff and community members from our partner villages who supported and participated in the assessment.
ABOUT THE AUTHOR
This is a presentation of findings from a situation needs assessment on the impact of COVID-19 and its consequences conducted by Gram Vikas.