Health education and camps reduce malaria cases and mortality
Story
By Chandrika Patnaik
15 September 2021
Decades of trust building and consistent efforts on health education and access bring down malaria cases and mortality rates among Khond Adivasi communities in Odisha.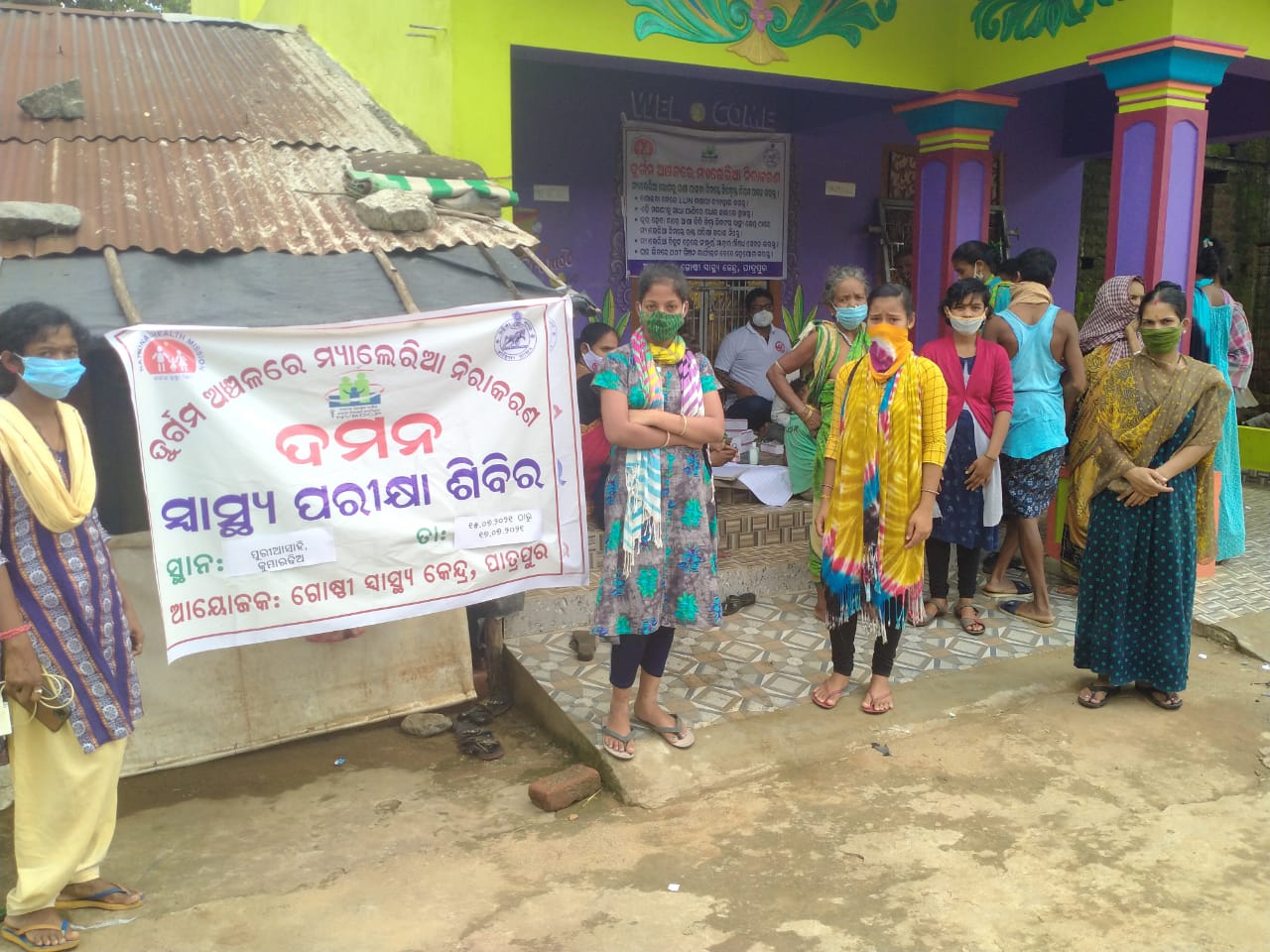 Children waiting for their turn to get their blood samples tested.
Photograph by Gautam Charan Rout
Villages in the Tumba, Buratal and Ankuli Gram Panchayats are situated on top of hills. Surrounded by forests with hardly any road connectivity, these villages are inaccessible and devoid of the most basic health care services. Residents, predominantly Kondh adivasis, remain cut off from development programs leaving them poor and vulnerable. In times of medical emergencies, they visit a quack in the area or employ traditional methods for a cure in the absence of basic health care services.
During monsoons, the quacks take advantage of the inaccessibility and visit these poor households. The residents find it convenient to receive treatment at their homes rather than travel sometimes upto 30 kms to reach a Primary Health Center (PHC). The area is a breeding ground for Plasmodium Falciparum, a parasite deadlier among the two main types of malaria parasite, the other being Plasmodium Vivax. Plasmodium Falciparum multiplies rapidly in the blood causing anaemia and clogging of blood vessels, potentially leading to cerebral malaria, which is fatal.
Our partnership with the village communities living in these gram panchayats began in 1990. We supported the communities to flatten rugged terrains to make the land cultivable and trained them in farming. They have since developed large tracts of land for cashew and lemon plantations helping them earn a sustainable livelihood around the year. Our work in these far to reach areas expanded to constructing toilets and bathing rooms and putting in place a piped water system for individual households, establishing nutrition gardens at home for better nutrition intake, setting up Children Clubs to create awareness on school health and hygiene. We also helped the local communities realise their right to land. Our partnership has reached 974 households in 45 habitations in the block.
Awareness programmes on malaria prevention take place every year during February and June. Camps are organised by local health officials under the State Government's DAMaN initiative. Under this initiative, the Government aims to raise awareness in the most inaccessible and difficult to reach areas on symptoms of malaria, its preventive methods and treatment.
Staff from Gram Vikas continue to mobilise the community to attend the camps and encourage them to get tested in case of fever. Residents are reminded of the need to keep surroundings clean and dry, empty water storage vessels and other mosquito breeding spots, continue using medicated mosquito nets provided by the local health officials and encourage them to have sheds for cattle and livestock away from their homes.
"We begin our campaign around end-February and July. Positive cases are around 2-5 percent making the area endemic. Despite repeated reminders entire families belonging to a few families have tested positive for malaria. This proves that people are not taking preventive measures like using mosquito nets while sleeping at night which increases transmission among all members in a family. On the other hand, the majority of the population over here are now aware of the precautions to be taken and can identify the symptoms of malaria," says Jaydev Behera, Multipurpose Health Supervisor in the Primary Health Centre (PHC) in the Tumba and Buratal Gram Panchayat. "We are getting a positive response for our camps from the villages thanks to support from Gram Vikas which mobilises the communities well having partnered with them for a long time. As a result, there are less positive cases reported and the mortality rate has come down", he says.
Gautam Rout, Gram Vikas staff working in the area feels these camps have been effective to the point that communities take preventive measures against malaria seriously. As a result, positive cases have come down.
Under the DAMaN initiative, mass screenings for malaria, treatment of positive cases along with intensified surveillance and awareness campaigns are conducted. According to Mr Jaydev Behera, Multipurpose Health Supervisor in the Primary Health Centre (PHC), "Screening and testing of blood samples of 100% of the population from twenty two villages in Tumba Panchayat, seven villages in Buratal and 16 villages in Ankuli Panchayat have been completed. We will complete 100% screening in the remaining few villages in Ankuli Panchayat by the end of September 2021."
Chandan Karjee, 13, a resident of Puriasahi was suffering from mild fever and headache in the past week. He tested positive for malaria, "I could never imagine my fever and headache was due to malaria till I got my blood tested. The officials from the camp are treating me. I am feeling slightly better. We are following the health officials advice and using mosquito nets to avoid transmission of the parasite to other family members."
In Guruda village, Kantaru Nayak, 45, and his two children have been down with fever, chills and severe bodyache. He says, "I have been down with fever and bodyache for a week now. I visited a quack and spent ₹1000 on medicines but my condition did not change. I have become weak. My children suffered from mild fever too. I am glad the health supervisor from the Government health center held a camp in our village and took our blood samples. Both my children and I have tested positive. We are under treatment and have been asked to compulsorily use mosquito nets during the night."
Officials of the Primary Health Centre taking blood samples for malaria test in the camp.
Photograph by Gautam Charan Rout
ACKNOWLEDGEMENT
Reporting and photographs by Gautam Charan Rout. Ganesh Chakravarthi edited the story.
ABOUT THE AUTHOR
Chandrika Patnaik leads on content production in the Communications team.