Improving learning outcomes of children through continuous engagement
Story
By Chandrika Patnaik
2 July 2023
Community volunteers in Odisha villages support Bal Sabhas to promote positive social and behavioural change among young children.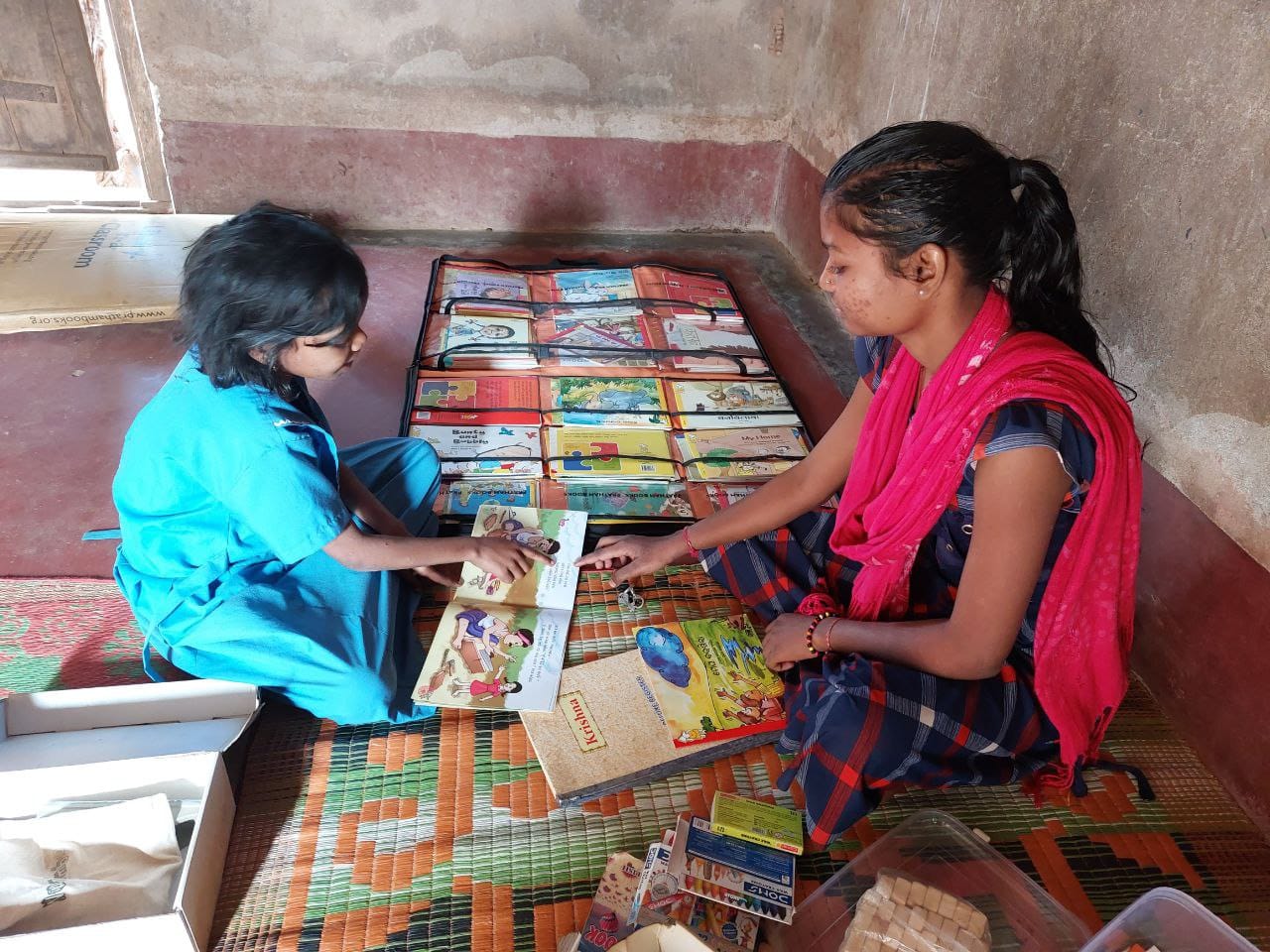 Banita Pradhan guiding the child using study materials.
Photograph by Chandrika Patnaik
In June 2021, in consultation with the members of the Village Development Committee (VDC), Gram Vikas appointed Banita Pradhan, 18, as a volunteer for a Bal Sabha in Gramadebati village in the Jagannathprasad block of Ganjam district.
Bal Sabhas serve as village-level institutional platforms for the holistic development of rural children and to boost their confidence in reinforcing positive life-long behaviour. The Bal Sabha held once a month in every village, is a community of children between the ages of 6-12 years studying in Classes 1 to 5. They learn about good health practices, such as washing their hands frequently, using the toilet and bathroom, and maintaining personal hygiene. Interactive activities and storybooks make education fun and engaging while increasing their reading abilities and learning outcomes.
During the COVID period, volunteers like Banita helped children in remote areas with no network connectivity remain engaged and focused in their study and recreational activities. At the time, the aim was to make continued education possible for first-generation learners from the village, as schools remained shut during the second wave of the pandemic. Children need more frequent and regular meetings to sustain their interest in the activities of the Bal Sabhas, so a volunteer chosen from within a village helps engage with children regularly.
In 2021, Banita Pradhan, 18, had just passed Class 12 and enrolled in the first year of graduation at Sabitri Women's College, 35 kilometres away in Bhanjanagar town. Her college remained closed during the second wave of COVID while she trained under Gram Vikas staff. Along with other volunteers, she underwent training to focus on children's development needs and milestones in the 6-12 age group, ways to engage with them, support their emotional well-being and methods to track their progress.
In 112 villages across Ganjam, Gajapati, Keonjhar, and Kalahandi districts, portable libraries were a part of the Bal Sabhas, giving children access to Odia, Hindi, and English books during indefinite school closures in 2021.
Bal Sabhas were also equipped with sports equipment, art and craft material, modules, and notes to help them discover their interests and hone their talent, which is essential for children's holistic development.
When schools reopened in January 2022, parents of Bal Sabha members from Gramadebati village requested Banita to continue to help their children study and keep them engaged in recreational activities. In return, parents decided to continue paying Banita a sum of ₹100 for coaching their child every month like she did during the COVID period.
Banita recollects her challenges when she first started volunteering in the Bal Sabha, "Children of Class 3 and 5 could not read or write correctly during the COVID period, so I started reading story books from the mobile library aloud in Odia. I explained every word to them using the simplest words so they could grasp them quickly. Sometimes I explained in their mother tongue, the Saura language."
At the Bal Sabha, children participated in arts and crafts workshops and competitions that helped boost their creativity, self-confidence, and team spirit, where Pratham Books provided the books, and Anthill Creations provided the toys.
Banita feels children have significantly improved their interest in regularly attending Bal Sabha sessions. Even after schools reopened a year ago, these children took up reading books of interest aloud from the mobile library. Reading aloud has helped them improve their pronunciation of words and sentence formation.
After Banita's college reopened and the school started its regular sessions, she continued to teach children from the school syllabus on Saturdays and Sundays. Subhashree, a Class 5 student from the Sarkari Prathamika Bidyalaya, Gramadebati, a Government school, learned basic maths and calculations after coming to study with Banita. She helped Subhashree and her friends from school develop an interest in the fundamentals of STEM subjects covering the syllabus up to Class 4 when schools remained shut.
Mamali Pradhan, 11, is a Bal Sabha member. Her mother, Gurubari Pradhan, 34, insists her daughter continue her studies with Banita during the weekend despite her attending school regularly. "My daughter used to watch television constantly but got over that habit after focussing more on studies and recreational activities at the Bal Sabha." Gurubari feels there has been a lot of improvement in her daughter's conduct towards elders as she addresses them with respect and wishes them with folded hands. She says her daughter does not allow anyone at home to throw trash like vegetable peels, polybags, and broken bottles in their backyard but insists all rubbish from their home be thrown into a bin.
Like Gurubari, other parents from Gramadebati village insist their children attend the Bal Sabha sessions over the weekend. They feel Banita has been a positive influence in their children's lives.
Sonali Pradhan, 9, a Class 4 student and classmate of Anita, says that Banita speaks slowly and often explains complex concepts many times until Sonali can grasp the concept well. In school, her teacher does not repeat nor explain a concept more than once, so understanding it is difficult. The play equipment in the Bal Sabha has also encouraged her to attend the weekend sessions where she plays with the other boys and girls of her age in the village.
Bidyadhar Jani, the President of the Gramadebati Village Development Committee, feels that a Bal Sabha in every village will help children develop into more informed citizens. He says, "The contribution of the Bal Sabha has positively influenced the children, and everyone in the village wants the Bal Sabha to continue for the sake of their children" and hopes Banita will continue taking weekend sessions of the Bal Sabha for the children's sake.
The volunteer taking coaching class of the Bal Sabha.
Photograph by Chandrika Patnaik
ACKNOWLEDGEMENT
Prasanta Kumar Naik, Thematic Coordinator, Planning Monitoring Documentation and Communication, helped collect data for the story.
ABOUT THE AUTHOR
Chandrika Patnaik leads content production within the Communications team in Gram Vikas. Amrita Haldipur edited the story.