Informed choices helping youth design their future better
Story
By Sangita Patra
1 July 2021
Migration as an opportunity for rural youth is boosting family income and village economy.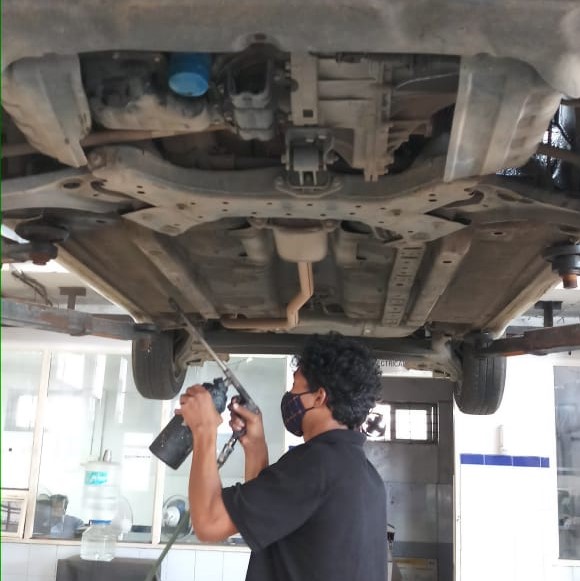 Prahlad works in a car detailing shop in Ernakulam district of Kerala.
Photograph collected from Prahlad Nayak
Migration for work is a sought-after livelihood strategy among the youth of Thuamul Rampur block in Kalahandi district.  Most of these men leave their families behind. The migrant remittances not just influences family income but are seen to change the entire village economy. As part of the Safe Migration program, a Migration Resource Centre was set up at Bhawanipatna in Kalahandi district which prepared the skill competency profiles of migrant workers. Information from the already existing database helped us to reach out to the migrants quickly. It was initiated in May 2020, where the skill and job requirement profiles of migrant workers who were interested in returning to work after the lockdown were prepared. The skill profiles helped connect the migrant workers with prospective employers so that they can choose options that were best suited to their experience and expertise.
Ranjan Naik from Dholpas village, Thuamul Rampur, Kalahandi recollects that he had to discontinue his studies owing to financial disturbances at home. He left for Kerala and worked in a Petrol Pump there for two years. Ranjan says "I then came back home with the accumulated savings and helped my father in building a pucca house, got myself a motorbike and got married too! Gram Vikas team met him in December 2020 when he was planning to leave for Kerala again.  According to Ranjan, employers there pay regularly. "I used to get my salary on the 3rd of every month, PF facility was also there. I had not withdrawn my PF as I left in a hurry. They called me to come and collect it but I couldn't go because of the lockdown. Now I want to go back to Kerala and work there and save some money so that I can come back and expand the shop that I have opened in my village and settle down here. But there are no direct trains from my place, either I have to go to Raipur or Vishakhapatnam and then board the train from there."  Since options on public transport were limited or non-existent because of the lockdown announced in March 2020, migrants started turning to other forms of transportation. Gram Vikas then facilitated transportation services for interested migrants from Thuamul Rampur block of Kalahandi district to reach their destination work locations. Identity proofs and bus fare was collected from all those who were interested to travel, one year Group Personal Accidental Insurance Policy was bought and finally a bus started from Bafla village of Kalahandi district in January 2021 carrying 48 migrants including Ranjan.
Prahlad Nayak, 22 years, a resident of Karanga village from Thuamul Rampur block of Kalahandi district was another migrant from the same batch of 48 who travelled to Kerala in the same bus. That was not the first time that Prahlad went to Kerala. He used to work in a machine operated wood cutting factory in Kerala, but had to come back to Odisha when lockdown was announced. Prahlad did not want to go back to the same job as he had started experiencing respiratory diseases because of working continuously in a sawdust environment in the wood industry. Based upon his profile, alternate employment options were offered to him such as labour work in a fish processing unit, food production in restaurants, housekeeping in hotels, car detailing among which he chose car detailing. From Kalahandi he boarded the bus and reached directly at the employer in Ernakulam district, Kerala. Since he was fresh for the job, he started working there as a "trainee" from January 2021 with a monthly wage of INR 12,000.00. Prahlad told us that once he learns "polishing" properly his job will be confirmed and he will get a raise. Food and accommodation is being taken care of by the employer. Prahlad recollects "I was so excited when I received my first payment in February 2021 and got myself new clothes and a watch. I have many more dreams which I do not want to reveal now and just want to work hard so that I can achieve all of those.  Gram Vikas helped me open a bank account in ESAF Small Finance Bank in Ernakulam. I deposit INR 7000 every month to my father's account and keep the rest for myself." His father is a farmer. His mother helps his father in the field and two of his brothers are in school. Prahlad does not want to work outside the state all his life. He wants to go back and settle in his native place once he is able to save enough. He is hopeful that someday he will be able to open his own garage there and give employment to others.
Prahlad has benefitted from the Migration Resource Centre which helped him find his new job at Kerala.
Photograph collected from Prahlad Nayak
ACKNOWLEDGEMENT
Jobin Chacko helped in writing the story. Ganesh Chakravarthi edited the story.
ABOUT THE AUTHOR
Sangita Patra is the Thematic Manager for Documentation and Communications at Gram Vikas.