Intensive watershed work rekindles hope for Farmer Producer Group with improved income through the year
Story
By Chandrika Patnaik
4 October 2023
Watershed work transforms lives and landscapes for villages in hilly areas.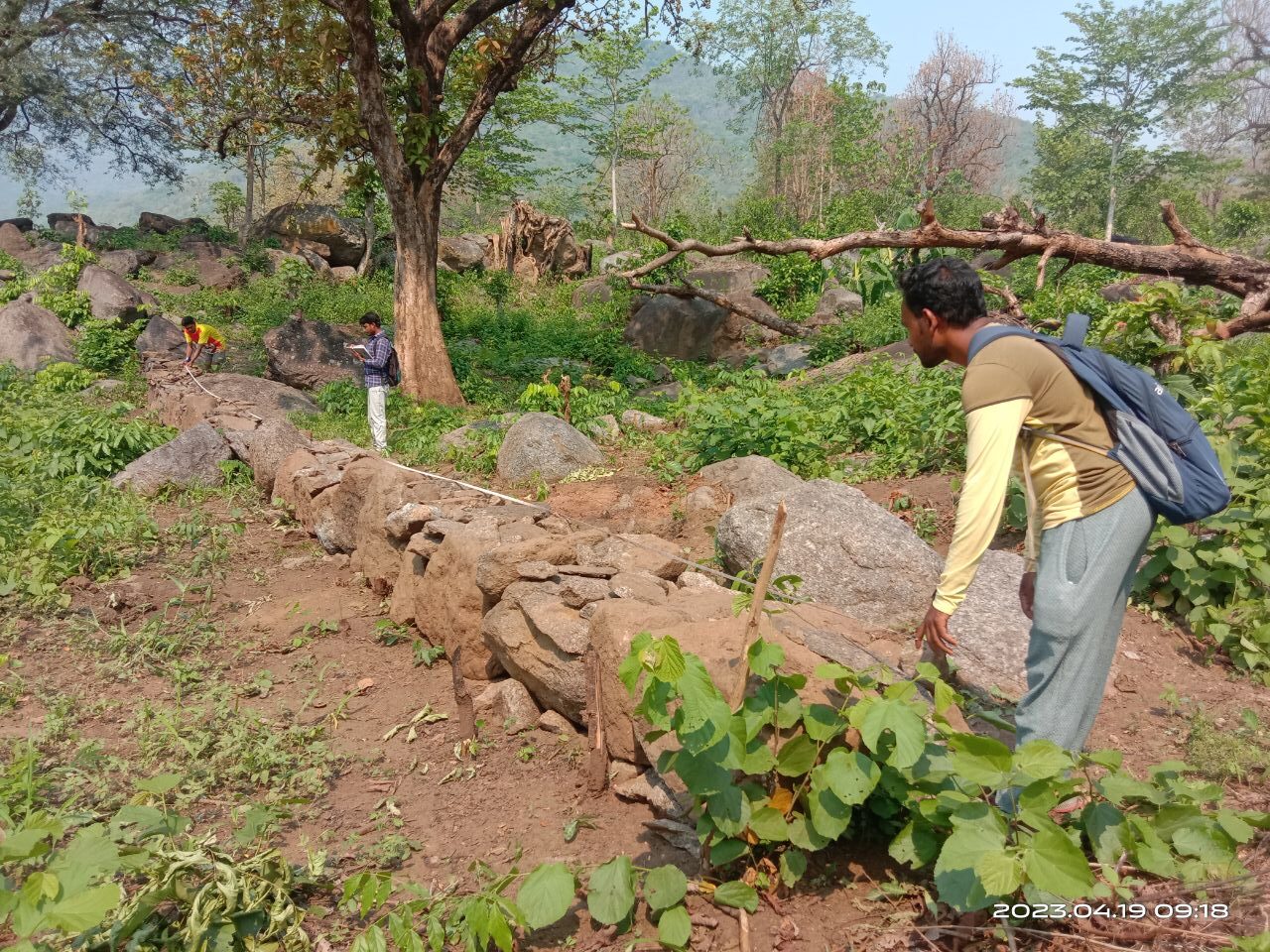 The stone bunds across the hills will control soil erosion and improve the fertility of the land.
Photograph shared by Eliya Sabar
Gram Vikas partnered with Bajaj Finserv Ltd. to implement Project Samrudhi, which aims at livelihood enhancement through natural resource management in 104 villages across 6 Gram Panchayats of Ganjam and Gajapati districts of Odisha. The project aims to promote processes that are sustainable, socially inclusive and gender equitable to enable rural communities living here to achieve a dignified quality of life.
In the Patrapur block of Tumba Panchayat, villages under the purview of the project are some of the most remote and inaccessible areas. Cyclone Titli, which struck the area in 2018, caused severe devastation and extensive damage to the residents' homes and the land in the entire region. The agricultural plots in the plains, used for cultivating paddy and vegetables, were rendered unusable due to heavy landslides. As a result, residents needed help to resume paddy cultivation or grow vegetables on their land.
Tuburusingi is a small village in the Tumba Panchayat in the Patrapur Block, where twelve small and marginal farming families live on the foothills, owning 0.2 to 5 acres of land. All families here pursue the slash-and-burn practice of cultivating crops on hill slopes. With most of the land destroyed after Cyclone Titli hit this area, farmers went higher on the hills, cutting down trees to grow paddy and millets during the monsoon season to feed their families.
The rocky terrain makes it difficult for farmers to grow anything except during the rainy season. One of the critical challenges for agriculture is land degradation and drought-like conditions in some parts of the region. Due to natural climate patterns in the area, the region has an annual dry season usually lasting from October to April/May, with some yearly variation.
During the dry season, water shortages are common, so cropping is only possible under rain-fed conditions. Particularly in the hilly areas with steep slopes, often used as farmlands, there is a strong need for systemic water conservation and soil erosion reduction. Integrated soil and water conservation practices are, therefore, key.
In January 2023, Gram Vikas engaged with the Tuburusingi Village Development Committee (VDC) members to mobilise farmers from the twelve households in the village to form a Farmers Producer Group (FPG).
Following two meetings among the VDC members, a meeting was organised in February 2023, bringing together Gram Vikas and the eleven farmers out of the twelve households who agreed to come together for the meeting on FPG.
Gram Vikas staff engaged with the farmers during this gathering, highlighting the advantages of farmer collectives.
Kura Karjee, 28, the President of Tuburusingi VDC, says, "During the two meetings we had with Gram Vikas staff and also later during our meetings with the farmers, the Staff informed us about how the slash-and-burn agriculture practice followed by farmers was destroying the forest cover on our hills resulting in heavy soil erosion. Due to this, the seeds sown on the hills also washed away during rains, resulting in losses for the farmers. Perhaps because of this, a spring dried up close to the foothills due to years of felling."
Talking about the lives of the families in Tuburusingi, he says there is no  Anganwadi centre, school or Government office anywhere. The nearest Panchayat office is at least five kilometres away in Ankuli Panchayat, while Tumba Panchayat is at least fifteen kilometres away. There are no alternate means of earning an income except practising agriculture or working on daily wage on construction sites during the dry months from October, lasting up to May. "Youth from the villages in this region prefer to travel to distant States like Andhra Pradesh, Maharashtra and Tamil Nadu soon after the paddy season ends as they get immediate employment with far better wages", he adds.
The watershed work Gram Vikas did ten years ago in villages like Titrisingi, Aliar, Phulasahi, and Langnasahi has inspired the VDC members of Tuburusingi to discuss a similar proposition with farmers of their village. Kura Karjee shares, "At that point, we did not think the stone bunding work Gram Vikas was doing with the help of the farmers of those villages would make any difference to the area. However, the impact of Gram Vikas' work in these villages was visible within three years of completion. There was an increase in soil moisture around these villages, and the farmers had better paddy yield than in the earlier harvest seasons. Farmers in these villages started growing different kinds of millets and paddy and got good yields. The increase in soil moisture helped the land become fertile, resulting in comparatively 50% more yield than in previous years. The fruit trees also bore a higher yield than they did earlier. This focused work led to a rise in economic development among people of these villages."
The farmers of Tuburisingi were eager to work with Gram Vikas when it reached out to them in February this year to help them increase income and contribute to their livelihoods by forming an FPG and taking up soil and water conservation efforts together in the village by constructing stone bunds.
In April and May, farmers of Tuburusingi village formed an FPG, 'Maa Limeshwari Krusaka Utpadaka Goshti'. The members worked together and completed a stone bunding of 2,000 feet long in the Lingaba Hills close to the Tuburusingi village and another 1000-foot-long stone bunding in Baliabada Hill close to the village.
Jamini Karjee, 42, Secretary of the FPG, Maa Limeshwari Krusaka Utpadaka Goshti, says that the eleven group members have decided to work together to improve their land fertility by building stone bunds across the hills. Stone bunds act as physical barriers that help prevent soil erosion caused by water runoff. They slow down the flow of water rushing downhill slopes during rains, hold back rainwater and allow it to percolate into the soil, recharging groundwater reserves and increasing soil moisture content. Trapping sediments and organic matter helps retain valuable soil nutrients, promoting fertility and enhancing agricultural productivity. This is particularly beneficial in areas with limited rainfall or during dry periods, as it helps to maintain soil moisture levels for plant growth and agriculture.
Udaba Karjee, 21, son of fifty-six-year-old Jatiya Karjee, a member of the FPG, usually travels to Hyderabad during the dry months. Still, this year, he and his friend Basudeba Karjee, 20, were happy to stay home and spend a few extra months with their families when Gram Vikas started working in the village. "If we continue to get work and can earn some money in our village, we will not travel for work to distant states. Due to this stone bunding work in our village, we could earn Rs.700 per day. We hope this watershed work will impact our lives in the coming years, helping us cultivate our land and grow crops yearly. If such a thing happens, I will happily stay in the village and earn an income through agriculture."
Khura Karjee, the President of the VDC and also the President of the FPG – Maa Limeshwari Krusaka Utpadaka Goshti in the village, shares,  "We are hoping that during the monsoon season in July-August, we will be busy digging soil to plant over 1000 saplings of custard-apple, amla, gooseberry, wood apple, berry, jackfruit, guava, papaya, lemon, jujube, moringa, mango, litchi, pomegranate, chikoo, and orange across the twenty acres of barren land around the foothills. The increase in soil moisture through all the ongoing efforts will make our land fertile, assist in cultivating crops on our land again and help increase our incomes in the coming years."
The watershed activities will increase fertility of the land, cultivate crops, and increase income of the farmers.
Photograph shared by Eliya Sabar
ACKNOWLEDGEMENT
Eliya Sabar, Field Expert in Water Source Sustainability helped collect data for the story.
ABOUT THE AUTHOR
Chandrika Patnaik leads content production within the Communications team in Gram Vikas. Amrita Haldipur edited the story.