Smart Community Interface technology enables online learning possible in no network zones
Story
By Priya Pillai
24 December 2020
Gram Vikas' Learning Centres make continued education possible for children from remote rural and Adivasi communities affected by school closures during COVID-19.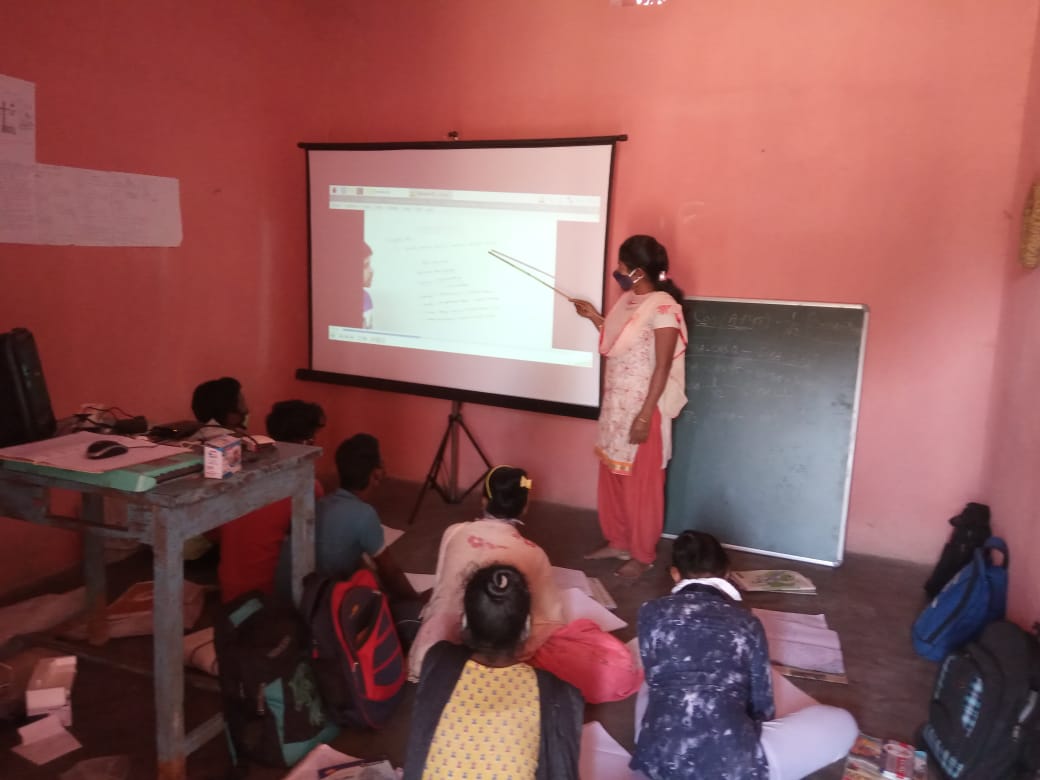 A para teacher taking classes using a Pico Projector connected to a Raspberry Pi in Kuragadu village in Ganjam district of Odisha.
Photograph by Prasanta Kumar Naik
Many first generation learners, from remote, hilly areas in Odisha, had their education disrupted due to the closure of schools following the COVID-19 outbreak. This was accelerated by the unavailability of digital learning resources, poor internet connectivity, frequent power outages, or not having the required devices.
Gram Vikas enabled technology equipped Learning Centres (LC) that took classrooms to the children. This has been made possible because of the Smart Community Project which creates a community-owned and managed model of information management. The Learning Centres (LCs) were equipped with a Raspberry Pi, a single-board computer that plugs into a display board, and a projector. Teachers and para teachers trained to operate the devices and set up the sessions.
Community buildings or private houses that could accommodate 15 students at a time were chosen as centres. The team ensured that the space was sufficient for children to be seated while maintaining the required physical distancing. In Gramadebati village, under the Jagannathprasad block of Ganjam district, Bidyadhar Jani, President of the Village Development Committee voluntarily gave a space in his house for developing a learning centre.
Jani observed that the community hall gets flooded with water during the rain. "There is no other place available, so I decided to allot space in my house for children to learn. After all, this concerns the future of our children," says Bidyadhar. Local volunteers, who were either Class 12 graduates or pursuing college education or with teaching experience, became para teachers. Thirty three such men and women provided learning support in the Centres.
Maheswara Raika, from Limarsing village, Gajapati district, pursuing second year BSc, volunteered to be a para teacher for his own village and the nearby village Marlaba. He teaches Science and Mathematics to around 30 students from both the villages. One of his students, Debraj Sabar, says, "There is no one in my family or even in the entire village to get my doubts cleared. I also do not have a smartphone, so it wasn't possible for me to attend online classes either. These supplementary classes through these Learning Centres have been very beneficial to me."
Kuni Raita, a student of Class 10, attends the LC at Putisahi where Suman Sabar teaches English.  Suman is pursuing her BSc degree from Government College in Parlakhemundi and has come back to her village due to closure of all academic institutions from the pandemic. For the benefit of children from her own village, she volunteered to impart education as a para teacher. Kuni says, "English has been a difficult subject for me since the beginning. But I need to secure good marks in all the subjects. Only then I can get admission in a reputed college and become a teacher in future.  The classes that I attend here have been really helpful."
A total of 20 Centres were set up in villages in Kalahandi, Ganjam and Gajapati districts. Each LC catered to students of Class 10 from villages within three to five kilometres. Around 306 students attended classes for three hours every day for seven days a week. Gram Vikas staff and school teachers made house visits to encourage parents and students to use the LCs. Parents eventually sent their kids after they saw other children attending the classes. The LCs managed issues such as children prioritising household work or dropping out in the middle of the sessions especially during the harvest season to help their parents. Teachers from the four Gram Vikas residential schools supported the para teachers in weekly and monthly sessions planning and clearing student doubts in addition to ensuring teaching quality. With the Government of Odisha resuming schools for Class 10 in early January 2021, the Centres stopped functioning. In a few cases, the village community has taken the lead to continue the learning centres to cater to the needs of children in Classes eight and nine.
High school students attending classes at the Gram Vikas Learning Centre in Katapatni village in Ganjam district of Odisha.
Photograph by Prasanta Kumar Naik
ACKNOWLEDGEMENT
Chandrika Patnaik and Sangita Patra supported with reporting for this story. Ganesh Chakravarthi edited the story.
ABOUT THE AUTHOR
Priya Pillai is the Anchor, Strategic Communication at Gram Vikas.